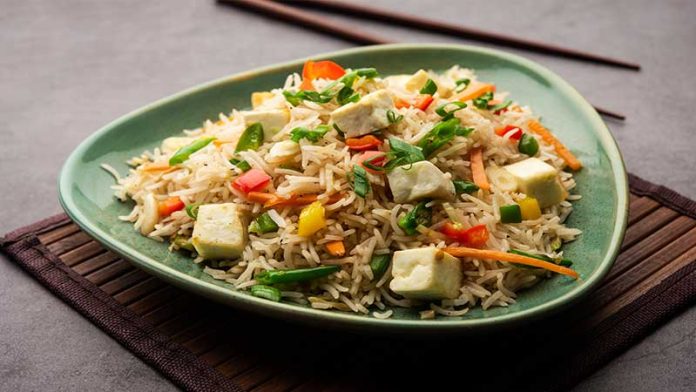 Paneer fried rice is a healthy and nutritious rice recipe, not only loved by kids but grown up also. It is a Chinese-inspired Indian version rice recipe, which you can make either with leftover rice or freshly cooked rice. As my son loves paneer and Maggi masala-e-magic, so I make paneer fried rice in two ways; one with soy sauce, vinegar and chili sauce, and the other with Maggi masala, black pepper and red chili powder. Trust me; both are tastier, and you can't compare which is best. All that matters is what suits your taste buds. What makes me happy is I can feed paneer to my child in many different ways.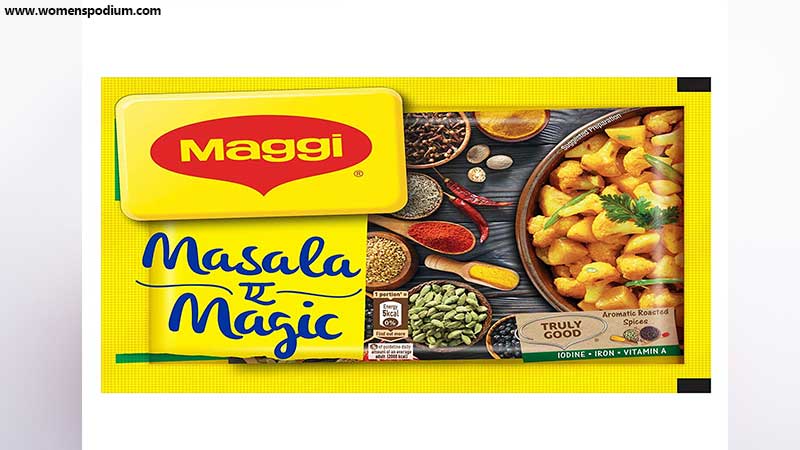 Why Paneer Fried Rice?
Well, the answer is that paneer is readily available in every Indian household; some women also make paneer at home. Besides, you can make 100s of paneer recipes with different tastes, and that are equally tastier than other. And just like veg fried rice, you can make paneer fried rice pretty quickly without any tantrums. Even if you have two-or-three vegetables, you can make it. And if you want to stuff it with a lot of veggies, you can do that too. But I prefer it with less amount of veggies.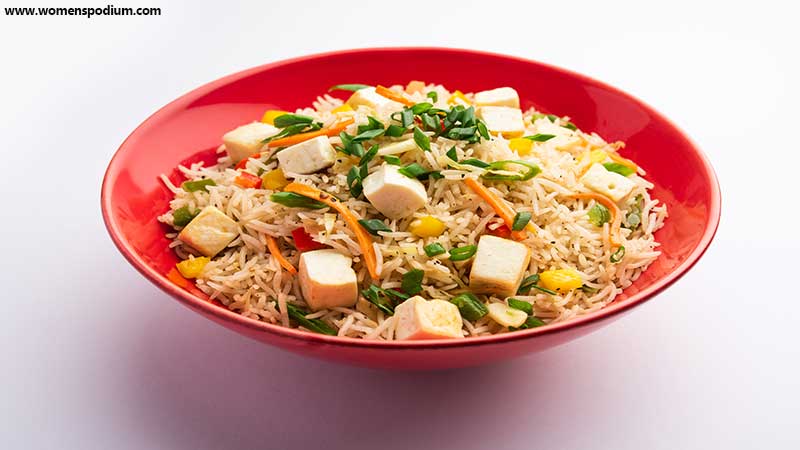 Besides its creamy, soft texture and incredible taste, paneer (Indian Cottage Cheese) is an excellent source of high-quality protein that provides essential amino acids. It is also a rich source of vitamins and minerals such as calcium, zinc, B12, iron and magnesium. For non-vegetarians, paneer can fulfil all the protein requirements. Well, we've had enough talk about paneer and fried rice; let's move on to the recipe.
Recipe type: Main or Side Dish
Cuisine: Indian
Serves: 2-3
Preparation Style 1
Paneer Fried Rice with Maggi Masala-e-Magic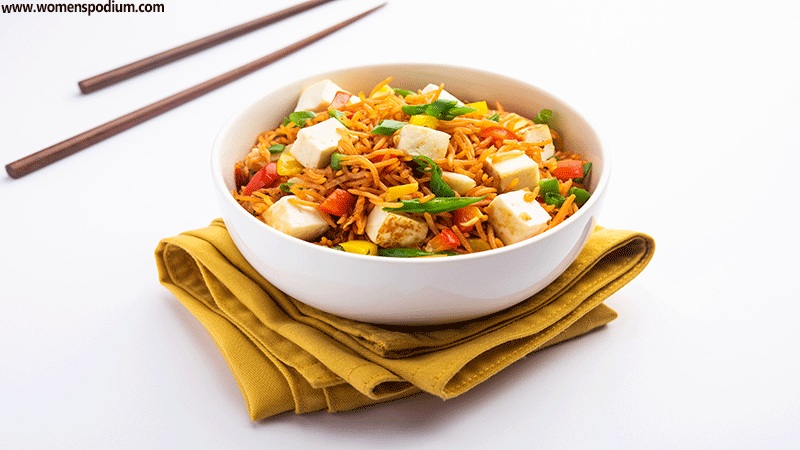 Ingredients
For Paneer Marination
1 cup paneer/cottage cheese (cubes)
1 tbsp ginger-garlic paste
¼ tsp Kashmiri mirch/chili powder
½ tsp salt
1 tbsp oil
For Fried Rice
2 cups freshly cooked rice or 2 cups of cooked leftover rice
3 tsp oil/butter
½ tsp salt
2-6 cloves garlic, finely chopped
1-2 medium-sized onions, finely chopped
4 tbsp spring onion (chopped)
¼ carrot (finely chopped)
4 tbsp peas
3 French beans
½ capsicum
1 spoon chopped coriander leaves
1 tsp crushed black pepper
2-3 packets of maggi masala
¼ turmeric powder
¼ red chili powder
How to Prepare?
Marinate paneer with ginger-garlic paste, kashmiri mirch/chilli powder, and salt; keep it aside for 15 minutes.
Now take a pan, pour 1 tbsp oil and shallow fry them. Paneer is ready to mix into the rice.
First, take a Chinese wok kadhai, pour and heat 3 tbsp oil or butter, then add finely chopped garlic cloves and stir fry them.
Now add chopped onions and sauté them for about 2-3 minutes until they turn transparent; ensure the onions shouldn't turn brown.
Now add the remaining chopped vegetables, i.e. carrot, peas, beans and capsicum.
Stir fry on high flame and make sure they must not get overcooked.
Now add Maggi masala, turmeric and red chili powder and mix them well with the vegetables.
Also, add crushed pepper and salt. Maggi masala also contains salt, so add it as per your taste; if you want to skip extra salt, you can.
Stir-fry all ingredients by mixing well; now add paneer and rice, mix them well on a high flame.
Further, add some spring onions and coriander leaves for garnishing.
You can enjoy this paneer fried rice with any light gravy sabji. I personally like it with aloo tamatar ki sabji or tangy tomato chatni.
Preparation Style 2
For Paneer Fried Rice (Chinese Style)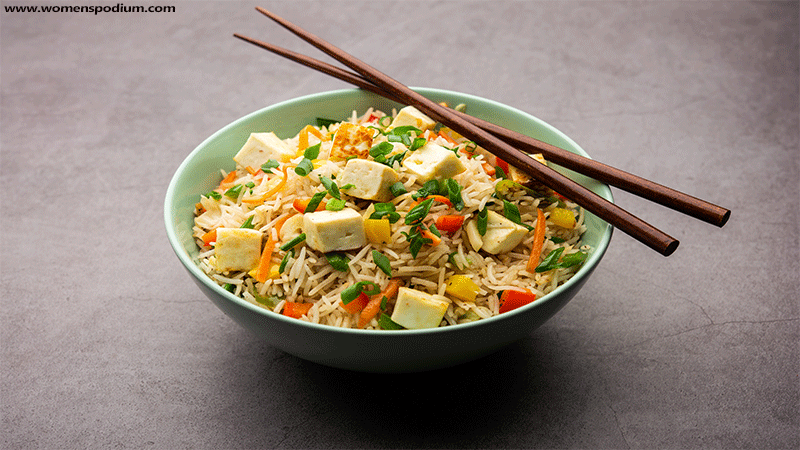 Ingredients
For Paneer Marination
1 cup paneer/cottage cheese (cubes)
1 tbsp ginger-garlic paste
¼ tsp degi mirch/chilli powder
½ tsp salt
1 tsp oil
For Fried Rice
3 cups cooked rice
2-3 tbsp oil
4 cloves finely chopped garlic
1-inch ginger finely chopped
1 finely chopped onion
6 tbsp chopped spring onion
½ green capsicum
One small-sized carrot
3 finely chopped French beans
5 tbsp shredded cabbage
1 tbsp soy sauce
1 tsp chili sauce
1 tbsp vinegar
½ tsp black pepper powder
½ tsp salt
How to Cook?
For marination, take small paneer cubes in a bowl, add ginger garlic paste, chili powder and salt, mix them well, and keep them aside for 15-25 minutes.
Now heat oil in a pan and roast the marinated paneer. Avoid overcooking the paneer, as it might turn rubbery.
Take a large Chinese wok, heat oil and sauté finely chopped garlic, ginger and onions.
Add carrots, beans, and capsicum, and stir fry them on high flame until the veggies are cooked yet crunchy.
Later add shredded cabbage and stir fry for a few seconds.
Once all the veggies are cooked, add chili sauce, soy sauce, vinegar, black pepper powder and salt.
Fry all these until the sauces are well mixed.
Now add cooked rice. You can use freshly cooked or leftover rice here, whatever you currently have.
Mix them well on a high flame.
Add the roasted paneer and spring onion and mix everything properly.
Your Indian-Chinese Paneer fried rice is ready to serve with Manchurian gravy.
Paneer fried rice is quite an easy, delicious and savory recipe. It can be cooked even if you have 2 or 3 vegetables. Try to make it once with Maggi masala-e-magic; it will suit your Indian taste buds perfectly. I am sure your kids will love it. You can easily feed them veggies in the name of Maggi masala. 🙂
Also Read: Do protein and greens have a connection? How many veggies should your kids eat each day?