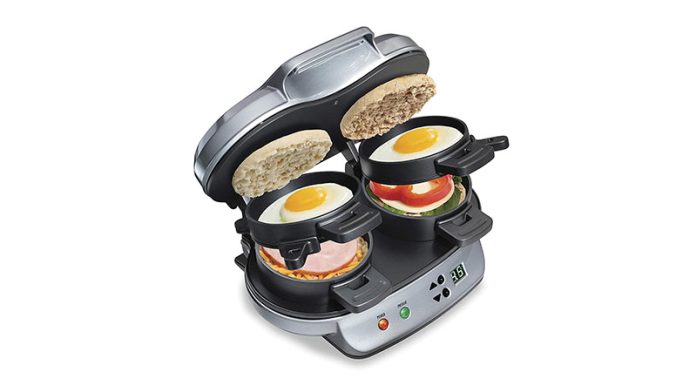 Imagine having a steamy hot, delicious breakfast sandwich made just the way you like it in just 5 minutes. With the Dual breakfast sandwich maker, it's totally possible and worth it. This efficient kitchen gadget will make your mornings a breeze. This sandwich maker is perfect if you have children or extra guests at home. Additionally, in only four simple steps, your breakfast is ready. Simply place the ingredients inside, build the base of your sandwich in the bottom layer, place the egg on the cooking plate, and close the lid. Slide the cooking plate out, and your sandwich assembles itself. Open the lid, and your hot breakfast sandwich is ready to serve.
Furthermore, with the included recipe book, you can make all kinds of delicious breakfast sandwiches, from the traditional egg, ham, and cheese to the unique cheddar, apple, bacon, and egg croissant sandwich, in just a few minutes.
Striking Features of Hamilton Dual Breakfast Sandwich Make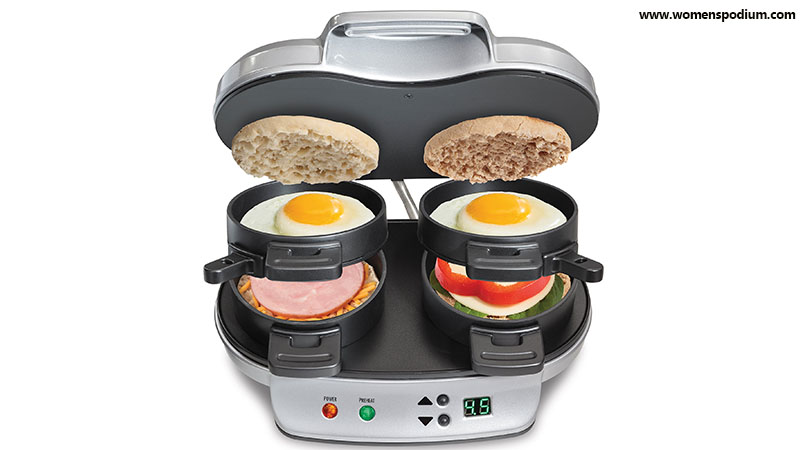 Breakfast is the first and most important meal of the day, and it restores all the glucose supply to the body, so never think of skipping your breakfast. And our pick for today is Hamilton Beach dual breakfast sandwich maker, which can be your first choice if you are looking for a breakfast sandwich maker. It makes two sandwiches to your specifications with the ingredients you love. More importantly, the built-in digital timer lets you know exactly when your sandwiches are ready to enjoy. This fantastic machine prepares two perfectly assembled sandwiches in five minutes or less. Additionally, enjoy delicious breakfast sandwiches in no time with the dual breakfast sandwich maker. Let's discuss some unique features of this product.
1. Digital Timer with Audible Tone
This appliance features a digital timer, so you never have to worry about overcooking or undercooking your food. An audible signal indicates that the sandwich is ready.
2. Dual-sided Design
The dual-sided design allows you to assemble two sandwiches at once, saving you time and energy. Plus, the nonstick surface ensures easy cleaning and fast cleanup.
3. Quick and Easy to Use
This appliance makes breakfast in time, easy and fast. With a dual breakfast sandwich maker and two nonstick griddles, you can make two breakfast sandwiches in under 10 minutes. Moreover, it's perfect for busy mornings when you have extra guests or if you're extra hungry.
4. Easy Maintenance
All removable parts are coated with a durable, nonstick coating and are dishwasher safe.
5. Easy Steps
There are four simple steps to making a sandwich of your choice, and you can choose different ingredients.
Add bread and precooked meat or cheese to the bottom cooking plate.
Place an egg on the upper egg plate.
Place the second piece of bread on top of the egg and close the lid.
When your sandwich is ready, slide out the egg plate to assemble it.
Pros and Cons
| Pros | Cons |
| --- | --- |
| Time and energy effective | Multiple parts, not easy to set up |
| Dual-sided design | No on/off power button |
| Digital timer and audible beep | |
| Dishwasher safe | |
| Cost-effective | |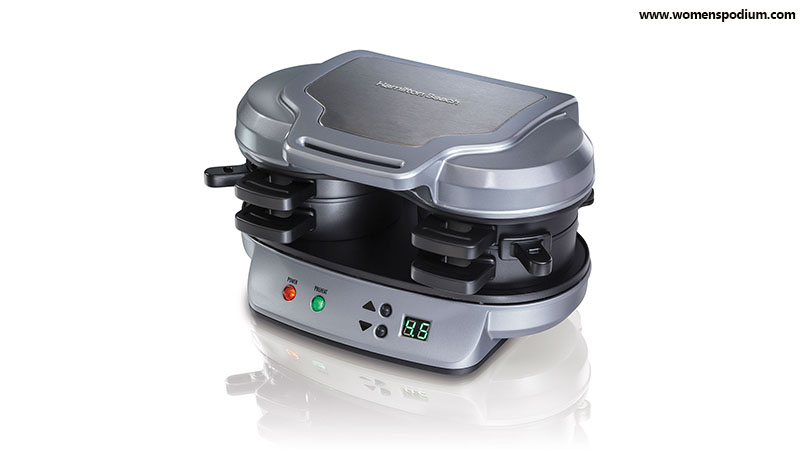 Price: $46.99
Final Verdict
Make your delicious breakfast sandwiches in no time with the dual breakfast sandwich maker. Furthermore, with this versatile kitchen appliance, you can make custom sandwiches with any ingredients you like and follow Paleo and Keto diet plans as well. This product includes a recipe book with plenty of ideas to get you started. Moreover, it is the perfect gift for Christmas, birthdays, Father's Day, Mother's Day, and graduation. I guarantee you that this sandwich maker will make your life easier.
Also Read: Women spend most of their time in the kitchen, and that's why the kitchen should be fully-equipped and must-have time saviour kitchen gadgets.