As spring is approaching so is the Easter celebrations. Generally, this festival takes place on the first Sunday after the first moon. Easter is a fun holiday with wonderful activities like decorating Easter eggs, deciding the menu for dinner, sending cards and greetings to friends and family, egg hunts, and decorating baskets. Easter is an important festival with both religious and cultural significance. If you are looking for words that help you understand the true meaning of this religious holiday quotes on Easter will inspire you.
Christianity majorly focuses on the death and resurrection of Jesus Christ. Furthermore, Easter is a Christian tradition of marking the day on which Jesus Christ came back to life. It is a joyous holiday that represents the defeat of death and the hope of salvation. These quotes on Easter will help you understand the significance of this great festival.
Easter Festival Symbol of Happiness and Blessing
Easter brings hope, happiness and blessing. Moreover, it is a holiday on which we celebrate the departure of winter and the arrival of springtime. The symbolic representation of springtime is rebirth and renewal. Additionally, this season also alludes to the rebirth of Jesus Christ.
The holiest Christian holiday is Easter with great religious meaning. However, it is linked with bunnies and chocolate eggs. Biblically there is no connection between the Easter bunny and Jesus. On the other hand, Rabbits are the symbol of new life and that is the reason they are interconnected.

Easter is a family event and Christians observed it all over the world. Easter is all about family feast and different traditional Easter games and activities like an egg hunt, egg decoration, egg rolling, egg tapping, and many more. These games are for children as well as adults so they can understand the true meaning of Easter.

Whether you are celebrating Easter alone or with family and friends. These inspirational and wonderful quotes on Easter will help you understand the true meaning of this family festival.

Quotes on Easter with Religious and Cultural Significance
Easter is a time to celebrate the power of love and the triumph of hope over fear.

— Cory Booker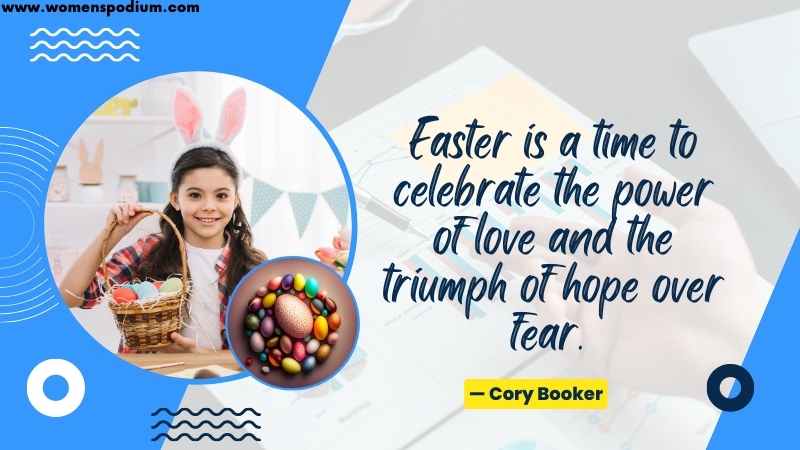 Easter is a time to celebrate new beginnings, to embrace the renewal of life that comes with spring, and to rejoice in the triumph of hope over despair.

— Barack Obama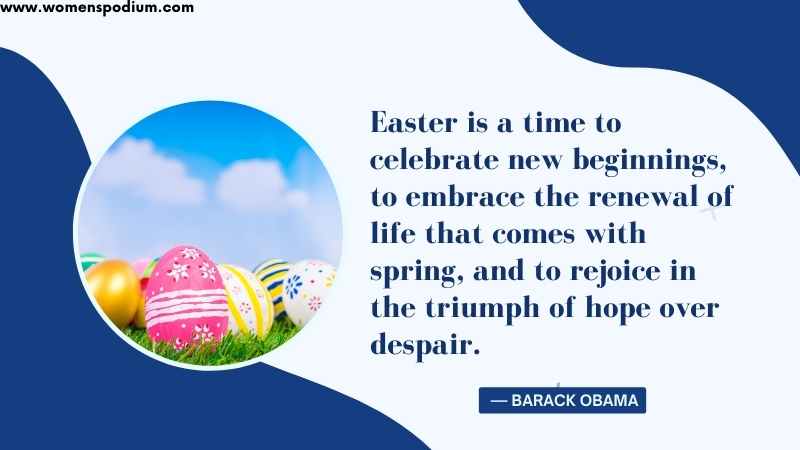 Easter is a time to rejoice, not just for ourselves, but for our family, friends and indeed, all of humanity.

— Terry McAuliffe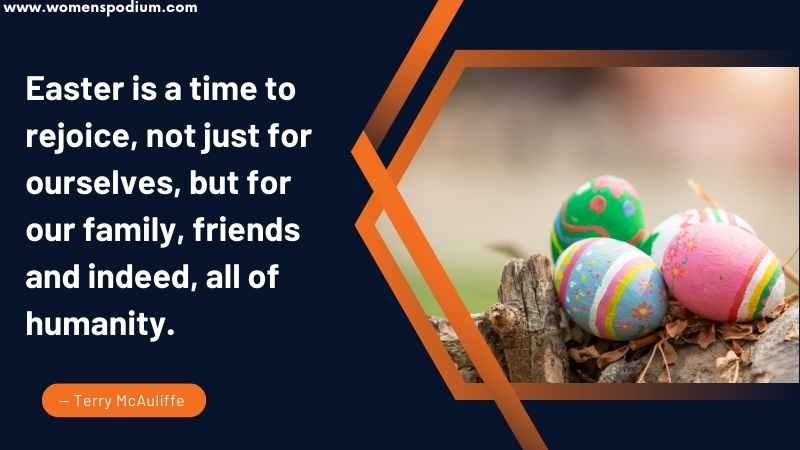 Easter is a time to remember the importance of love and sacrifice, and to give thanks for the blessings of life.

— Queen Elizabeth II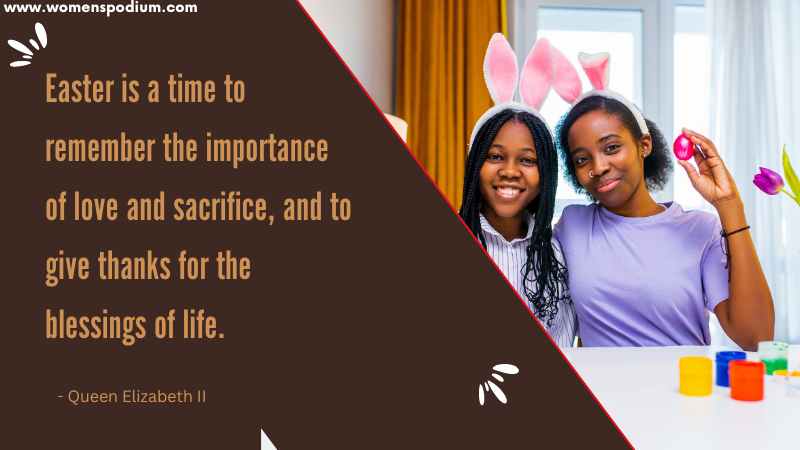 Easter is the only time it's perfectly safe to put all your eggs in one basket.

— Evan Esar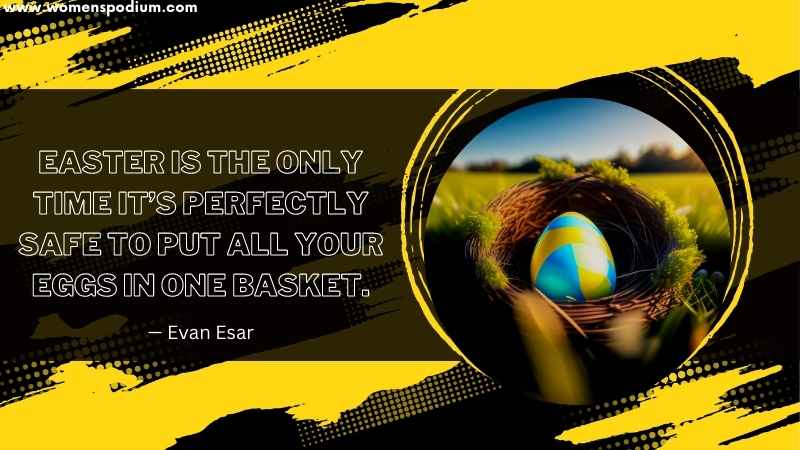 Easter spells out beauty, the rare beauty of new life.

— S.D. Gordon
The Easter egg symbolizes our ability to break out of the hardened, protective shell we've surrounded ourselves with.

— Siobhan Shaw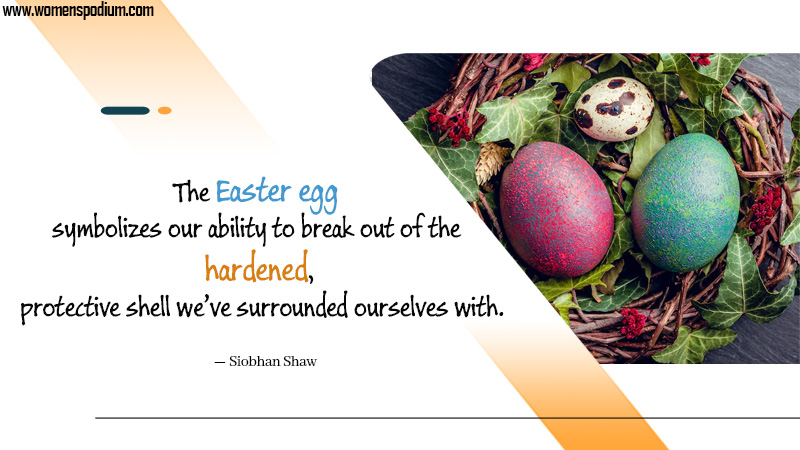 Easter is the demonstration of God that life is essentially spiritual and timeless.

— Charles M. Crowe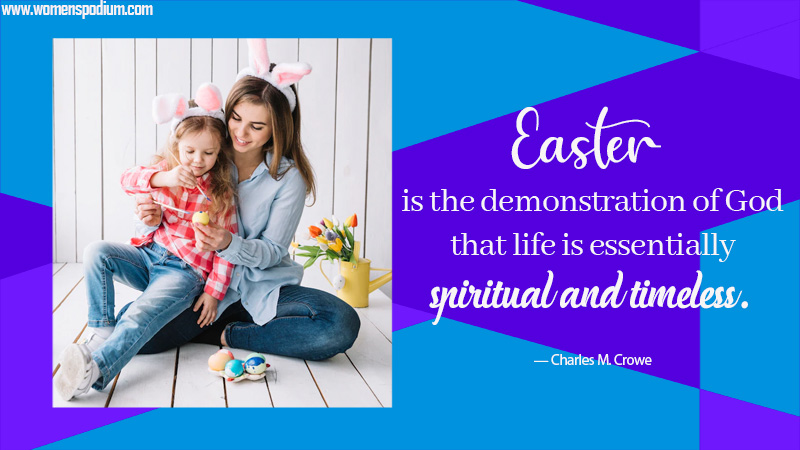 Easter is an arts and crafts moment where your whole family and friends can get involved.

— Alex Guarnaschelli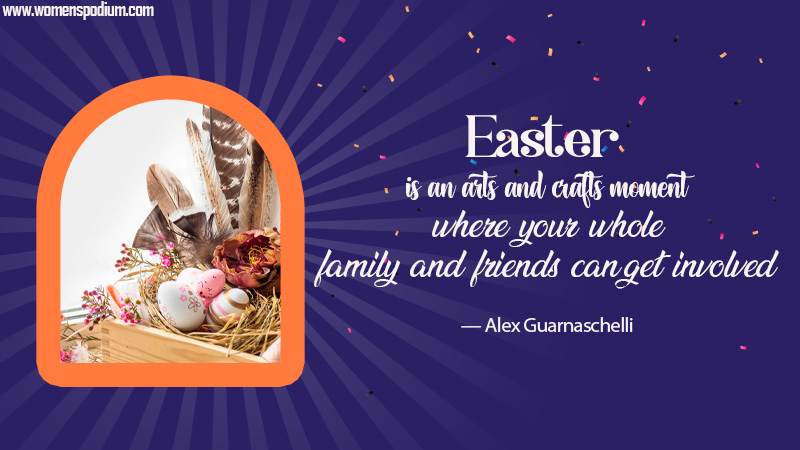 The very first Easter taught us this: that life never ends and love never dies.

— Kate McGahan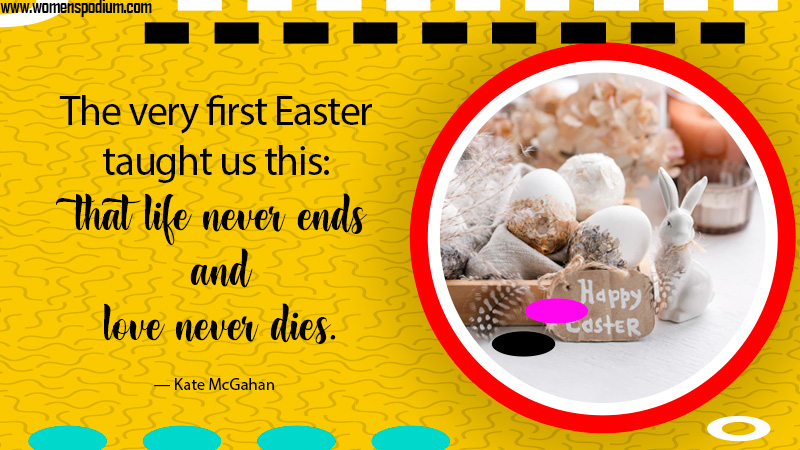 Easter is meant to be a symbol of hope, renewal, and new life.

— Janine di Giovanni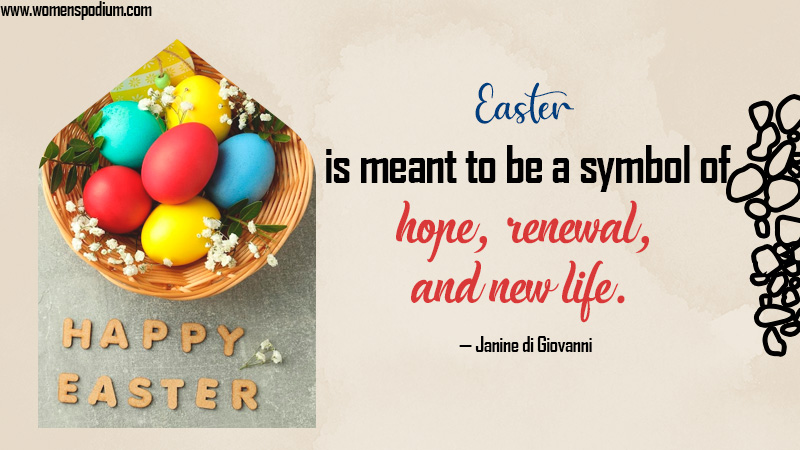 Spring is the time of plans and projects.

— Leo Tolstey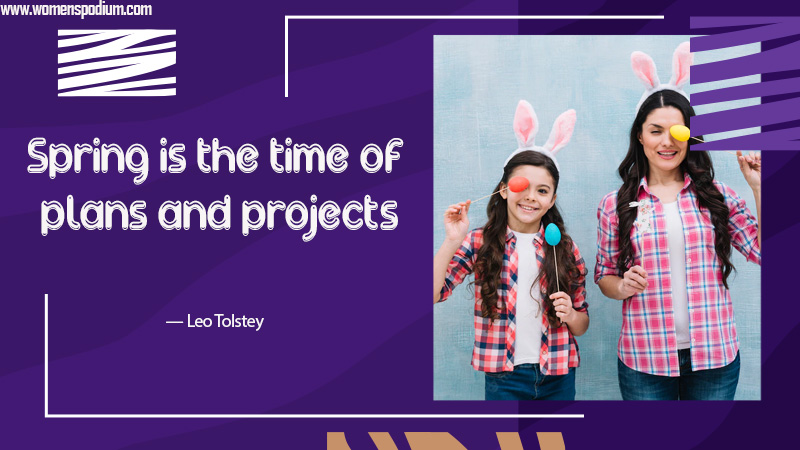 Spring adds new life and new joy to all that is.

— Jessica Harrelson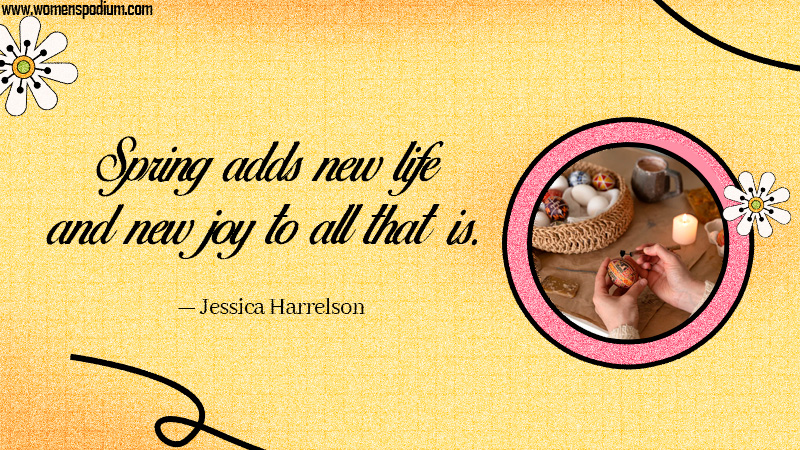 Do not abandon yourselves to despair. We are the Easter people and hallelujah is our song.

— Pope John Paul II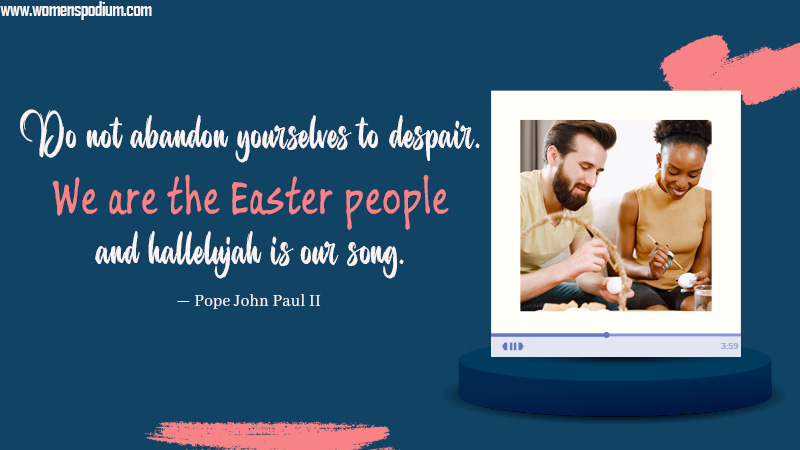 Easter tells us that life is to be interpreted not simply in terms of things but in terms of ideals.

– Charles M. Crowe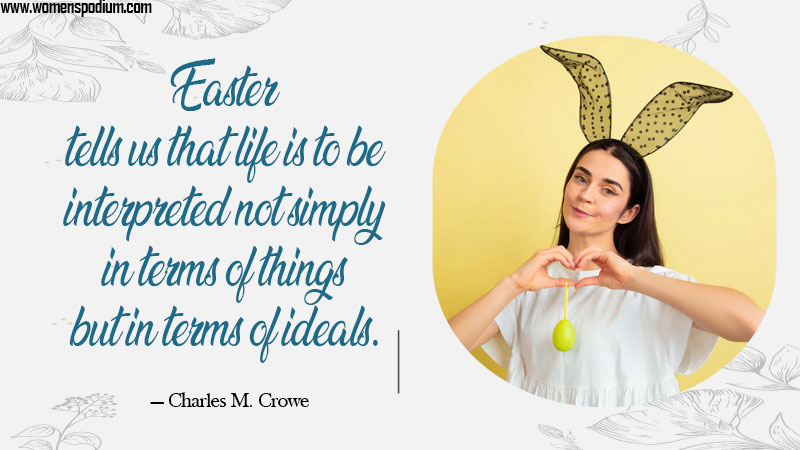 Twas Easter-Sunday. The full-blossomed trees filled all the air with fragrance and with joy.

— Henry Wadsworth Longfellow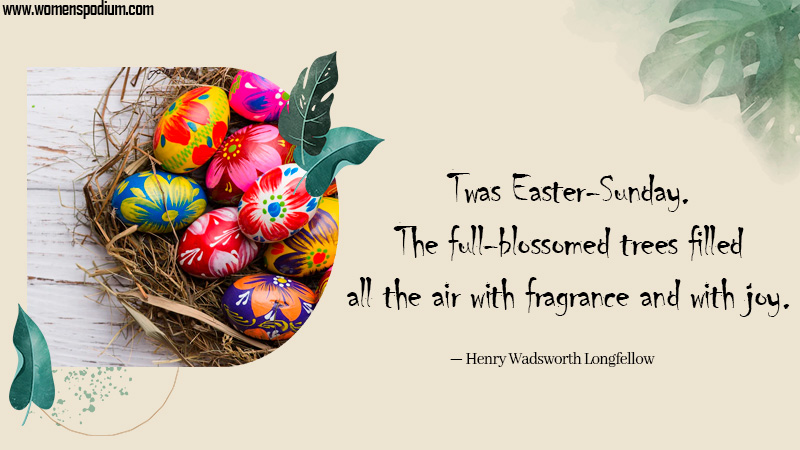 If Easter says anything to us today, it says this: You can put truth in a grave but it won't stay there.

— Clarence W. Hall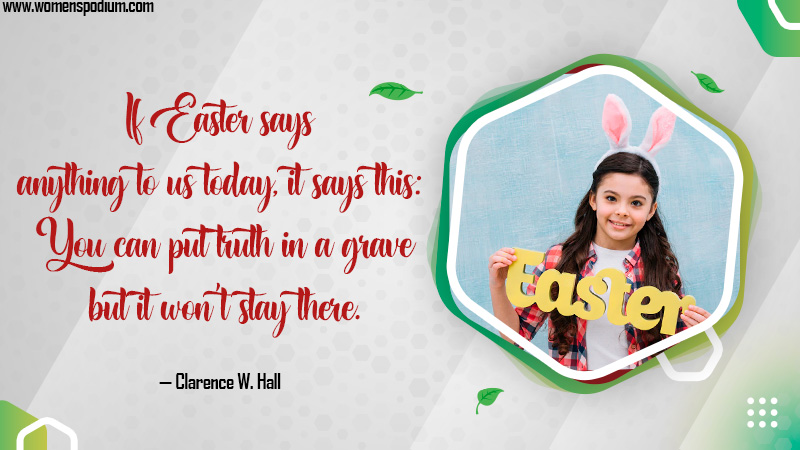 The great gift of Easter is hope.

— Basil Hume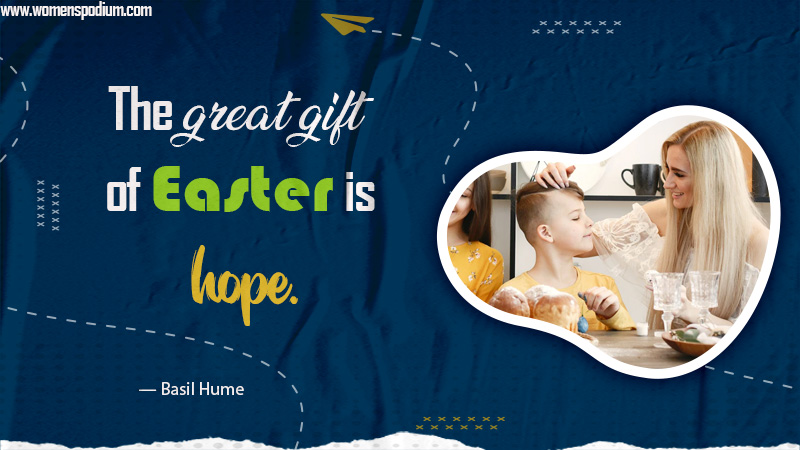 Easter can be the highlight of the year. Better than Christmas. Bigger than a birthday. And about so much more than just chocolate.

— Ed Drew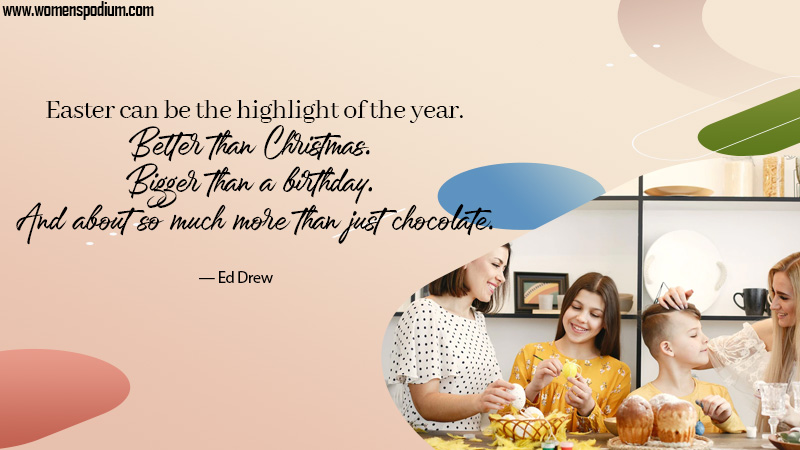 The world is waking up after a long winter. Easter is a time to celebrate life!.

— Trudi Strain Trueit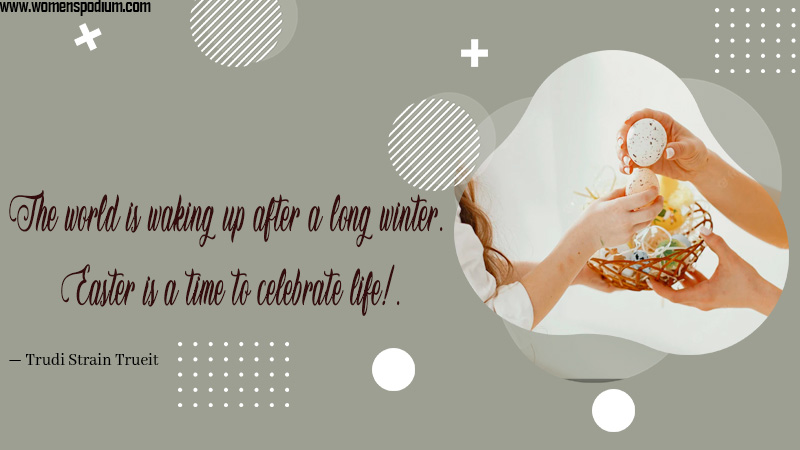 On Easter Day the veil between time and eternity thins to gossamer.

— Douglas Horton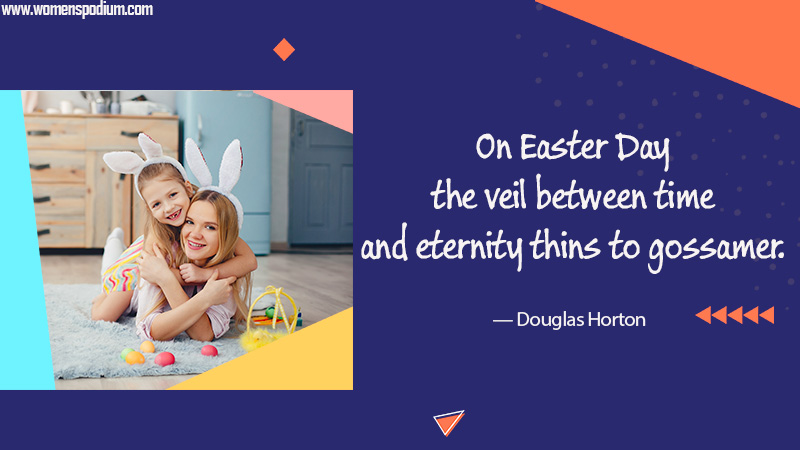 Today is Easter, but what does it mean? It's a time of renewal for each and everything.

— Sharon Gardner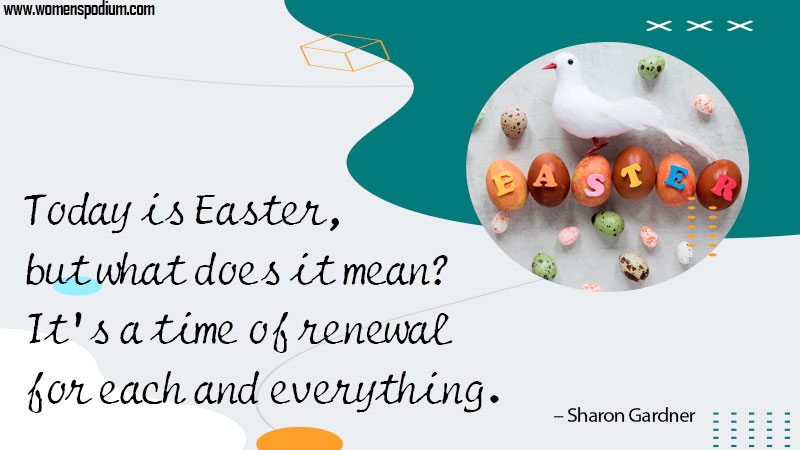 The message of Easter is not that Jesus is alive, it is so much more. The message of Easter is that Jesus has risen!

— Colin Smith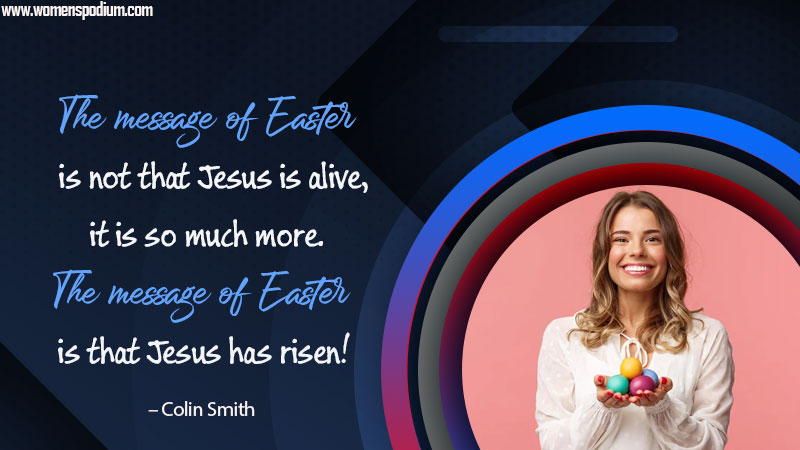 There are always flowers for those who want to see them.

— Henri Matisse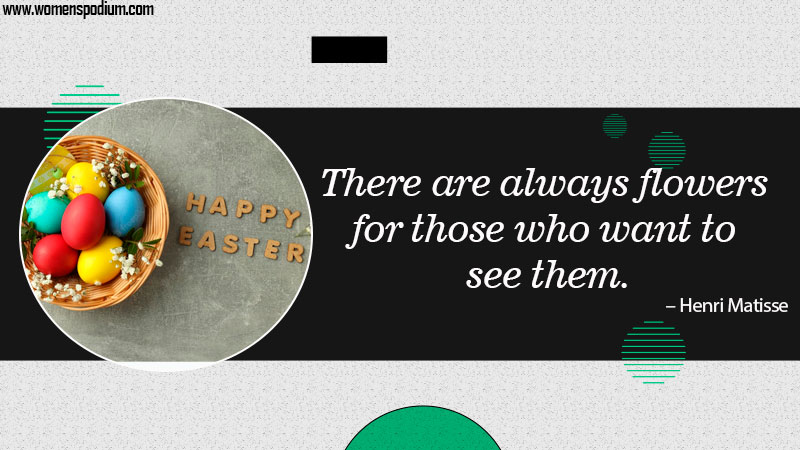 As My Love moves within your heart, spirit, mind, and will, you will learn what it is truly like to be an Easter person spiritually.

— John Palmer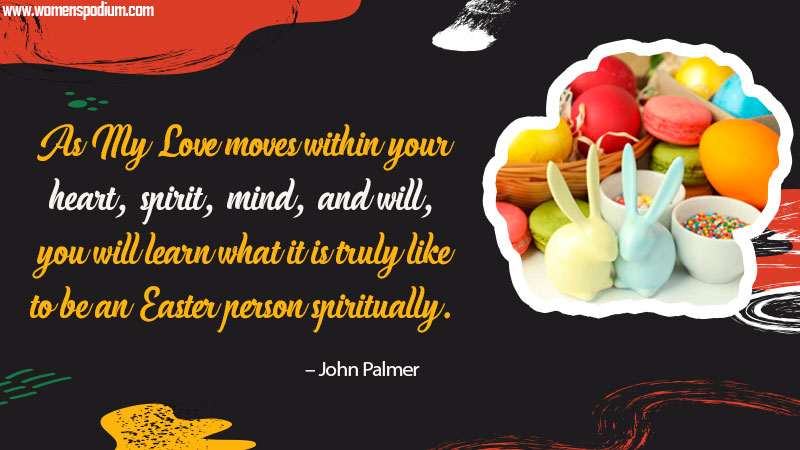 Easter is an answer. It is such a dramatic, earthshaking answer that for nearly twenty centuries, artists of every kind and quality have been trying to portray its significance.

— J. Ellsworth Kalas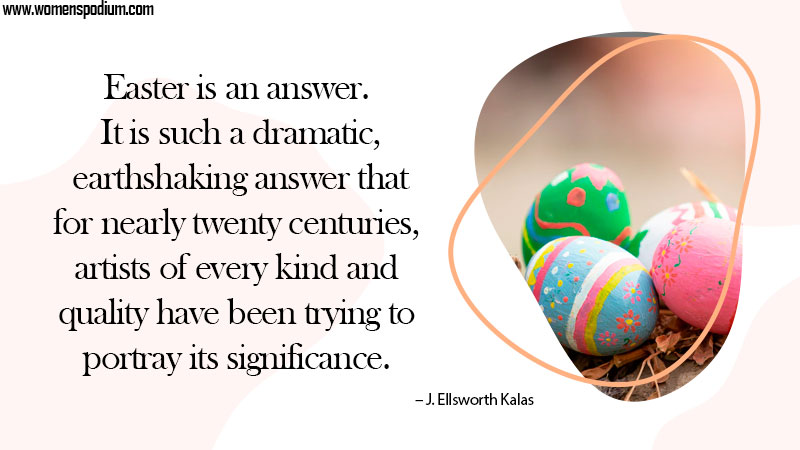 Easter is why we don't give up.

— Dr. David Jeremiah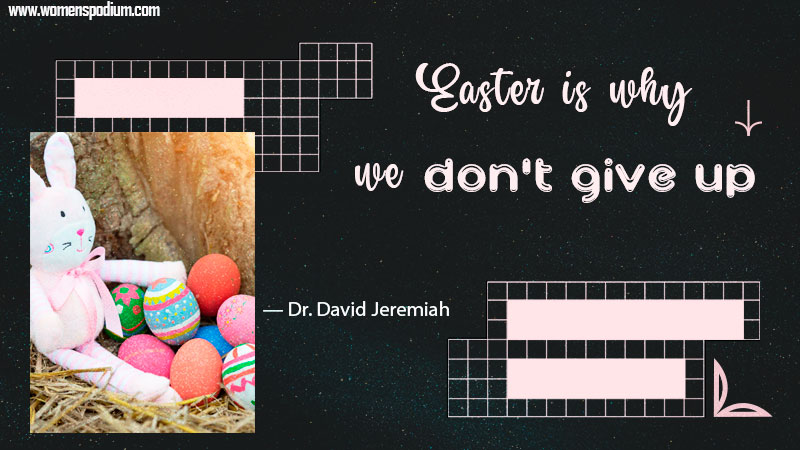 It's impossible to reflect upon Easter and all of its hardships without letting it reflect in and through us.

— Stacy Voss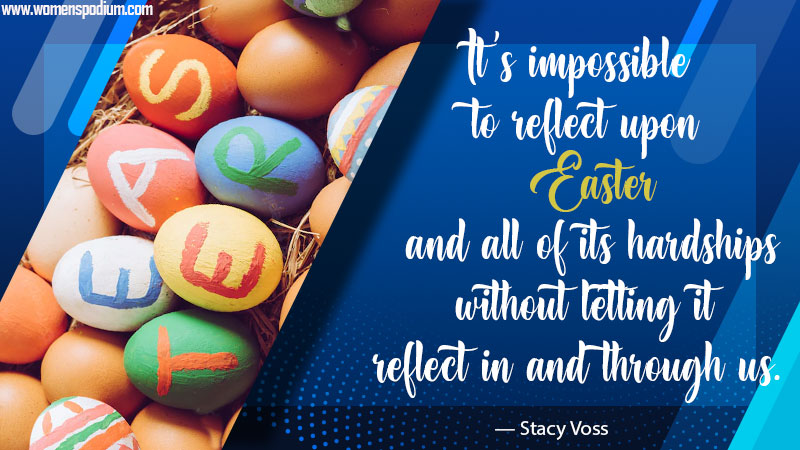 Easter is the one morning in all of history where the dawn came twice; once on the eastern horizon and again in eternity.

— Craig D. Lounsbrough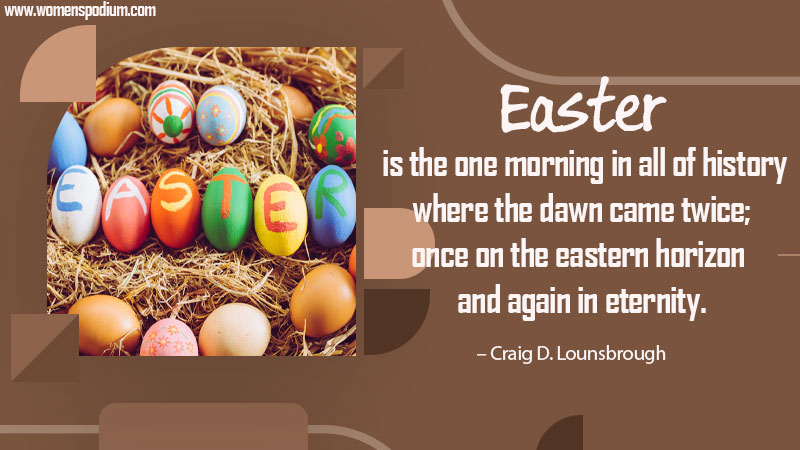 Easter is a time to rejoice, be thankful, be assured that all is forgiven, so life extends beyond the soil of the earth.

— Byron Pulsifer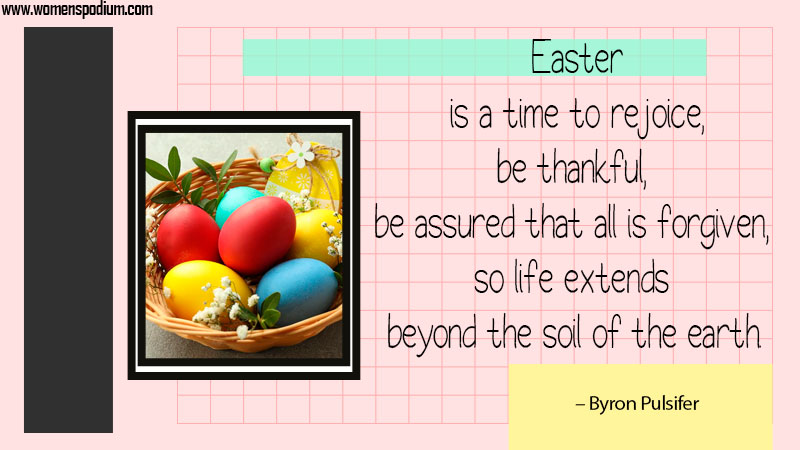 Conclusion
Easter is one of the widely celebrated Christian holidays. It has great importance because it celebrates the resurrection of Jesus. Moreover, these inspirational quotes on Easter will help you spread joy, rebirth, and hope.
Also Read: Here are a few quotes on accomplishment that will set the tone for your journey towards your dreams.