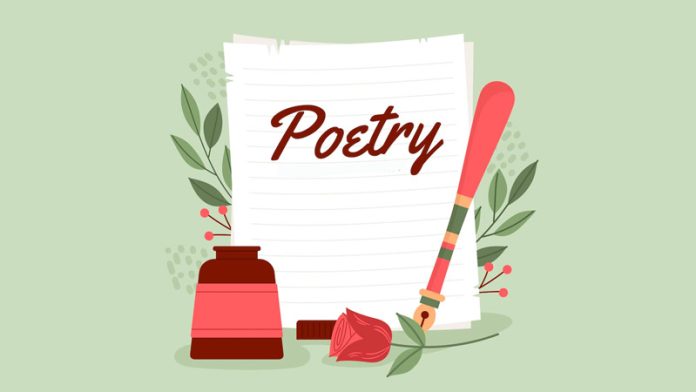 The deepest feelings of the heart, the tune of a song, the words from the depths of the soul, and the strength to unite everyone in the world – this is what is poetry. And to feel emotion truly, what's the better way than quotes about poetry.
What is Poetry?
Poetry has been an important form of literature ever since the dawn of writing. It is a medium to express emotions in the form of a rhythmic piece that succinctly binds all of its contents. Almost every language and every culture have some form of poetry that they call their own. The poetic literature of a country or community can provide great insight into its values, experiences, and history.
Even as an individual, poetry can provide great opportunities both to the writer as well as the audience. Performing at open mics or publishing your poetry online can be great ways to spread your poetic passion to the world. But most importantly, it is the power of poetry to bind people and establish an indescribable connection between the speaker and the listener that makes it so special.
The functions of poetry are many, especially in our modern society. Here are some quotes about poetry to express this magical and historical form of art.
25 Quotes About Poetry to Voice Out Your Inmost Emotions!
Only the very weak-minded refuse to be influenced by literature and poetry.

― Cassandra Clare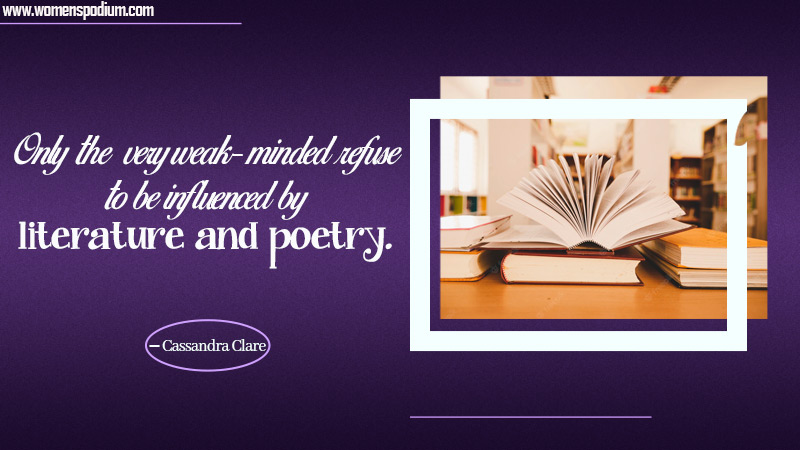 Painting is poetry that is seen rather than felt, and poetry is painting that is felt rather than seen.

― Leonardo da Vinci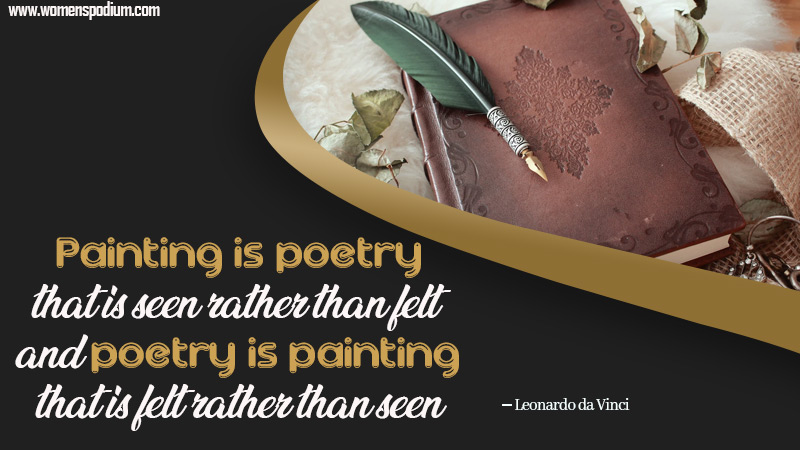 Poetry is when an emotion has found its thought and the thought has found words.

― Robert Frost
Poetry is an echo, asking a shadow to dance.

― Carl Sandburg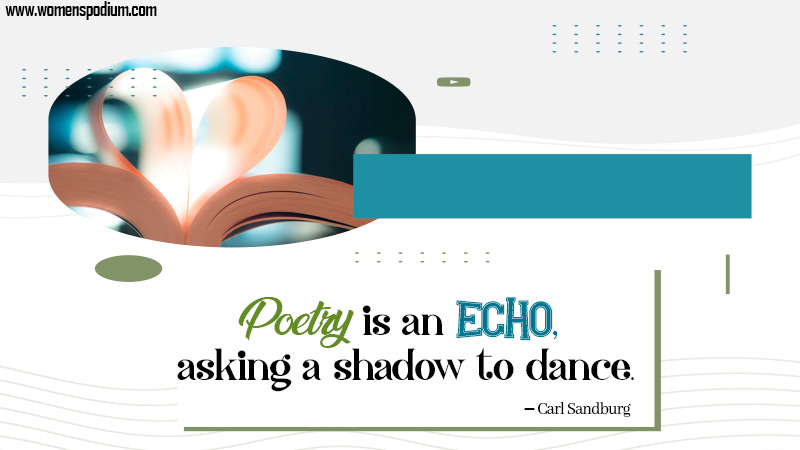 Painting is silent poetry, and poetry is painting that speaks.

― Plutarch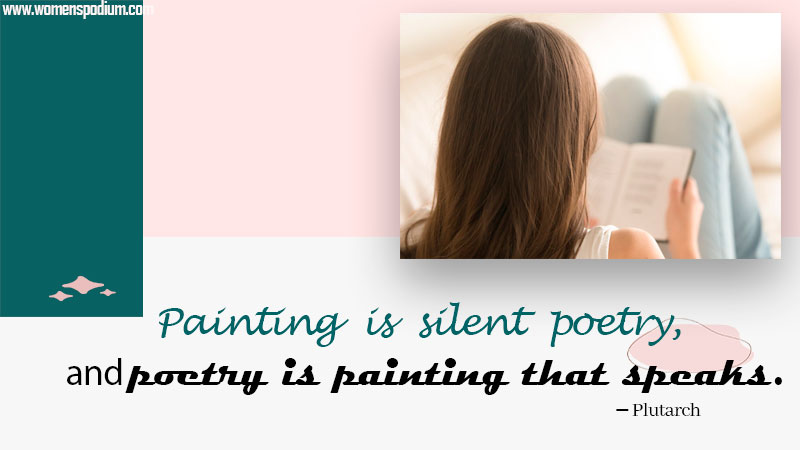 Poetry is the spontaneous overflow of powerful feelings: it takes its origin from emotion recollected in tranquility.

― William Wordsworth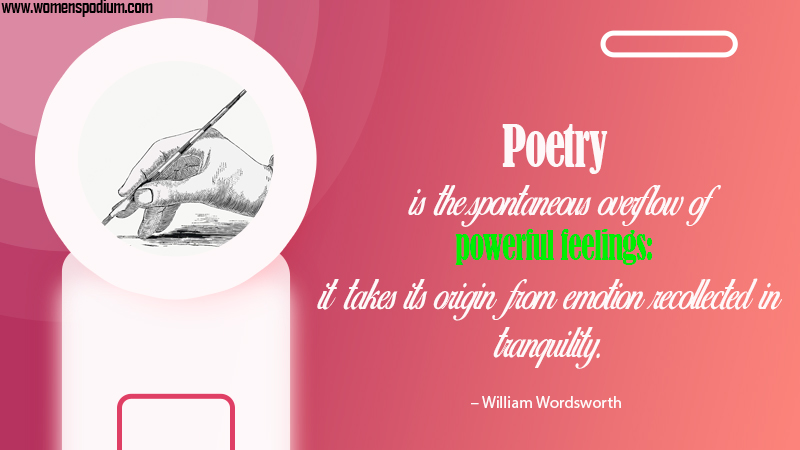 Poetry is language at its most distilled and most powerful.

― Rita Dove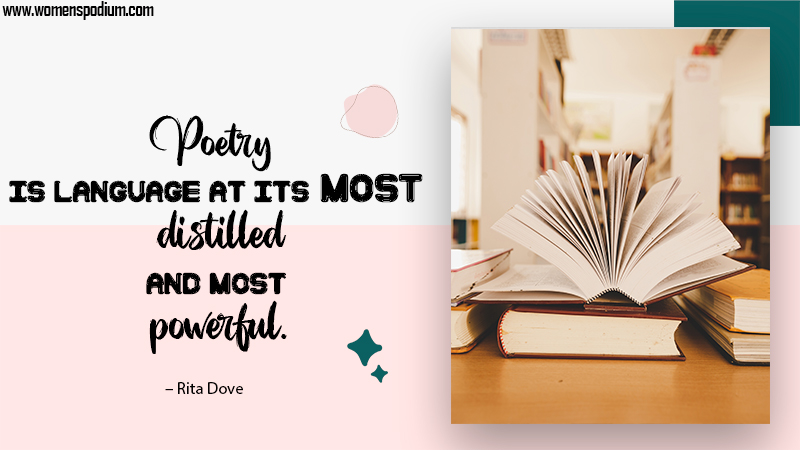 Poetry is nearer to vital truth than history.

― Plato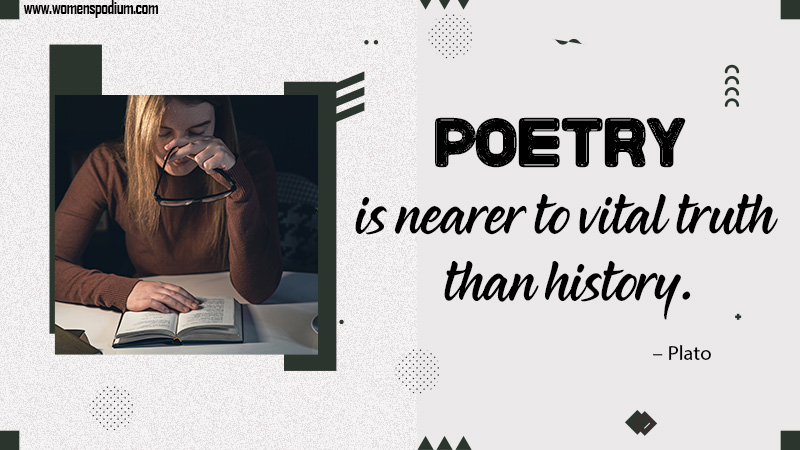 Poetry is a deal of joy and pain and wonder, with a dash of the dictionary.

― Khalil Gibran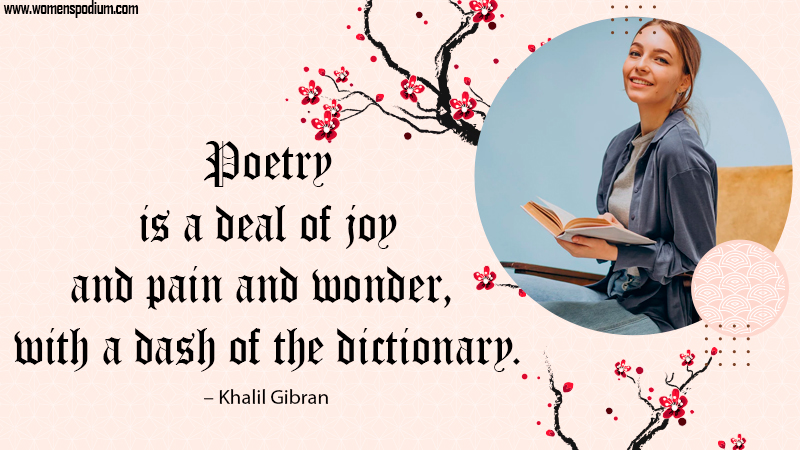 Poetry is thoughts that breathe, and words that burn.

― Thomas Gray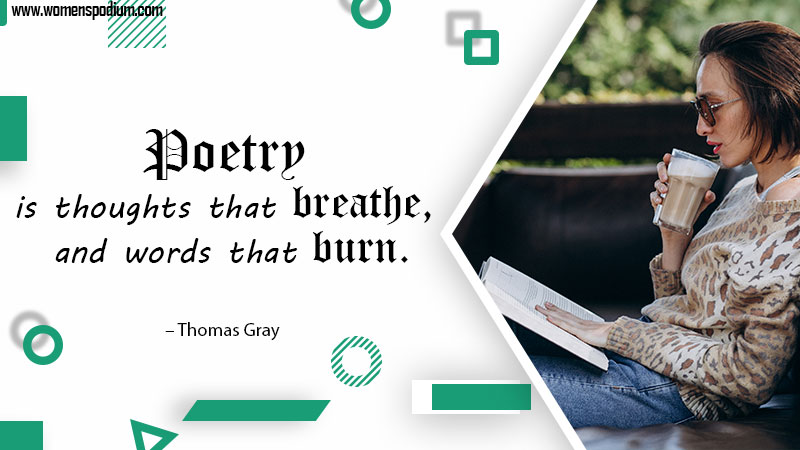 Poetry is plucking at the heartstrings, and making music with them.

― Dennis Gabor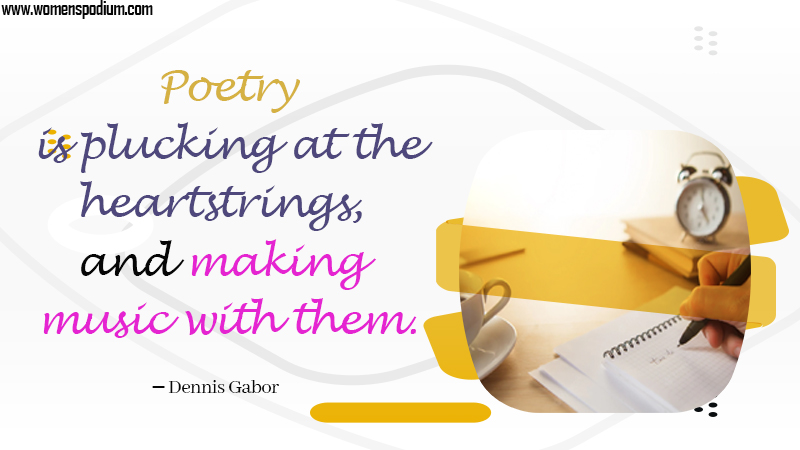 The crown of literature is poetry.

― W. Somerset Maugham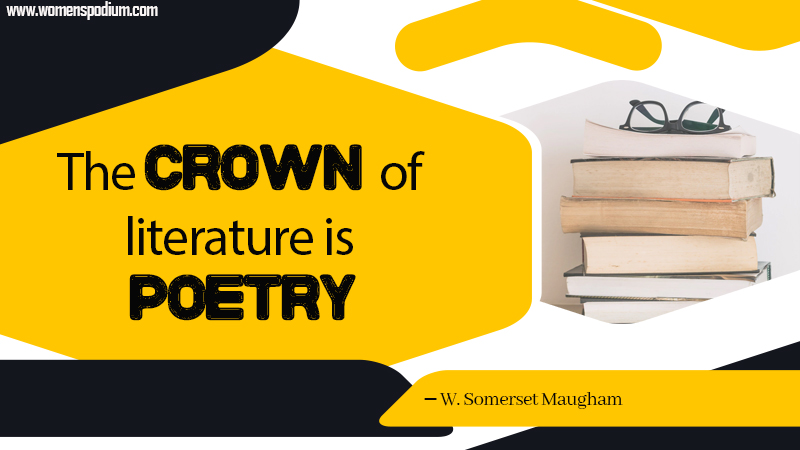 Poetry is the one place where people can speak their original human mind. It is the outlet for people to say in public what is known in private.

― Allen Ginsberg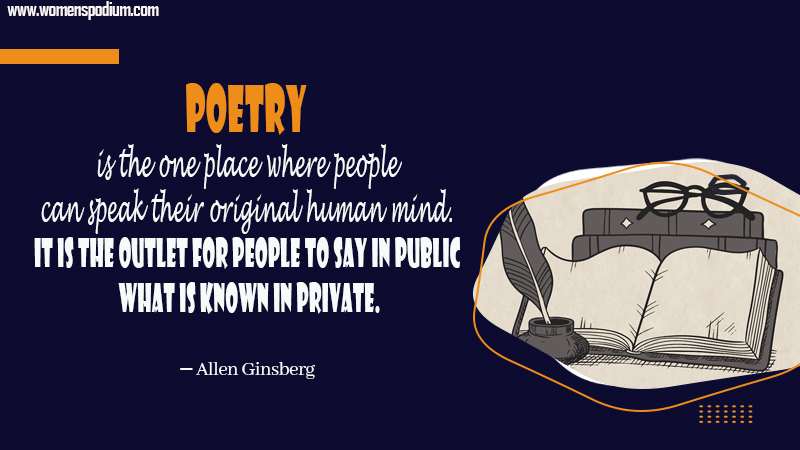 Quotes About Poetry
Poetry can help you to bring people together, inspire collective action, and sustain solidarity by describing everyday experiences. Thus, poetry becomes not only a cultural symbol but also a social and political tool.
Poetry lies its way to the truth.

― John Ciardi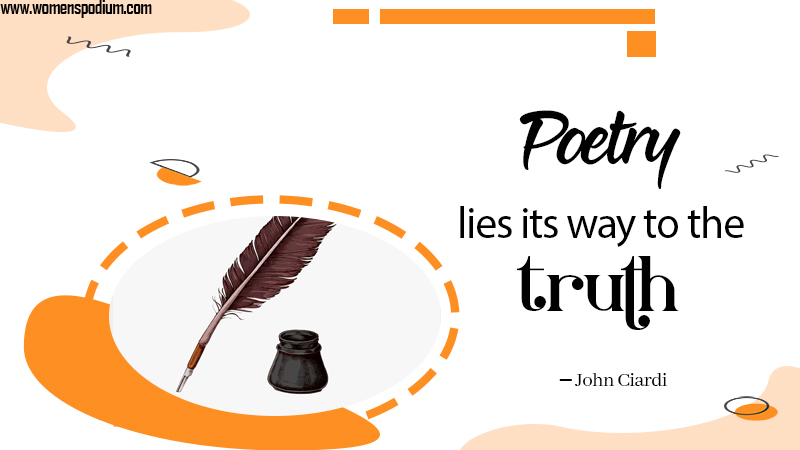 Poetry: the best words in the best order.

― Samuel Taylor Coleridge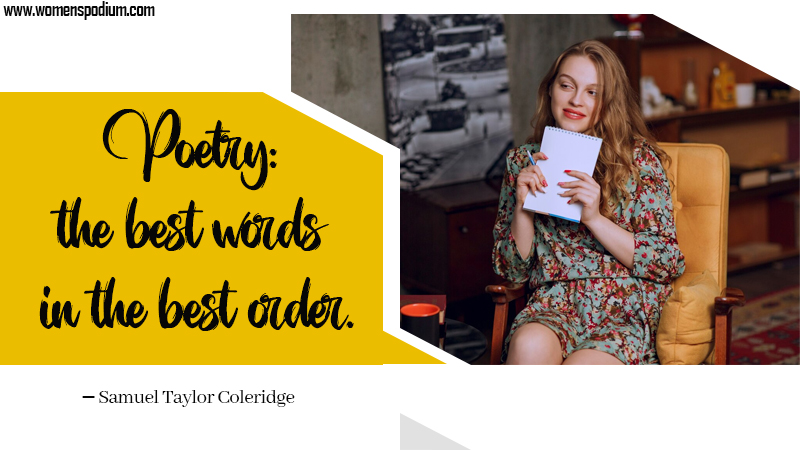 Poetry is just the evidence of life. If your life is burning well, poetry is just the ash.

― Leonard Cohen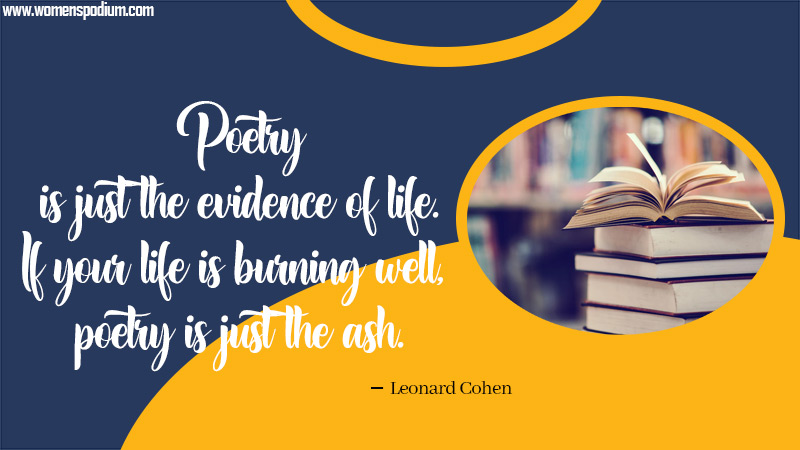 Poetry heals the wounds inflicted by reason.

― Novalis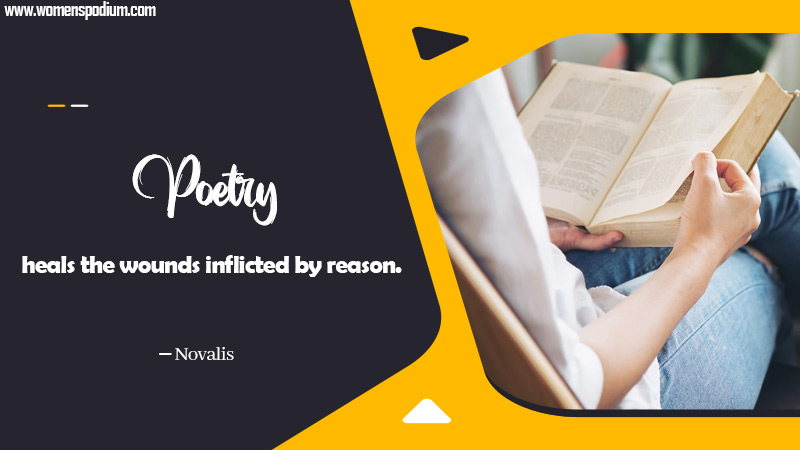 Poetry is a mirror which makes beautiful that which is distorted.

― Percy Bysshe Shelley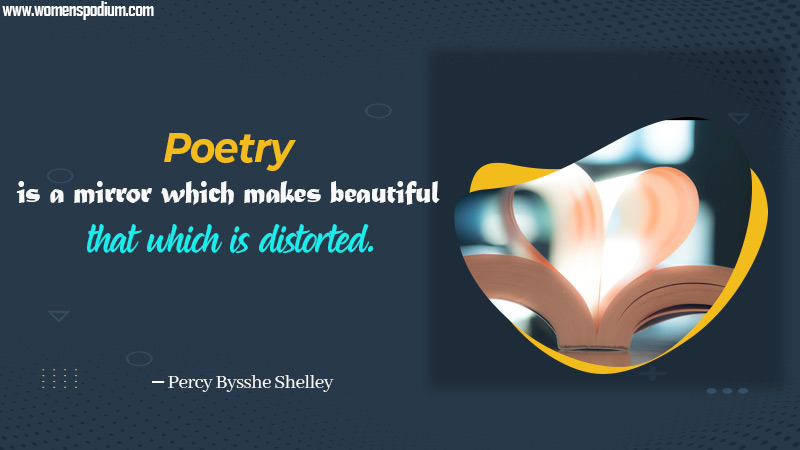 Reality only reveals itself when it is illuminated by a ray of poetry.

― Georges Braque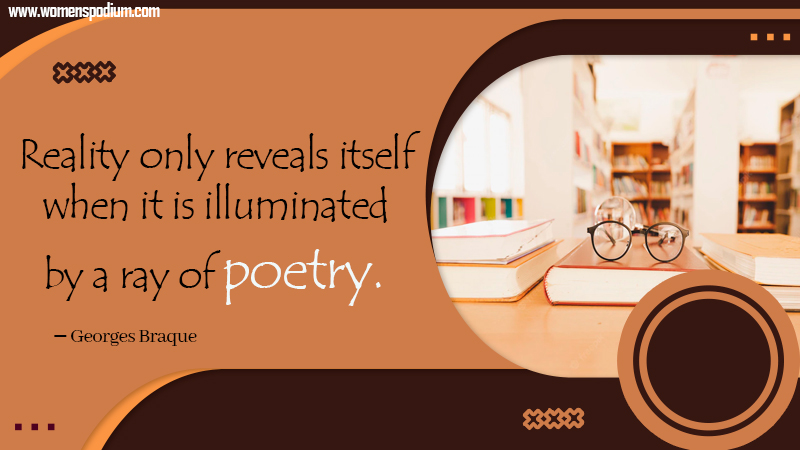 Poetry is the art of creating imaginary gardens with real toads.

― Marianne Moore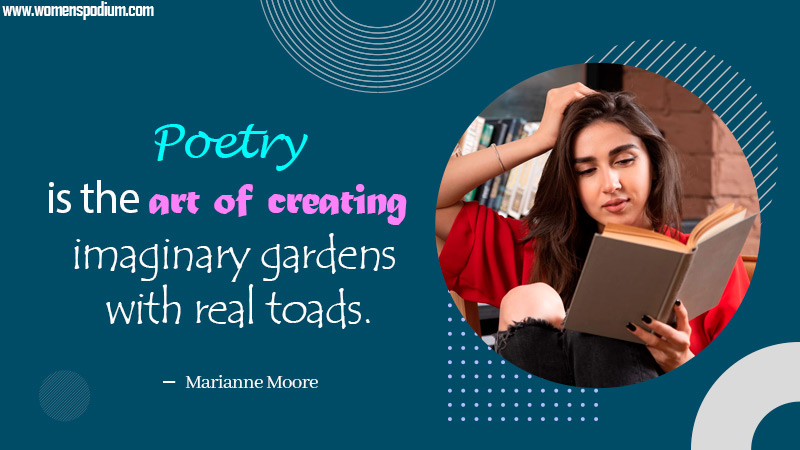 Poetry is finer and more philosophical than history; for poetry expresses the universal, and history only the particular.

― Aristotle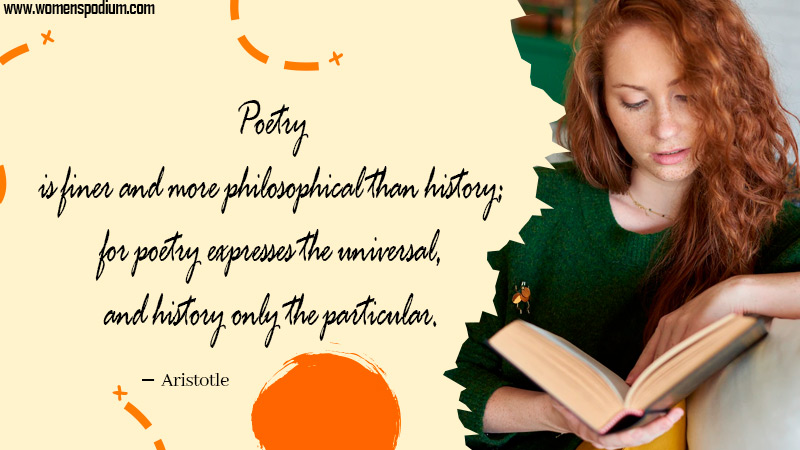 Breathe-in experience, breathe-out poetry.

― Muriel Rukeyser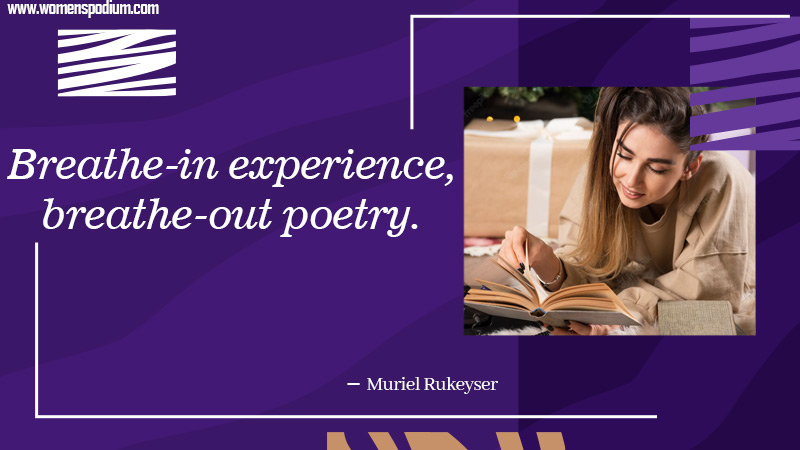 Poetry is the deification of reality.

― Edith Sitwell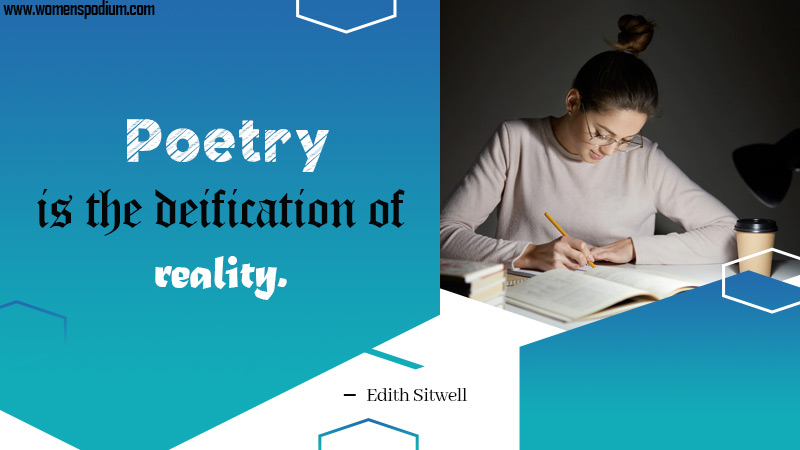 Poetry is the opening and closing of a door, leaving those who look through to guess about what is seen during the moment.

― Carl Sandburg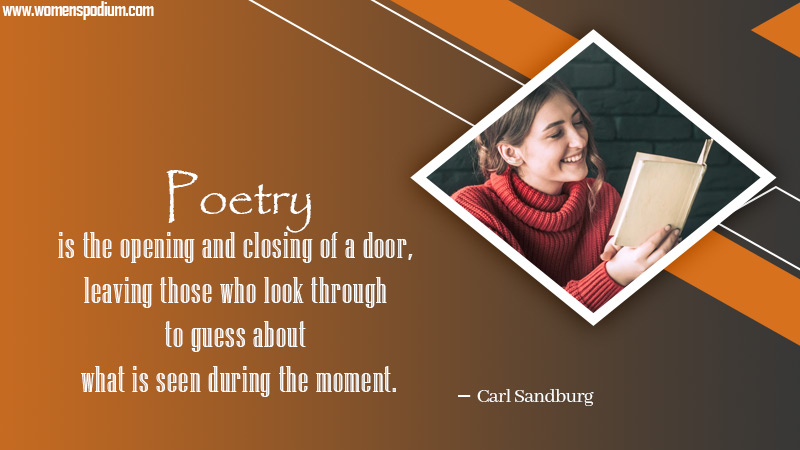 It is a test that genuine poetry can communicate before it is understood.

—— T. S. Eliot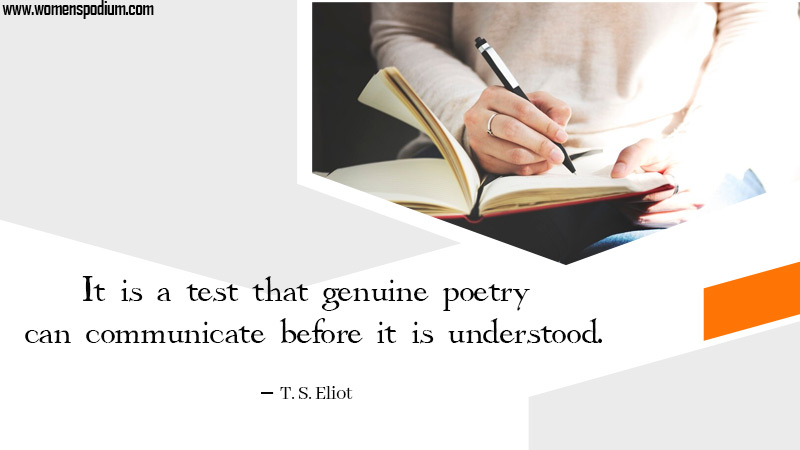 Conclusion
Whether you're a blossoming poet, or an avid reader, the art of poetry has something in store for you. Whether it is providing you with entertainment or bringing you out of the darkness in life, poetry is an inseparable part of all our lives. So if you have an idea simmering in your mind, grab the pen and start writing. Or, if you're feeling low, just pick up poetry and start reading. Hope the above-shared quotes about poetry will help you voice out your emotions out loud because the magic of poetry prevails all through life.
Also Read: Happiness and peace come from within. A peaceful mind makes a happy individual and a peaceful society. Some quotes about peace help us have a better vision of world peace.