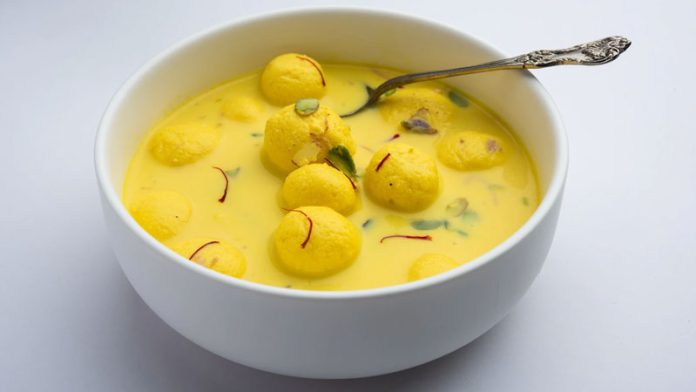 Rasmalai or Rosh malai is a famous sweet and traditional delicacy popular in South-Asian countries like Pakistan, India, and Bangladesh. It is quite a popular classic dessert in these countries, that is served after a savory meal. Making Rasmalai is as easy as making Rasgulla, but at the same time, it is tricky to get a soft and juicy texture. This post brings you two ways for how to make Rasmalai – A traditional way with proper technique and a shortcut way for easy and quick process. The best of the results will come out when you follow each step carefully.
Also Read: The sweet-lovers would also like to try mango desserts beside some traditional delicacies as well.
How To Make Rasmalai At Home?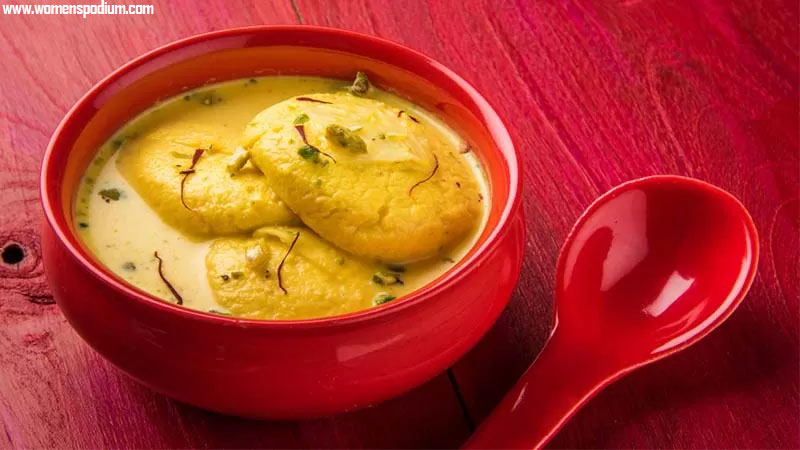 The Rasmalai recipe revolves around fresh milk. It is a delicious dessert that requires technique and patience to master. The one you make at home will always be better than the store-bought. Here are the recipes.
Method 1 – The Traditional Way:
Ingredients For Recipe:
Saffron Milk
Full cream fresh milk – 1 liter
Saffron strands – 1 pinch
Green Cardamom – 5-6
Sugar – 6 tbsp
Pistachios – 1 ½ tbsp
Almonds – 1 ½ tbsp
Rasmalai Balls
Full cream fresh milk – 1 ½ liter
Water – ¼ cup
Lemon juice – 3-4 tbsp
Corn flour – 2 tbsp
Sugar Syrup
Water – 1 liter
Sugar – 1 cup
Garnish To Serve
Crushed Almonds
Crushed Pistachios
Saffron strands
Instructions:
Firstly, prepare saffron milk by taking one liter of full cream fresh milk in a large pot and bring it to a boil.
Add a pinch of Saffron strands and 5-6 Green Cardamom to the boiling milk.
Also, add at least six tablespoons of sugar to the boiling milk.
Crush the pistachios and almonds separately and take 1 ½ tablespoon of both to add in the milk.
Again, bring it to a boil. Then lower the flame.
Cook on low flame until the milk is reduced to half. It takes approx. 12-15 minutes.
Keep mixing in between and then place it aside.
Secondly, you need to know how to make Rasmalai balls. Because you will know how to make Rasmalai only if you can make fool-proof Rasmalai balls.
Take 1 ½ liter full cream fresh milk in a large pot and bring it to a boil.
Remove the pan from flame and let it rest for almost 10 minutes to bring down the temperature of the milk.
Take 3-4 tablespoons of lemon juice and add them into ¼ cup of water.
Add it to the cooled-down milk from before and mix it well.
Let it rest until the milk curdles completely, then strain it using a strainer in a cotton cloth.
Rinse well under the tap water to remove the lemon juice, completely.
Squeeze out the water from it and hang for 10 minutes to let the water out.
Take that out in a bowl and mash it well for 10 minutes or until the mixture is smooth.
Add two tablespoons of cornflour and knead for 5 minutes until it is very smooth.
Make 13-14 smooth Rasmalai balls with no cracks for a perfect result.
Thirdly, to make sugar syrup, take 1-liter water in a large pot and add 1 cup of sugar to it.
Cook until the sugar is dissolved.
Cook Rasmalai balls in sugar syrup for 3 minutes, then cover the pot.
Cook further for 12-15 minutes until they get double in size.
Put ice cubes in the pot to stop the cooking process immediately and let it rest for 8-10 minutes in syrup to soak.
Lastly, dish out the Saffron milk in a dish and carefully place Rasmalai balls or discs in it.
Garnish it with crushed almonds, pistachios, and saffron strands.
Refrigerate for 3-4 hours before serving. You can serve 7-8 people with this recipe.
Method 2 – The Quick Way: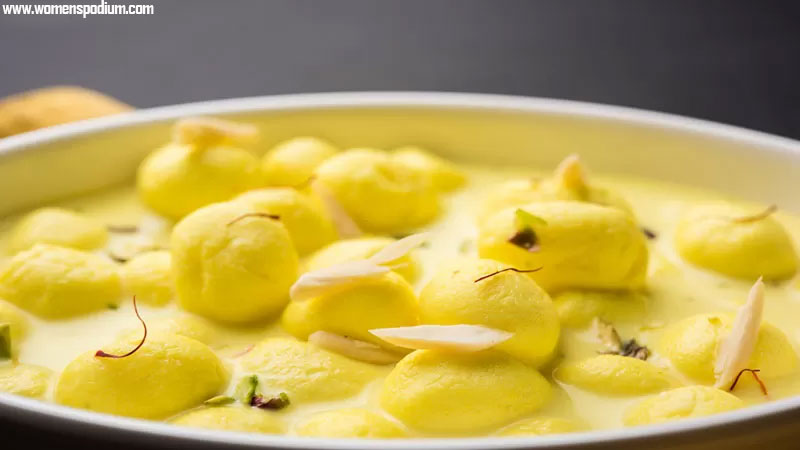 Ingredients:
Dry milk – 1 cup
Egg – one large
Baking Powder – 1 tsp
Oil – 1 tbsp
Green Cardamom – ½ tsp
Pistachios (chopped) – 1 tbsp
Almonds (chopped) – 1 tbsp
Milk – 1 liter
Sugar – ¾ cup
Instructions:
Mix the dry milk, baking powder, egg, oil, and green Cardamom powder well.
Knead the mixture like a soft dough.
Shape that mixture into Rasmalai balls.
Take a pot of milk, place it on medium flame, then add sugar and some amount of Cardamom powder. Wait until it boils.
When the milk boils, and the sugar is completely dissolved, add the Rasmalai balls to it. Give it another boil.
Lower the flame and leave the Rasmalai balls in for around 5-7 minutes or until they get double in size.
Your Rasmalai recipe is ready. Pour it out in a dish and let it cool.
Garnish with pistachios and almonds as they help boost your immunity.
Let it rest in the refrigerator for 3-4 hours before serving.
So, try out these two methods for how to make Rasmalai. The more you practice, the tastier it gets. If you make it the right way, this dessert will bring you a heavenly feeling. These Rasmalai balls not only taste great but will also melt in your mouth. As the name suggests, Ras (means juice), and Malai (means cream), this Rasmalai recipe is a delicacy that is one of its kind and has a creamy texture. If you like sweets, you will love this sweet dessert.
Also Read: The creamy texture of rasmalai is even better than the ice cream custard you make at home.