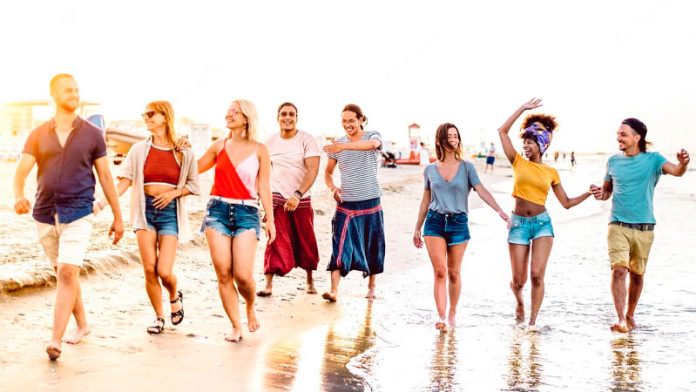 Spring break is almost here. Generally, it is one or two weeks of relaxation and fun. Spring break is a great opportunity for students to get ease from their hectic school schedule. Most of the students idealized spring break as one week of traveling and entertainment. If you are planning on a vacation with your friends or family, these spring break quotes will caption your holiday mood.
Along with relaxation, spring break has mental and physical health benefits as well. Usually, students in schools and colleges deal with anxiety and stress. Spring holidays help deal with school-related problems and provide motivation.
Interesting Things You Can do on This Spring Break
Spring break is a perfect time to enjoy the good weather. On the other hand, traveling is a wonderful way to get rid of day-to-day daily routine. After so much hectic routine students deserve a good spring break trip. A relaxing trip to the beach with friends or family will create everlasting memories of high school or college.
According to research spring holidays helps students remain focused on their studies. Secondly, it also freshens the mind and improves attention and creativity. If you are not in the mood of traveling. You can also enjoy your spring break by watching movies, having dinner with your friends, reading a book, doing sports, and visiting your grandparents. Undoubting, spring break is the most important part of the year and one should spend it the way he wants to.
Here is the collection of inspirational, humorous, and interesting spring break quotes that will speak for your inner feelings.
Spring is when life's alive in everything.

— Christina Rossetti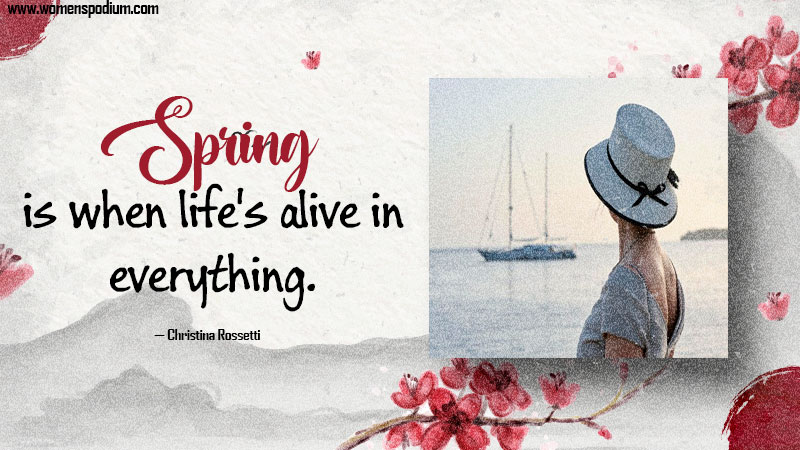 Live in the sunshine. Swim in the sea. Drink in the wild air.

— Ralph Waldo Emerson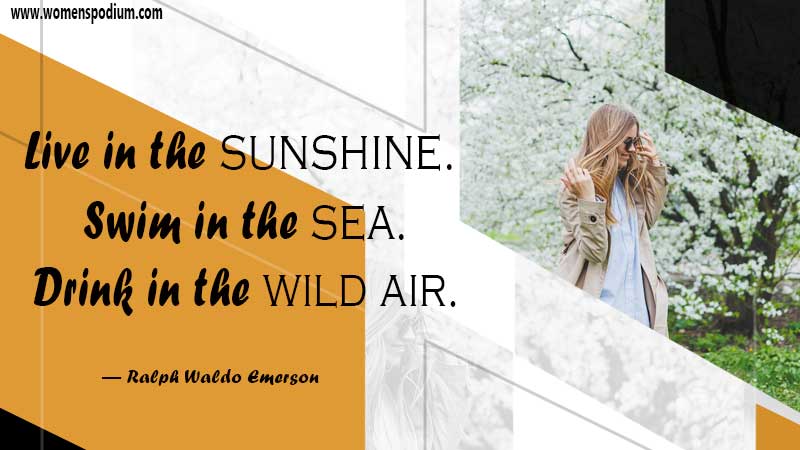 Spring won`t let me stay in this house any longer! I must get out and breathe the air deeply again.

— Gustav Mahler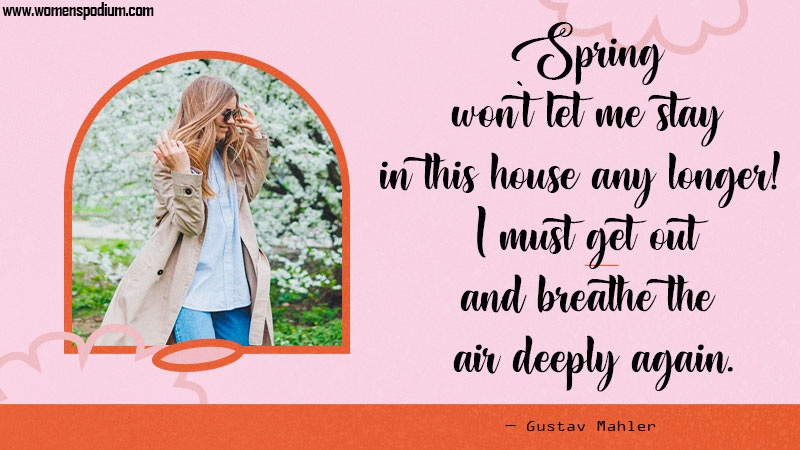 Spring has returned. The Earth is like a child that knows poems.

— Rainer Maria Rilke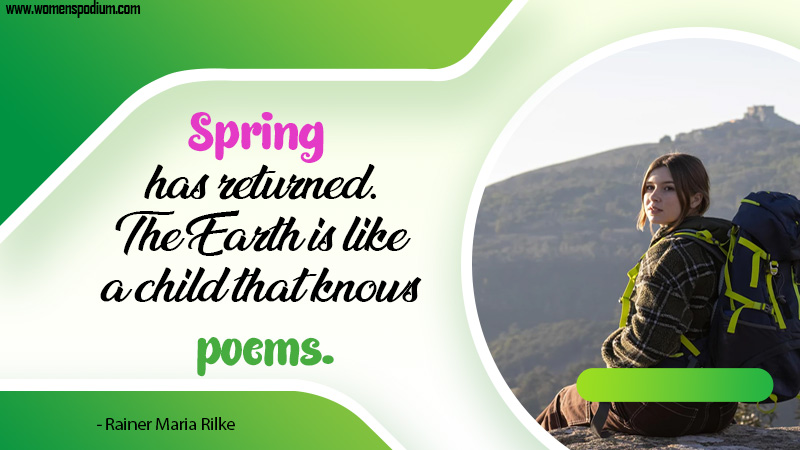 The beautiful spring came; and when Nature resumes her loveliness, the human soul is apt to revive also.

— Harriet Ann Jacobs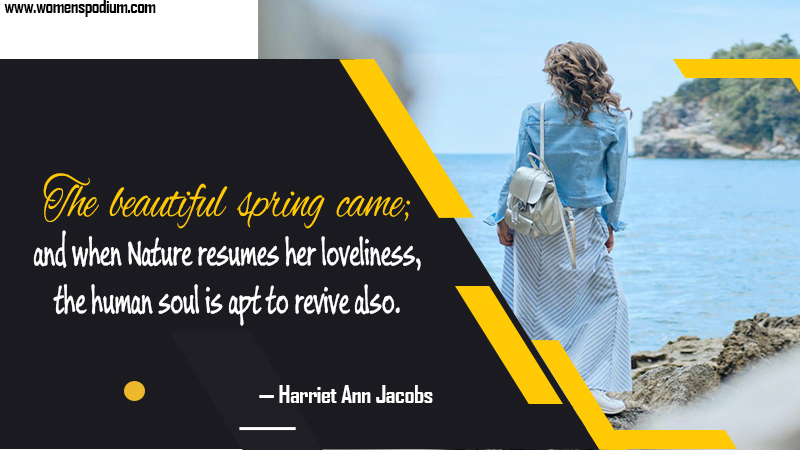 In the spring, at the end of the day, you should smell like dirt.

— Margaret Atwood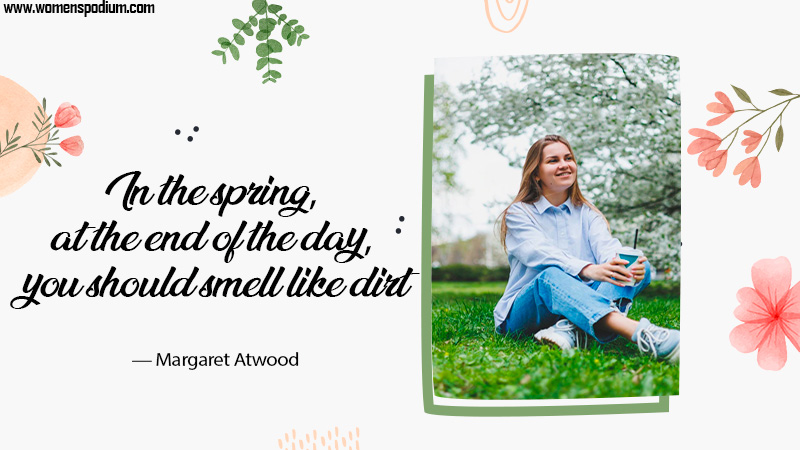 Spring is nature's way of saying, 'let's party.

— Robin Williams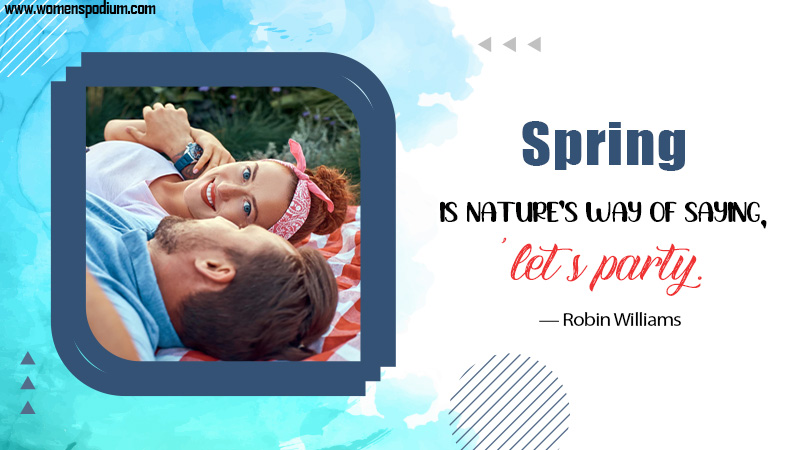 Oh, Spring! I want to go out and feel you and get inspiration. My old things seem dead. I want fresh contacts, more vital searching.

— Emily Carr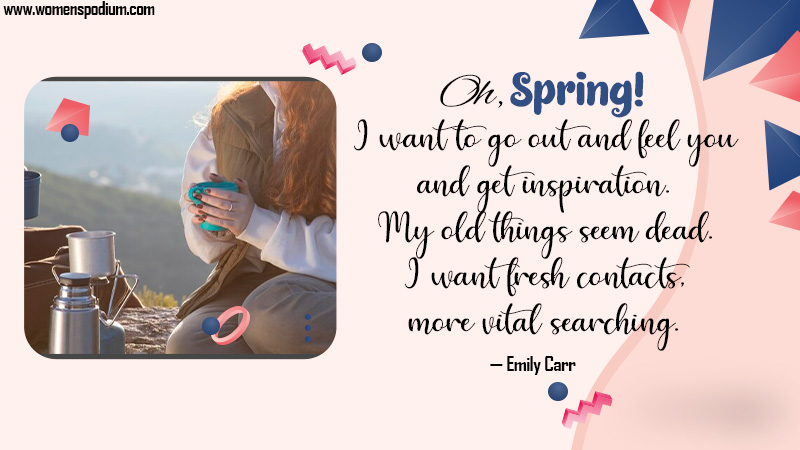 Hoe while it is spring, and enjoy the best anticipations. It is not much matter if things do not turn out well.

— Charles Dudley Warner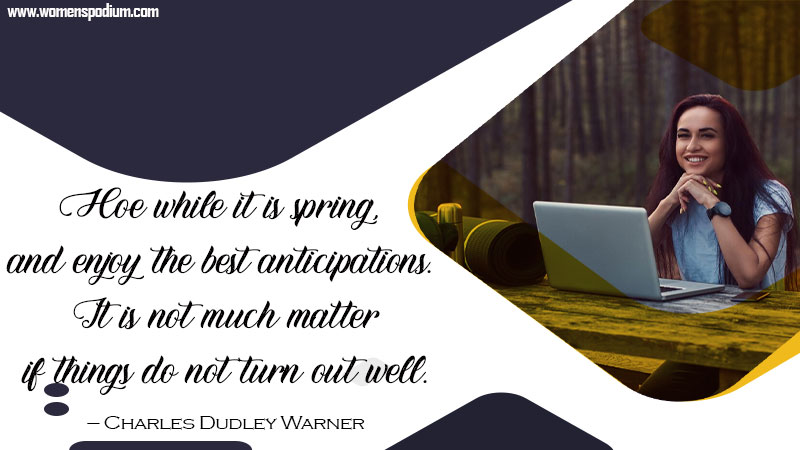 Holidays are all different depending on the company and time of your life.

— Dominic Monaghan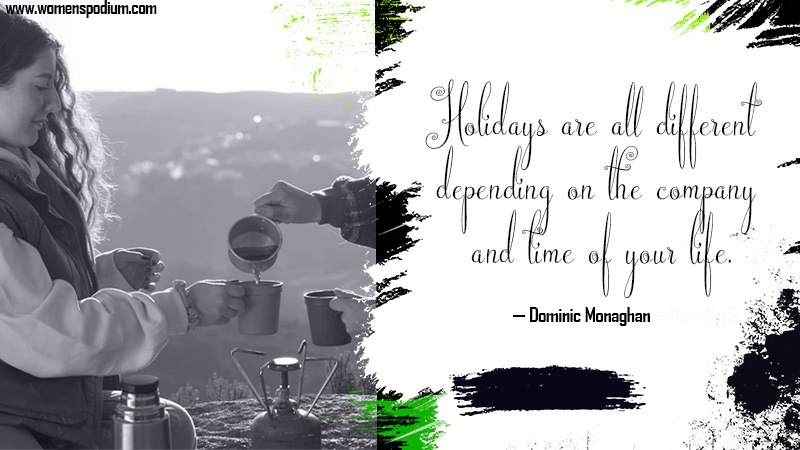 Spring is a time to find out where you are, who you are, and move toward where you are going.

— Penelope Trunk
The world`s favorite season is the spring. All things seem possible in May.

— Edwin Way Teale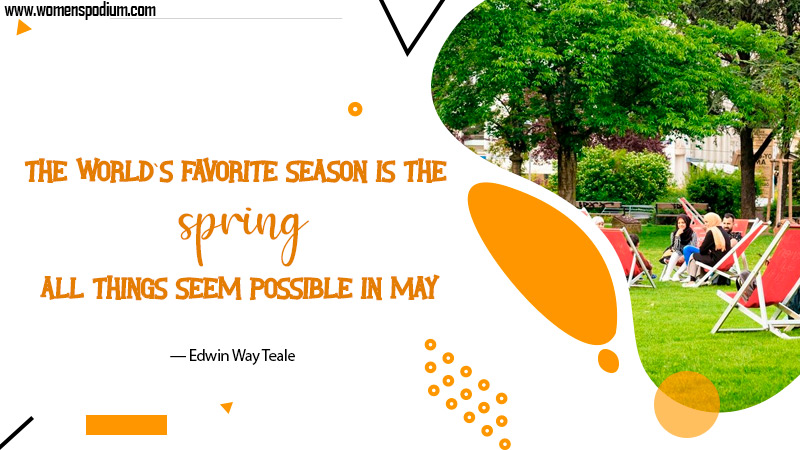 Spring`s greatest joy beyond a doubt is when it brings the children out.

— Edgar Guest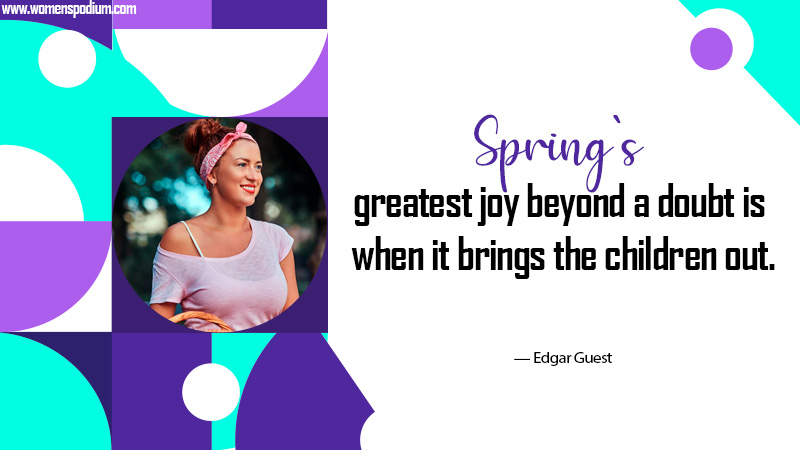 In the spring time, the only pretty ring time, / When birds do sing, hey ding a ding, ding. / Sweet lovers love the spring.

— William Shakespeare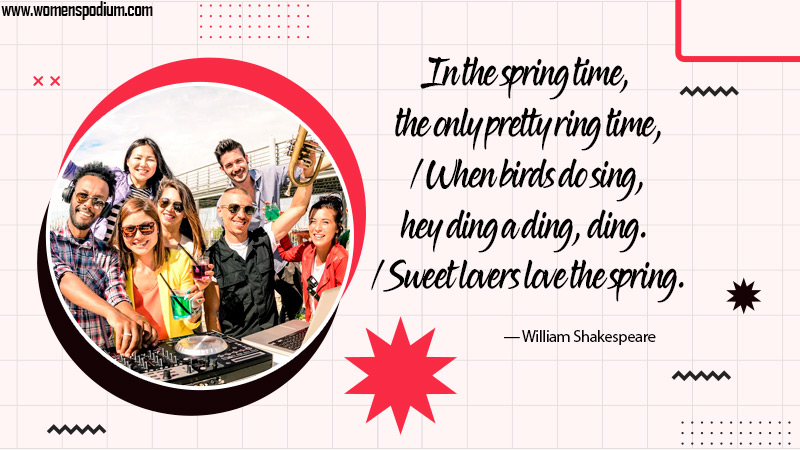 Spring, the sweet Spring, is the year`s pleasant king; / Then blooms each thing, then maids dance in a ring, / Cold doth not sting, the pretty birds do sing.

— Thomas Nashe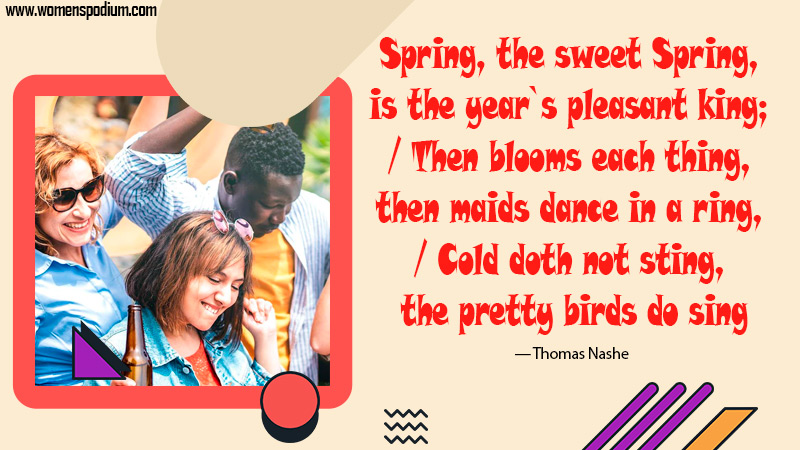 Every spring is the only spring-a perpetual astonishment.

— Ellis Peters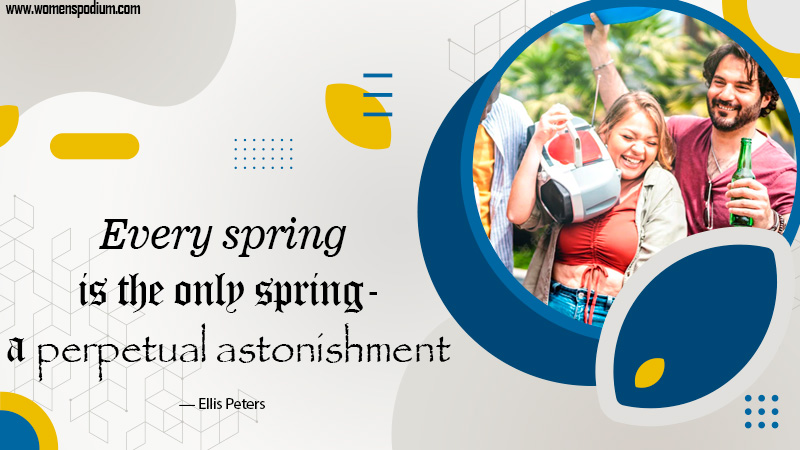 It`s spring break, fellas. Anything is possible.

— Dr. Tom Loman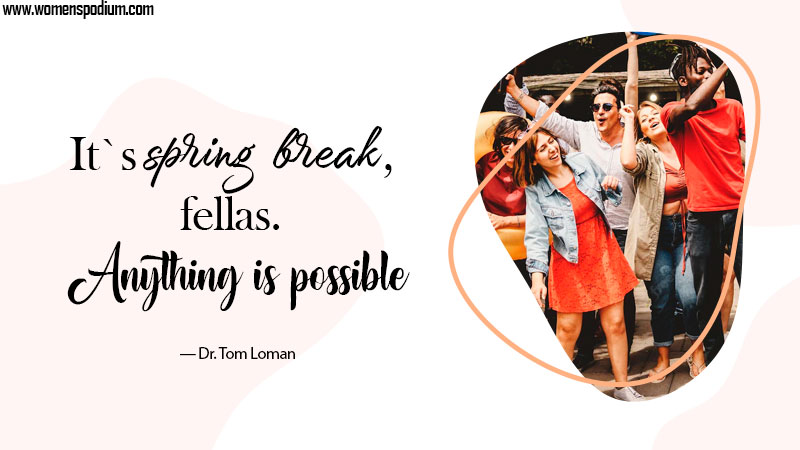 Break open the cherry tree: where are the blossoms? Just wait for spring time to see how they bloom.

— Ikkyu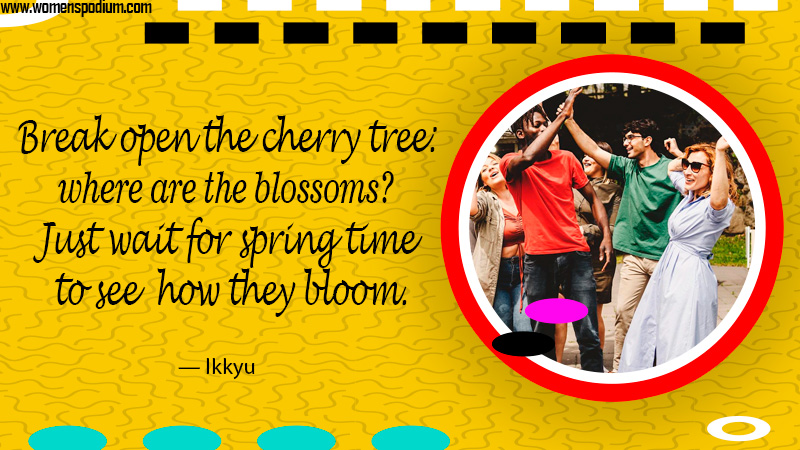 The first blooms of spring always make my heart sing.

— S. Brown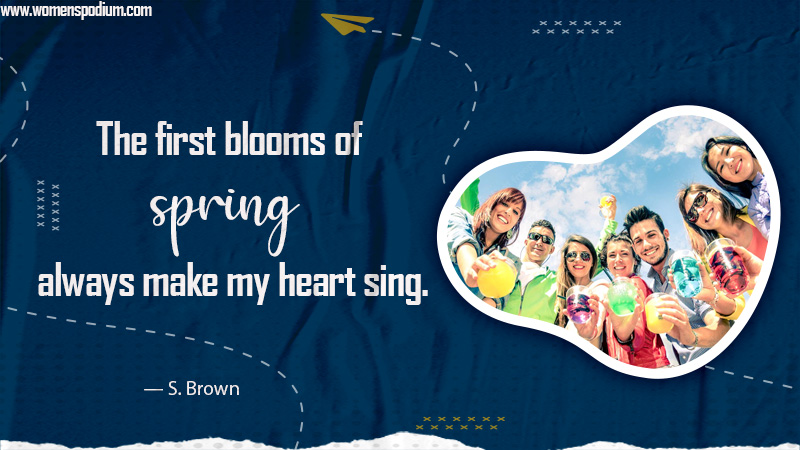 You can cut all the flowers but you cannot keep spring from coming.

— Pablo Neruda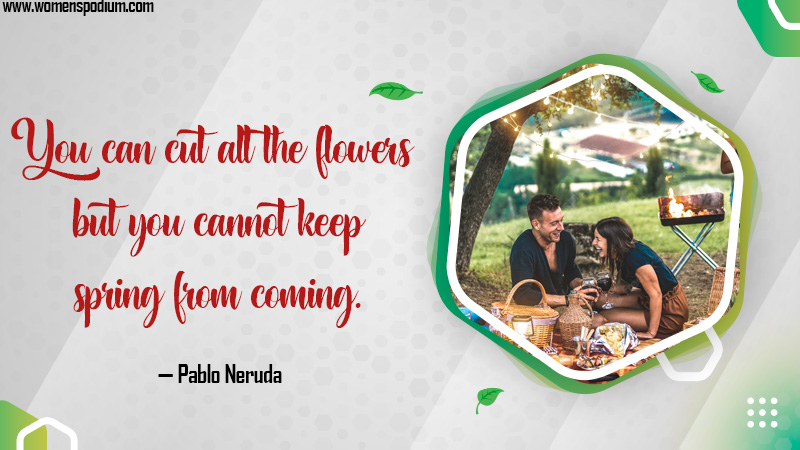 Always it's spring and everyone's in love and flowers pick themselves.

— E.E. Cummings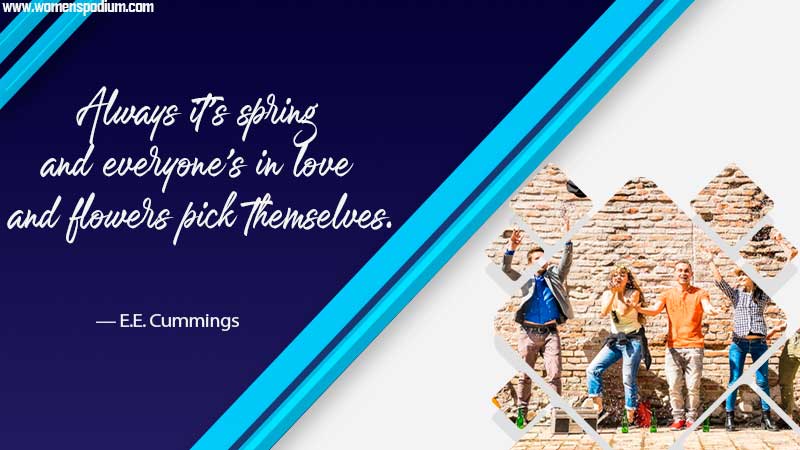 When spring came, even the false spring, there were no problems except where to be happiest.

— Ernest Hemingway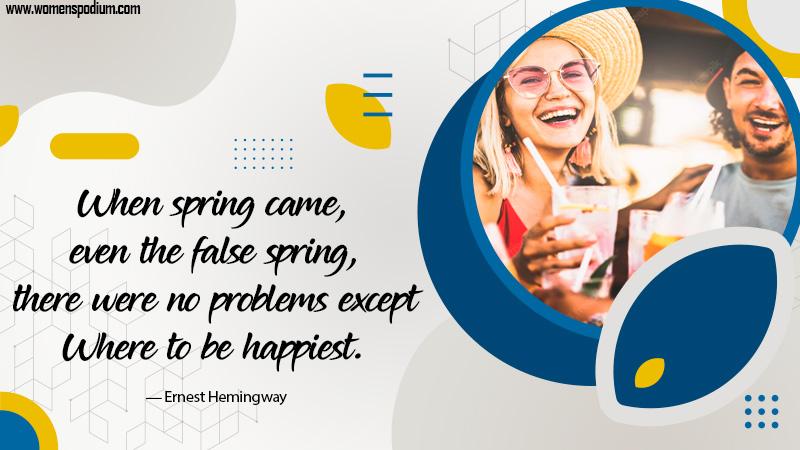 That is one good thing about this world… There are always sure to be more springs.

— L.M. Montgomery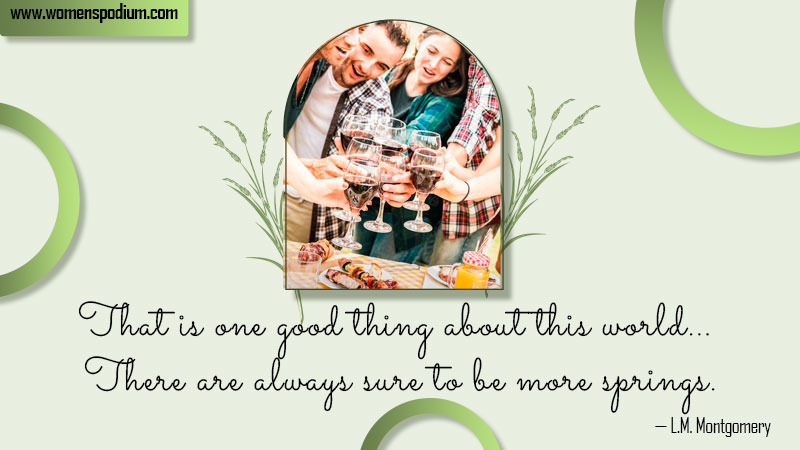 The Sun does arise, / And make happy the skies; / The merry bells ring / To welcome the Spring.

— William Blake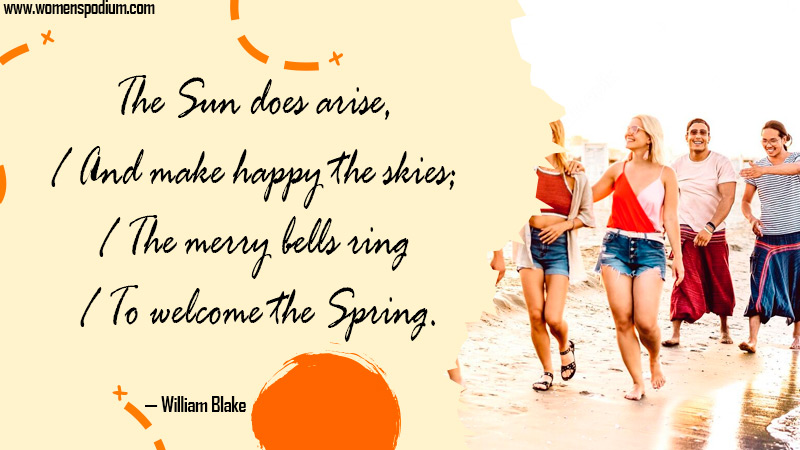 Spring will come and so will happiness. Hold on life will get warmer.

— Anita Krizzan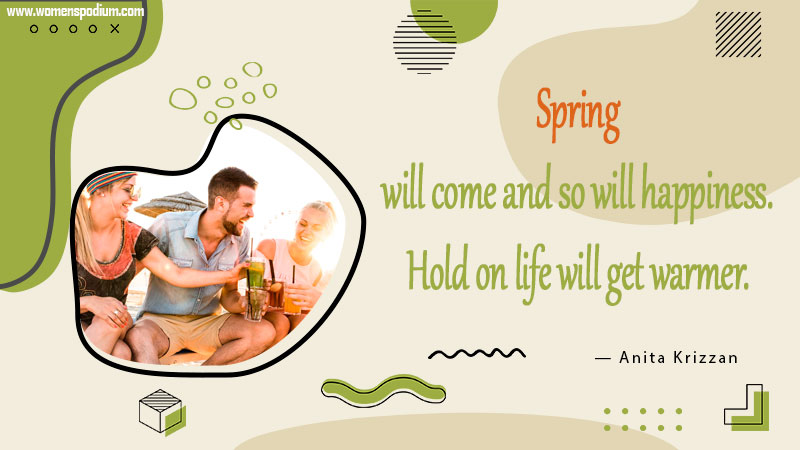 Conclusion
Spring is an amazing time of the year. Students impatiently wait for spring break. So; they can have relief from their hectic school or college routine and enjoy their holidays. Additionally, these inspirational, motivational and entertaining spring break quotes will help you enjoy your spring holidays even more.
Also Read: Women face restrictions and aren't allowed to travel without their male partner or family, due to social insecurities, for females exploring the world is just a dream. Check out this list of safe cities for women to travel alone.