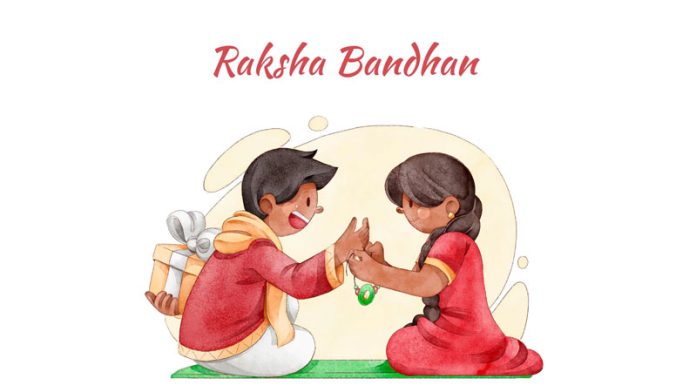 Raksha Bandhan, Rakhi, Rakhi Purnima or the famously known sibling festival — we may know it by any name, but this festival holds a special place in our hearts. What starts in our childhood as a festival of gifts and rakhis gradually occupies a place in our heart as a symbol of the various forms of sibling-like bonds we share and gives us the opportunity to celebrate each one of them. Like any other festival, celebrating rakhi with family is definitely a pleasant time. Even if you are away, thanks to online portals, sending rakhi and cards with enchanting Raksha Bandhan messages is relatively smooth.
What Is Raksha Bandhan, And Why Do We Celebrate Rakhi?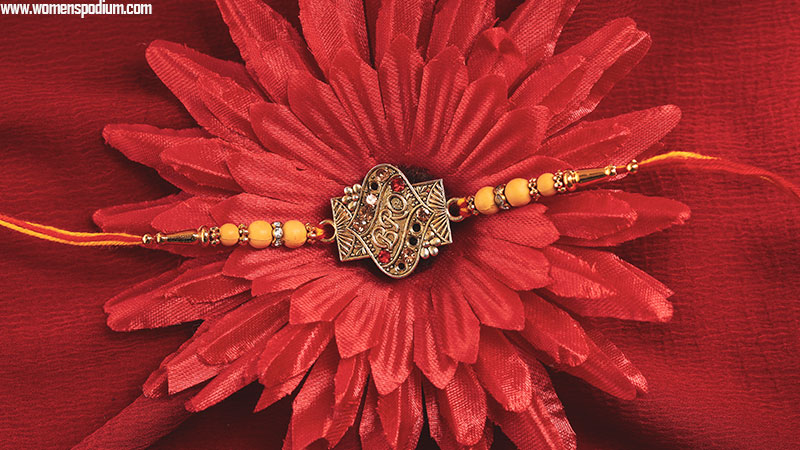 Raksha Bandhan comes from the Sanskrit works Raksha and Bandhan, which literally translates to 'the bond of protection.' It is traditionally celebrated with many rituals, including the sister tying the sacred thread known as 'rakhi' on her brothers' wrist while they promise to protect her all their life. While modern forms of Raksha Bandhan have changed to include a variety of bonds, the core is just the same – celebrating the safe space that a sibling relationship brings to our lives. So here are some beautiful messages and ads to celebrate your sibling bond in the best way possible!
Raksha Bandhan Messages To Make Your Sibling Feel Special
The COVID 19 Pandemic has made it difficult for us to travel, and so many of us may not be able to see our siblings this Raksha Bandhan. However, we do have the technology to the rescue! Here are ten such Raksha Bandhan messages that you can send to your siblings and brighten up their day. These messages can be sent to anyone who feels like a sibling to you and offers you that space of comfort only a sibling can! Sending a quick message and letting someone know that you are thinking of them gives them a heartwarming surprise and allows you to express all you want to say.
Raksha Bandhan Messages
You have always been my comfort zone, my safe space, and my partner in crime! I hope this Rakhi strengthens our bond and brings more light to our relationship. Happy Raksha Bandhan.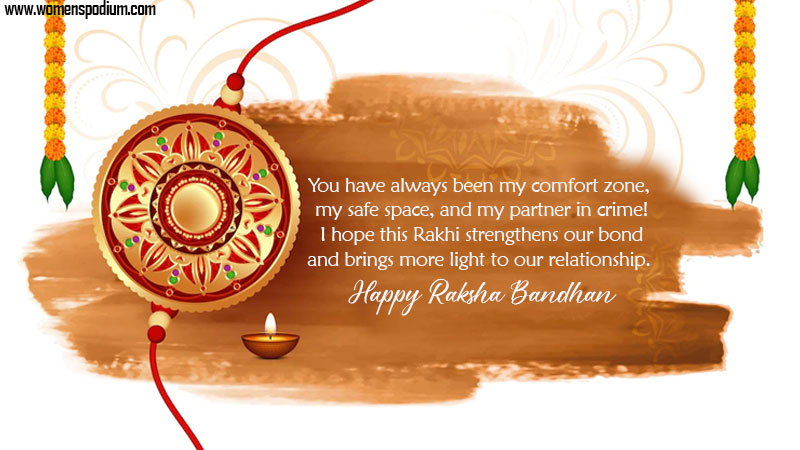 Rakhi is an occasion to celebrate siblings, but you never needed a reason to make me feel celebrated. So this one is for you; thank you for all you are. Happy Raksha Bandhan.
Ever since our childhood, the bond we have shared has seen so many twists and turns. What has never changed is your love for me. This Rakhi, I am so grateful to celebrate that love. Happy Raksha Bandhan.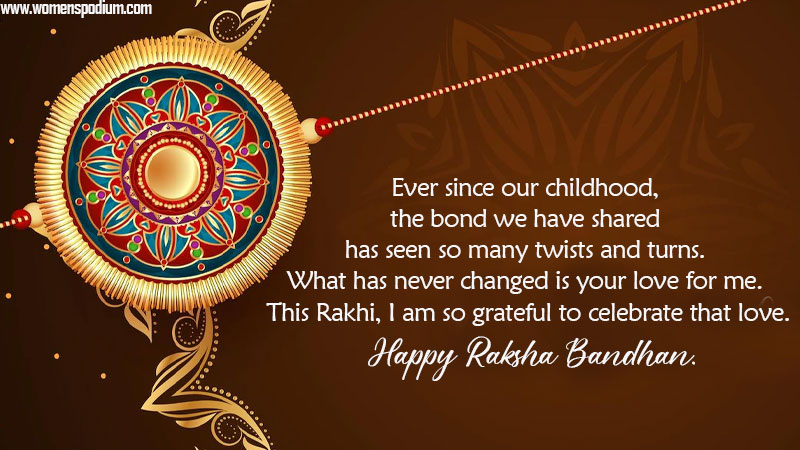 You may have entered our life newly, but the love you bring transcends all time and space—Happy Rakhi to you.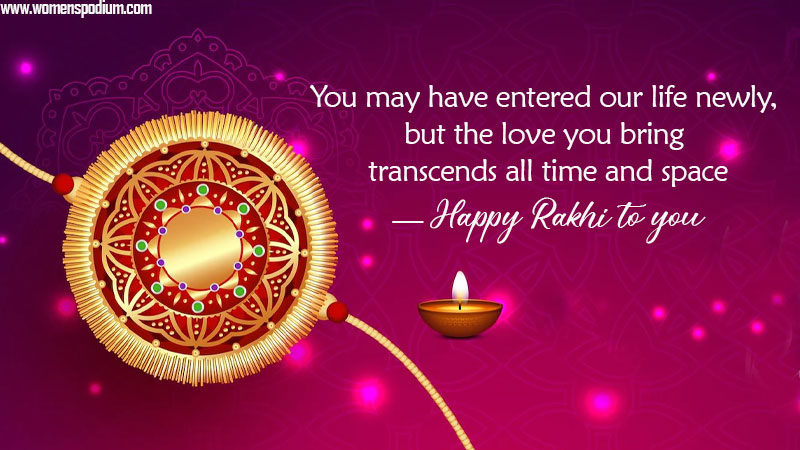 You never needed a reason to protect me, and you never needed a cause to love me. Thank you for showing me what unconditional love truly means. Happy Raksha Bandhan.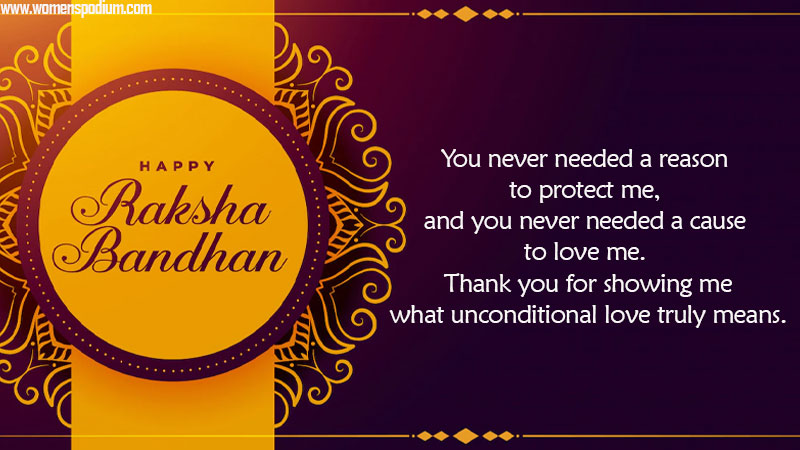 The bond of siblings is universal, yet I feel I have been the luckiest in that aspect—Happy Raksha Bandhan to my forever comfort person.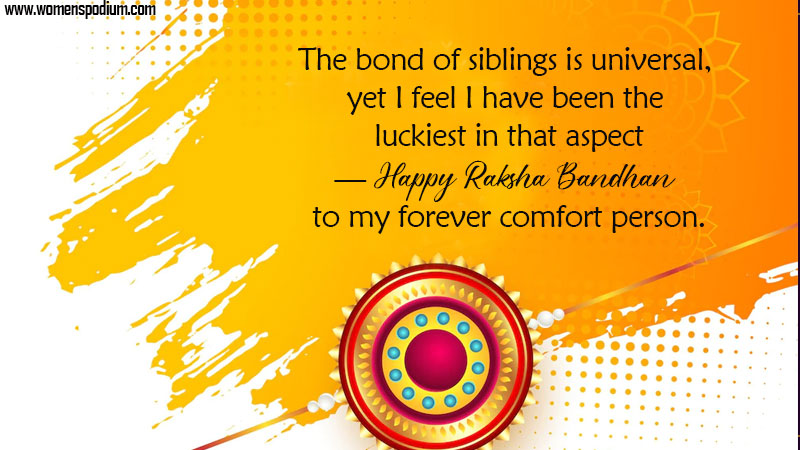 Siblings fulfill so many roles—sometimes they're parents, sometimes they're friends. Thank you for acing each one of them for me. Happy Rakhi.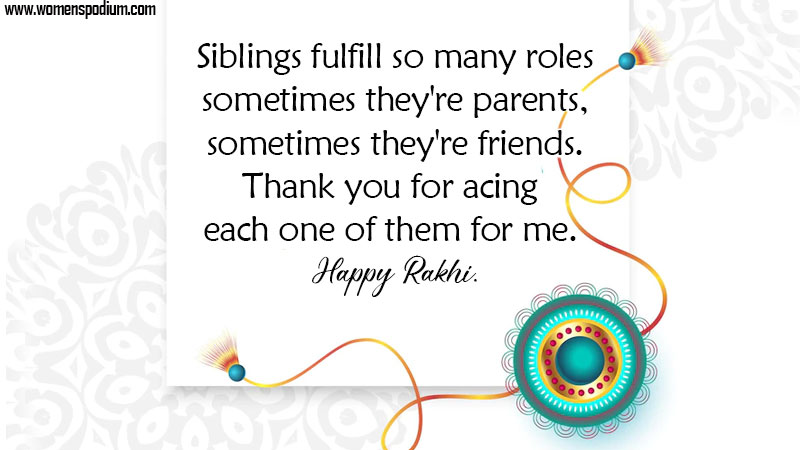 Life brings unexpected turns every passing day. What I know for sure is that you will always be with me along the way, and to celebrate this very assurance, Happy Rakhi.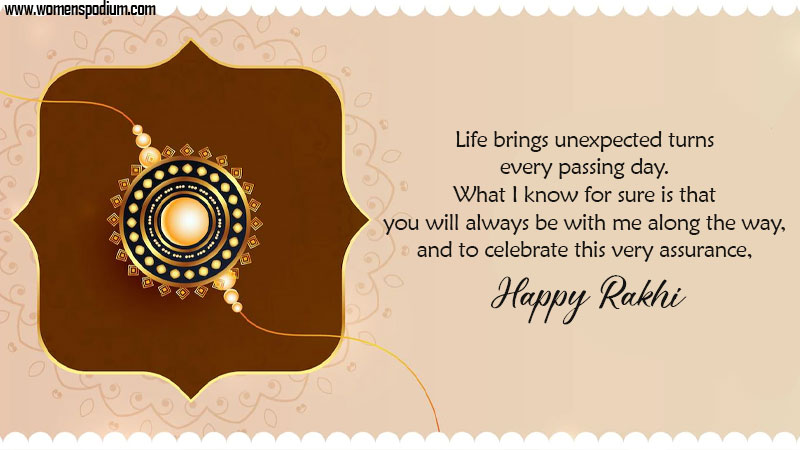 Gratifying & Comforting Raksha Bandhan Messages
No one knows me better than you do, no one cares for me the way you do, and no one can have lived with me the way you have—Happy Raksha Bandhan to my constant since childhood.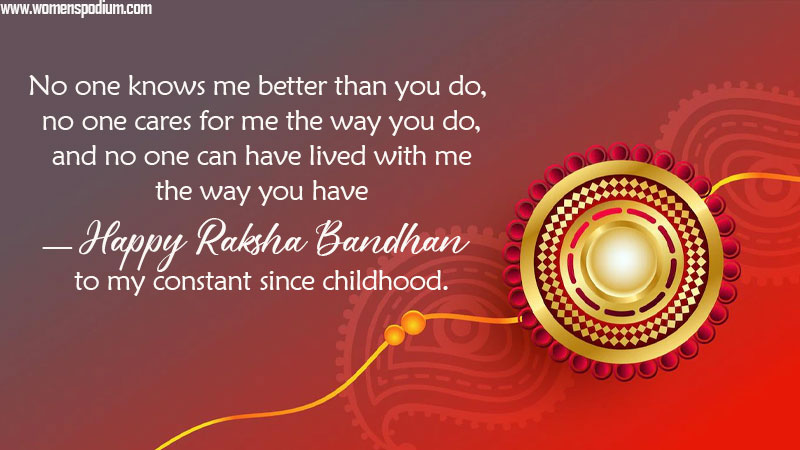 The Rakhi celebrates the bond of protection. Here is me telling you that I will always protect you, but also make sure you are strong enough to protect yourself. Happy Rakhi.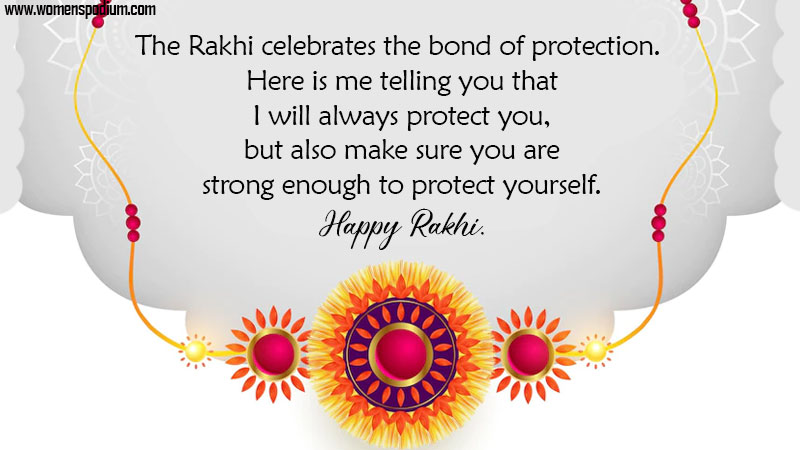 Hey, 'Lil' brother, you know I love you, I trust you, and I confide in you, so never break my trust. No one can supersede your dwelling in my heart; that's what I promise as your sister. Happy Rakhi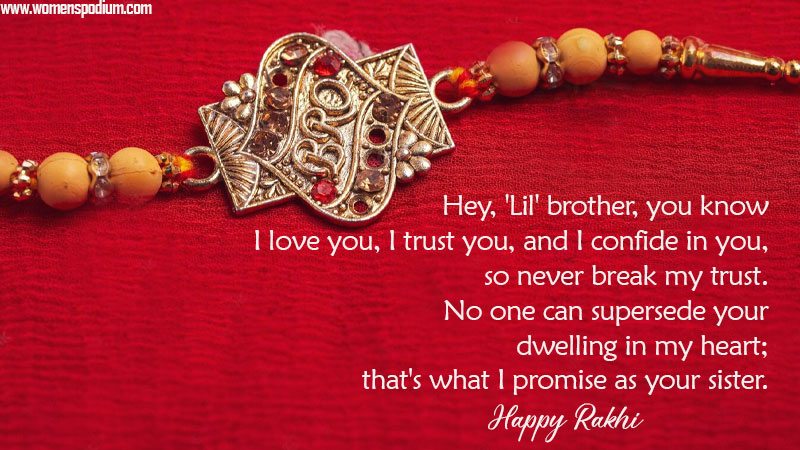 Although we are distant apart, and no doubt, I miss you so much. But I know my brother is just a call away and is with me whenever I need him. Always be with me. Happy Raksha Bandhan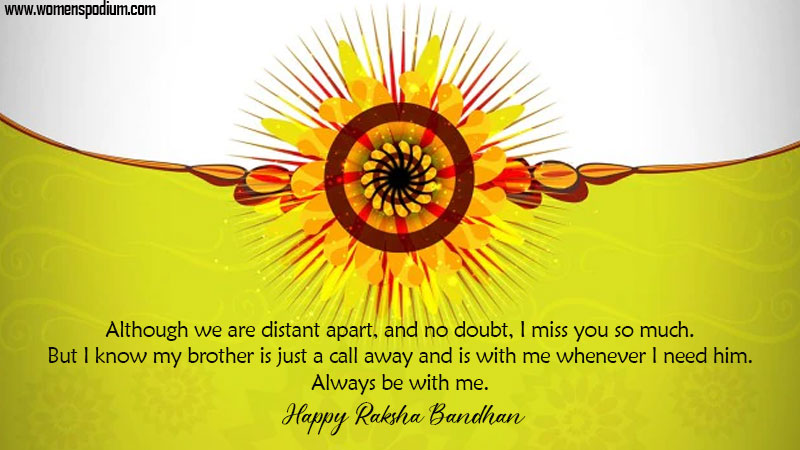 After the mother, it's the sister who never loses her trust in a man, and I am lucky to have such a darling sister; you were and are a great support to me whenever I need my family. Let's celebrate Rakhi 🙂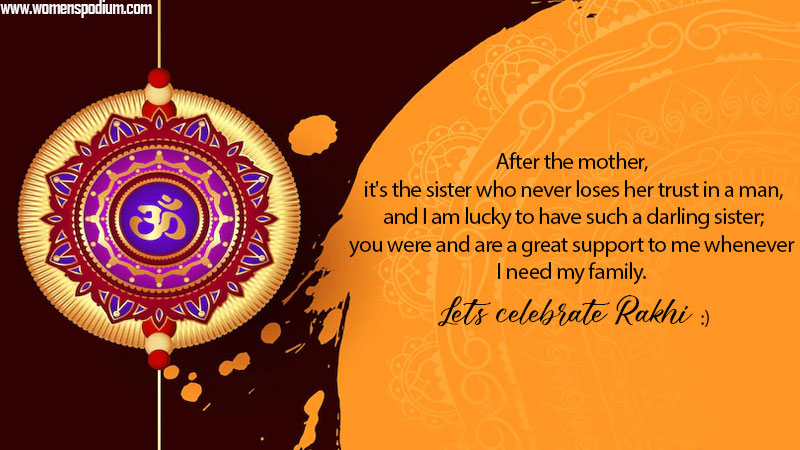 My secret keeper, may our bond of love and trust expand with each passing year! Lucky to have you in my life, wish you a happy Raksha Bandhan, dearest sister.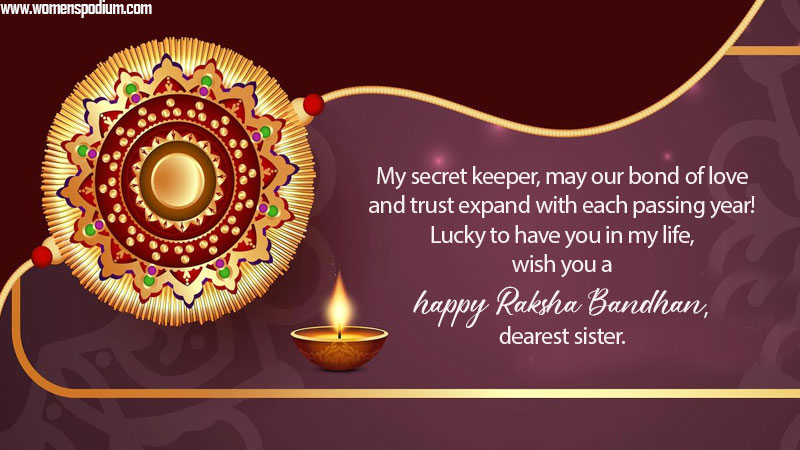 Dear bhaiya, I don't need anyone else as long as you are by my side. You're the best brother that every sister wishes to have. I can't thank you enough for your love, support, and guidance. Happy Raksha Bandhan Bhai.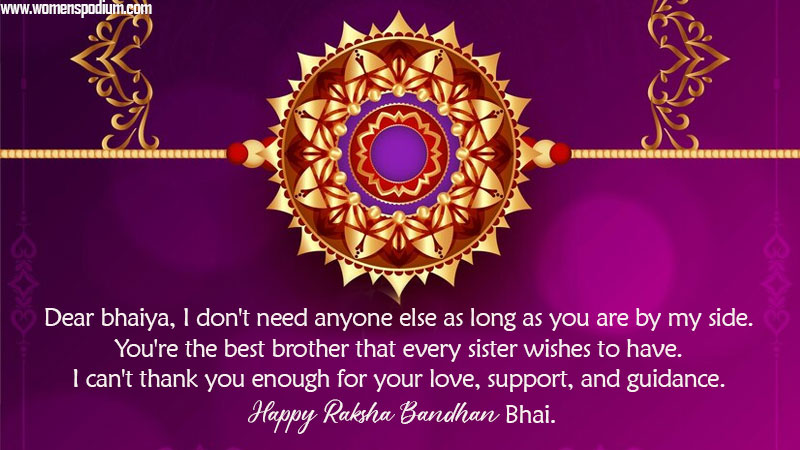 Celebrate Rakhi With These Raksha Bandhan Quotes
As we grew up, my brothers acted like they didn't care, but I always knew they looked out for me and were there!

— Catherine Pulsifer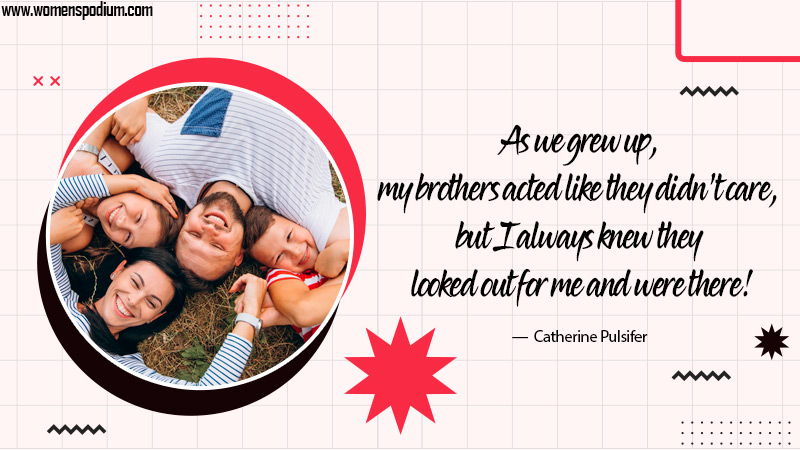 It's hard to be responsible, adult, and sensible all the time. How good it is to have a sister whose heart is as young as your own.

— Pam Brown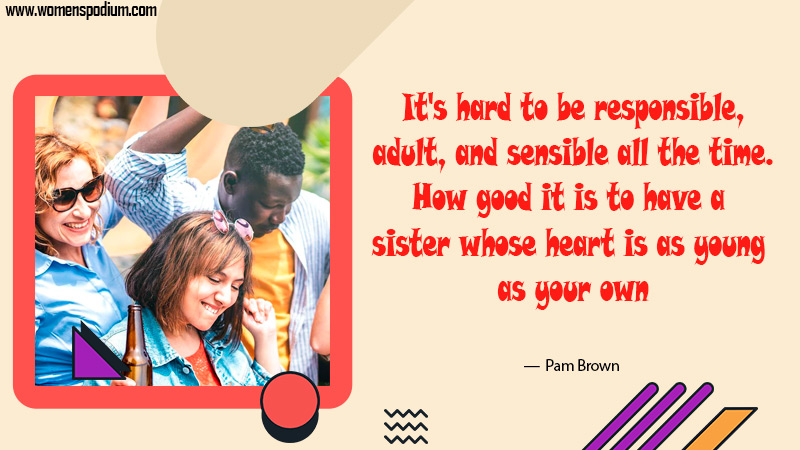 A sibling may be the keeper of one's identity, the only person with the keys to one's unfettered, more fundamental self.

— Marian Sandmaier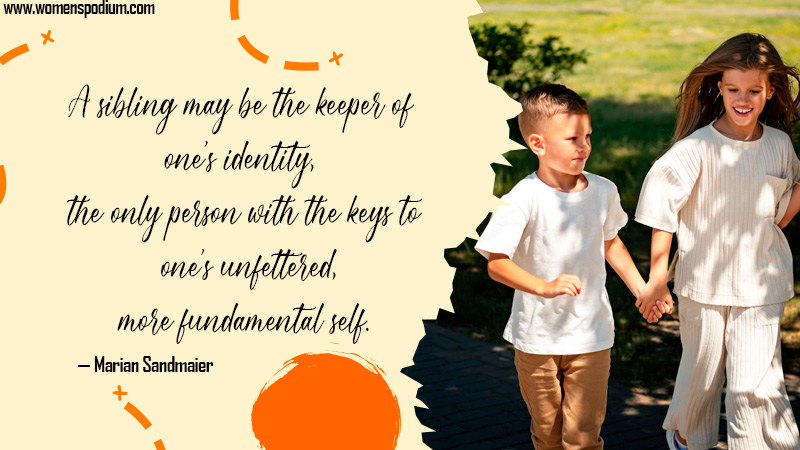 We know one another's faults, virtues, catastrophes, mortifications, triumphs, rivalries, desires, and how long we can each hang by our hands to a bar. We have been banded together under pack codes and tribal laws.

— Rose Macaulay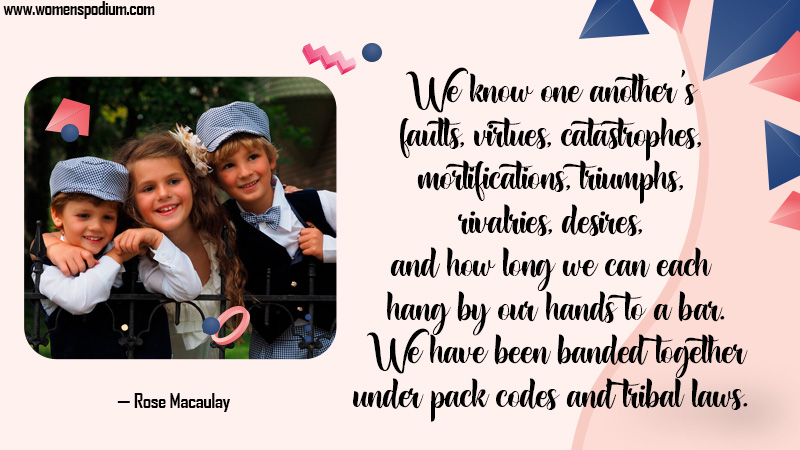 Siblings-the definition that comprises love, strife, competition and forever friends.

— Byron Pulsifer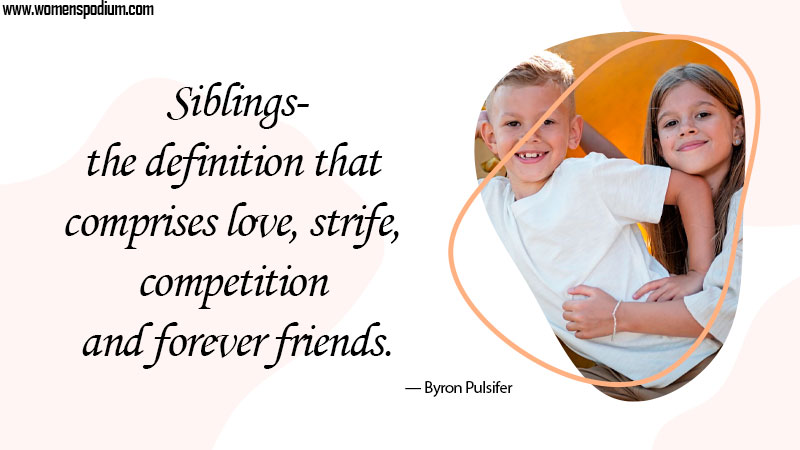 Beautiful Ads Celebrating Raksha Bandhan That Will Touch Your Heart!
Advertisements are meant to sell products, but sometimes, they just touch our hearts. Some advertisements manage to hit the right nail and leave us feeling emotional and sentimental. This year, we have seen a lot of adverts and campaigns that have captured the spirit of Rakhi in the best way possible. Here are some of the most beautiful Raksha Bandhan ads to brighten up your day!
1. Ferns N Petals Sneh Rakhi Ad 2022
Rakhi symbolizes emotions and the bond shared between siblings. But this FNP ad has stretched the horizon from blood relation to humanity. It's not limited to your sibling but to a brother who stands to protect and care for his sister. This 2022 Rakshabandhan ad is powerful enough to deliver the message of what care and respect actually mean to a woman—watching this emotional Sneh Rakhi Ad might let you shed some tears.
2. The Man Company #The Truth
We usually follow our tradition blindly but letting out or accepting the truth is important as well. This beautiful ad is demonstrated in the present-day context with a bit of tweaking. It's about celebrating Rakhi from a new perspective, a brother tying Rakhi on his sister's wrist, and why is that? Well, the answer is simple because sometimes it's the sister who ensures to protect her brother. And this is what the Truth Rakhi Ad is about.
3. Ferns N Petals #ApnoKoKareebLaayen
Siblings indeed share a whimsical relationship. You love them enough to stand for them in tough times and sometimes get so enraged that stop talking for an unknown period. #ApnoKoKareebLaayen is again an outstanding Rakhi ad from FNP. This Raksha Bandhan, just forget your differences and embrace your brother! Take a stride to memory lane with this heartening and touching video and celebrate the unbreakable bond between siblings.
4. Amazon's #DeliverTheLove
Have a sibling who always covered up for your mistakes? Watch this ad with them and feel your gratitude move you to tears. Covering a broad range of themes, this campaign highlights what truly matters—the love and presence of our siblings. In this particular ad, we see how our siblings cover up for our mistakes; how they're the only ones who can turn a bad day into a precious memory. This ad instantly reminds you of how much you love your sibling and makes you want to go and give them a friendly, warm hug. Watch on and experience it yourself!
5. The Band Of Wellness
Stress, tension, pressure, and erratic time schedules—that is the second name for today's lifestyle. Recognizing the need for conscious health choices, this ad from FitBit encourages siblings to gift each other a band of wellness – the FitBit smart tracker.
Soul Touching Raksha Bandhan Adverts
6. Schmitten's #EkRakhiAur
All too often, in the guise of protection, women are restricted and controlled. This campaign is thanks to all those brothers or siblings who did not subscribe to this notion. The advert beautifully showcases the sister tying another Rakhi to her brother—only this time, she thanks him for protecting her self-respect. Don't you think we need more brothers who offer you a safe space and yet allow you to be your own person? So watch this ad and feel the biggest smile forming on your face.
7. Ferns And Petals Showing Us What Is The Real Core Of Raksha Bandhan
Who said Rakhi is only for brothers and sisters? In today's world, we have happily accepted the Rakhi for what it is—a symbol of protection. Watch this beautiful ad as a young little girl very sweetly asks her grandpa, her 'grandfather', to tie the Rakhi on her wrist and promises to protect him. After all, that is what the Rakhi is for, right? Go ahead and watch this ad, and feel the true value of Raksha Bandhan for yourself.
8. Tanishq With Their #SistersByChoice
What can two sisters-in-law do? Fight, argue, bicker? That's what we have been fed for so long, and it's over time that we change that. This campaign beautifully showcases the Nanad–Bhabhi relationship and the sibling-like comfort one can find in it. Stating that they are sisters by choice, the sister-in-law ties a Rakhi to her Bhabhi and leaves the audience with a new perspective. Go ahead and watch this ad, and be sure to celebrate your brothers or sisters-in-law this Raksha Bandhan.
9. Castrol And Blush #ChalUdteHain
Be it teaching you how to wrestle or how to drive, your siblings do it all with their classic humor and naughty mischief. But over time, you realize how much value they actually imparted in those growing-up years. Be it a busy schedule or a bad day; siblings are always the wind beneath our wings. Celebrating that bond here's an ad that says 'Chal, udte hain' (Let's fly). Watch for a delightful and soulful treat.
10. Ferns And Petals' Be United By Love
Who celebrates Raksha Bandhan? Hindus? Muslims? Catholics? No. Siblings celebrate Raksha Bandhan, and the boundaries of religion can never encompass the sheer joy that comes from celebrating this festival. Touching upon this very concept, here is an ad that allows us to see the world from a little Children's perspective that does not involve the complexities of religion or the discrimination of the adult world. Simply understanding that the Rakhi symbolizes protection and treating it as devoid of its religious meaning for those who are comfortable with the idea can allow us to truly redefine this festival as what it really is—a day to celebrate siblings.
Celebrate Raksha Bandhan With Love!
Those were some Raksha Bandhan messages and touching ads that remind us what Rakhi or Raksha Bandhan stands for. It is the time that we define our festivals for us in our own ways and celebrates them in the way that brings the most meaning to us. Raksha Bandhan is a festival of siblings, and this Rakhi, whatever you do, make sure you celebrate the person or people who offer you the safe space to be truly yourself – your siblings.
For some people, especially those with difficult sibling relationships, Rakhi can also be a difficult time. To anyone out there who resonates with this feeling, know that you're not alone, and it's okay if you take the time to give yourself a break and allow yourself to heal. For those who are lucky enough to have your sibling or sibling-like people with or around you, try to ensure you make the most of this time, and enjoy it! Happy Rakhi ☺
Also Read: Loved watching these Ads? Watch these inspiring ads promoting gender equality in its truest sense!