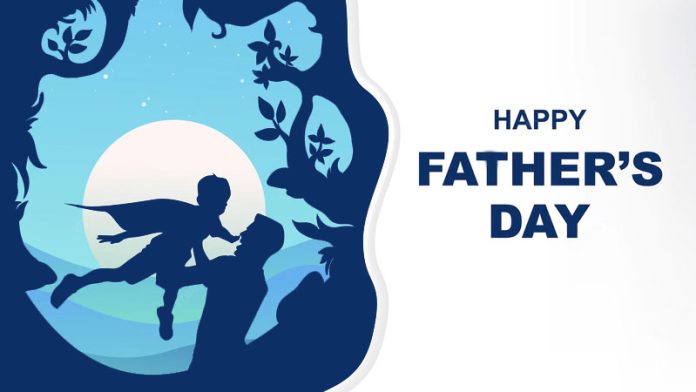 Gifts give pleasure but father's day quotes can do wonders if you pen down or speak out loud and express your love and care to your father. To honour the existence of a father, Father's Day is Celebrated every 3rd Sunday of June. Today we are going to celebrate the person who is the most significant support system of every child "Father". Whom we often call Dad or Papa in English; Abbu ji in Urdu and Pita ji in Hindi. For every child, he is the most inspiring personality on earth. Every father possesses some of the most common below-mentioned characteristics:
He is the most Inspirational and guiding personality.
He is most the powerful, fearless and reliable person for every child.
For every child, he is the most stupendous character of this world.
A father is always selfless, devoted and protector when it comes to his children.
He is the support system of every child.
For every child, he is insightful and super talented personality.
Express Your Love To Your Father With Quotes And Gifts
People often say every daughter reflects her father, and he is every son's 'Superhero'. As a child, we feel comfortable and often express our love to our mothers. But when it comes to show our gratitude towards our father, we often run short of words and hesitate to express our feelings. And to wish him on this day, usually, we prefer to give some gifts to him and miss to convey our love in words. On this Father's Day don't be so expressionless and speak your heart out loud and celebrate it with quotes and make a card pen down some of your favourite quotes or write a letter to tell him that how much you owe and love him.
On this Father's Day, Women's Podium has compiled some beautiful father's day quotes to pay tribute to the extraordinary fathers of this world. Read and enjoy and don't forget to read those aloud in front of your father; by doing this, you will surely make him feel special this Father's Day.
Check Out These 30 Father's Day Quotes
Becoming a dad means you have to be a role model for your son and be someone he can look up to.

— Wayne Rooney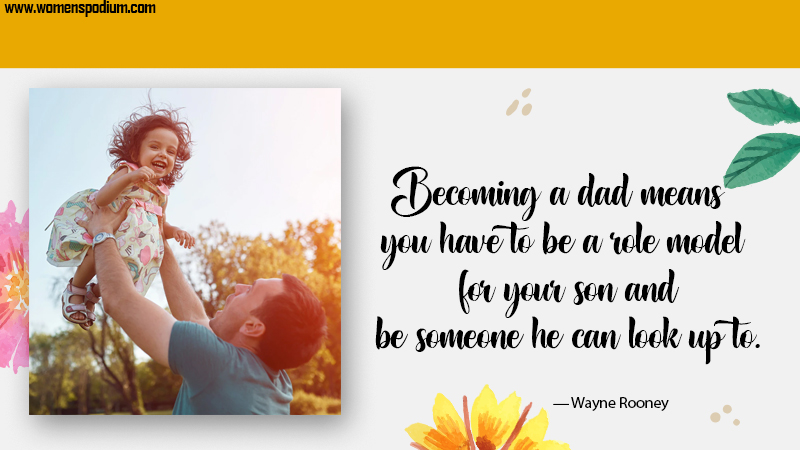 My father used to say that it's never too late to do anything you wanted to do. And he said, 'You never know what you can accomplish until you try.

— Michael Jordan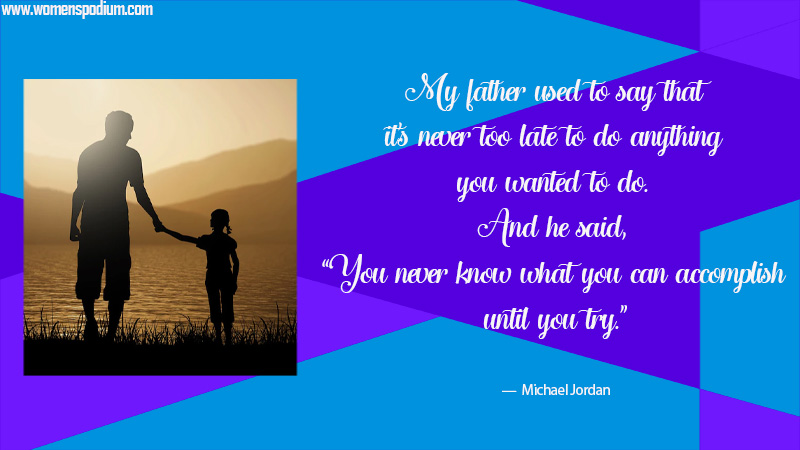 Every son's first superhero is his father.

— Tiger Schraff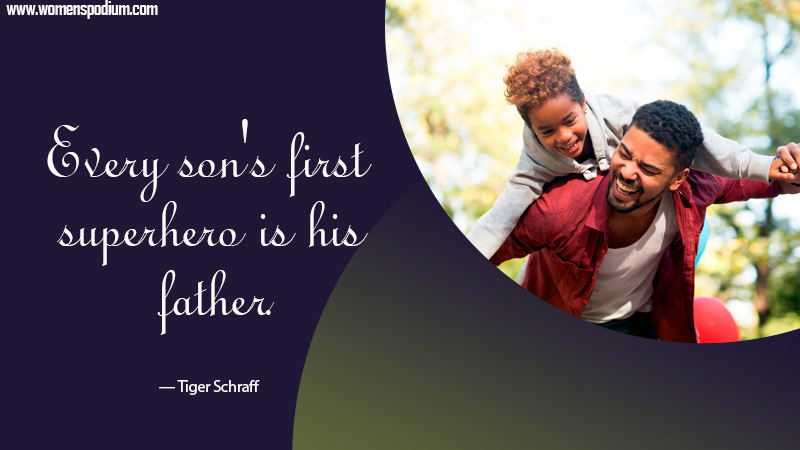 The heart of a father is the masterpiece of nature.

— Antoine Francis Prevost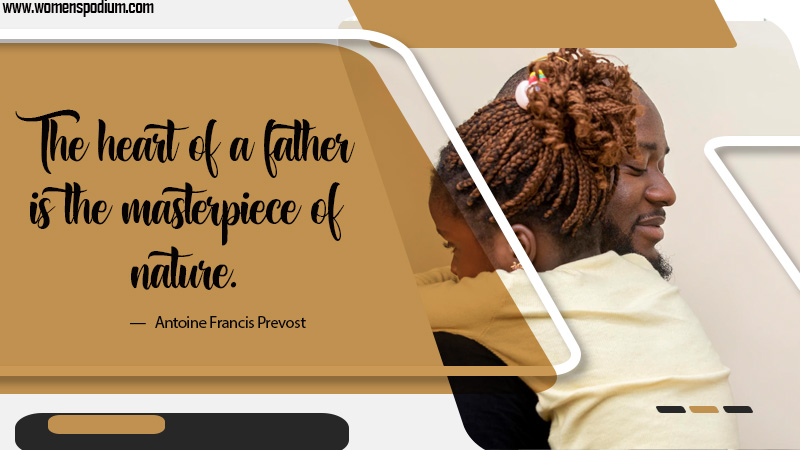 Mothers play an important role as the heart of the home, but this in no way lessens the equally important role fathers should play, as head of the home, in nurturing, training, and loving their children.

— Ezra Taft Benson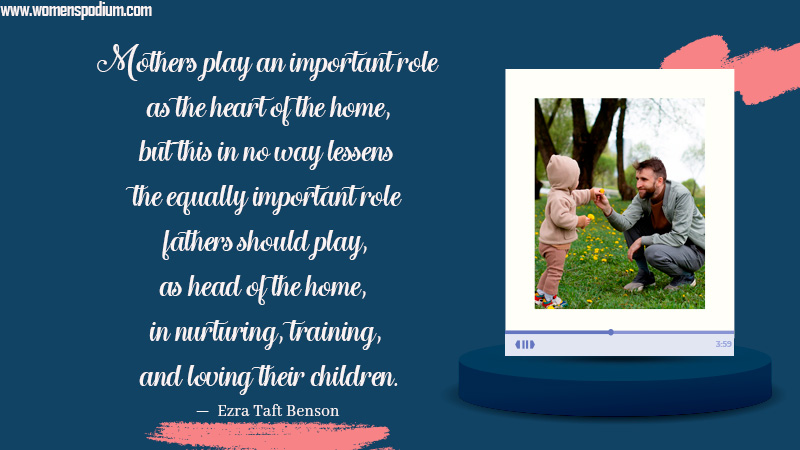 Fathers just have a way of putting everything together.

—Erika Cosby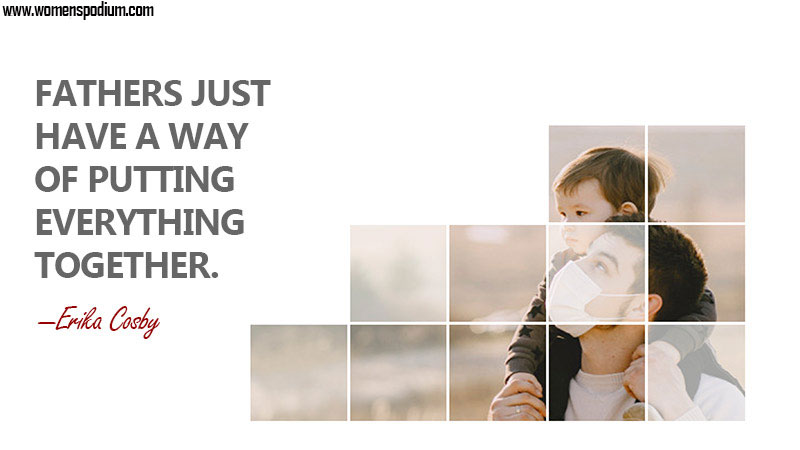 My father gave me my dreams. Thanks to him, I could see a future.

—Liza Minnelli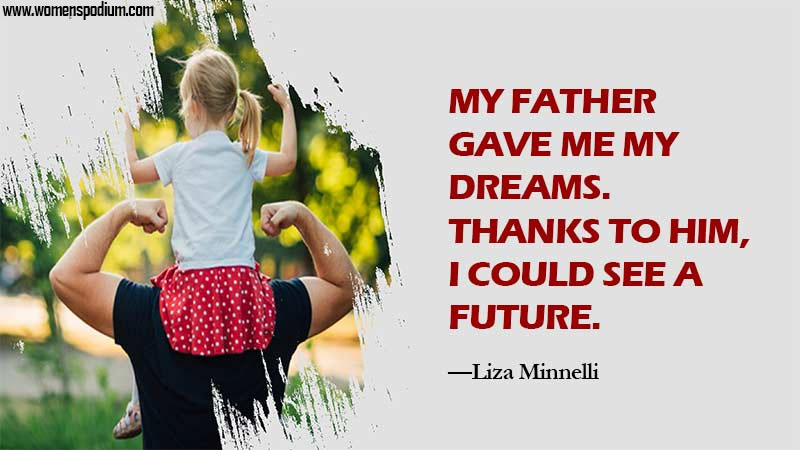 No one in this world can love a girl more than her father.

—Michael Ratnadeepak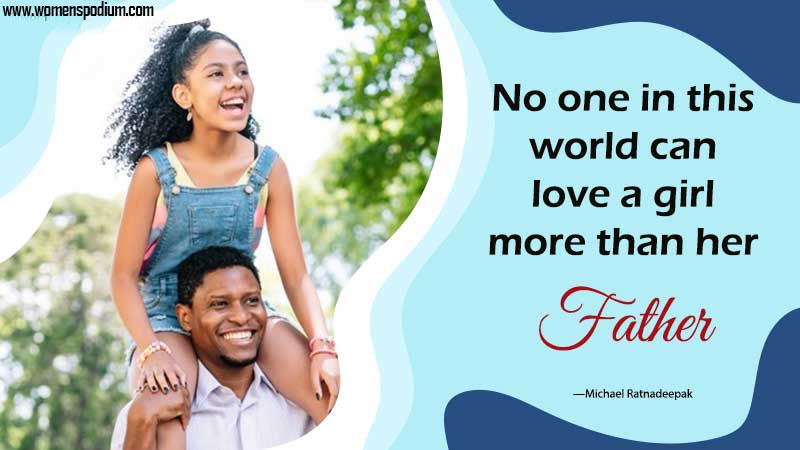 The power of a dad in a child's life is unmatched.

— Justin Ricklefs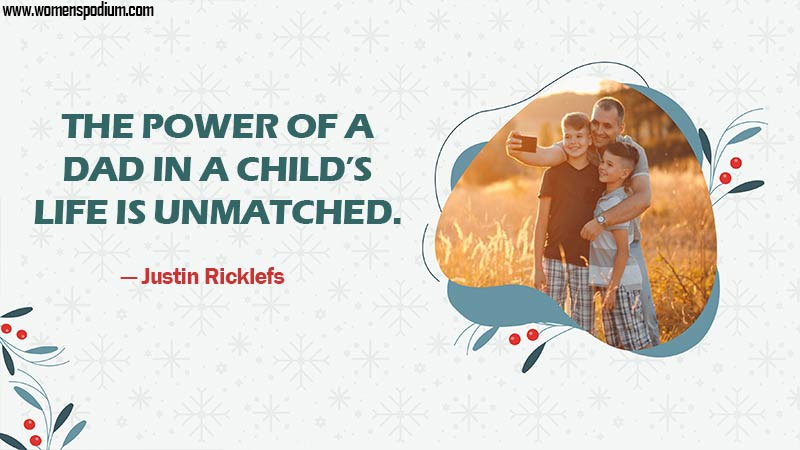 A father's smile has been known to light up a child's entire day.

—Susan Gale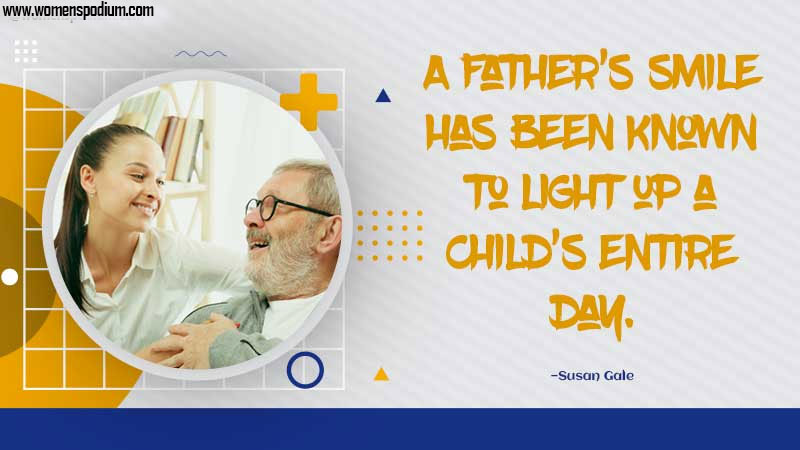 It is a wise father that knows his child.

— William Shakespeare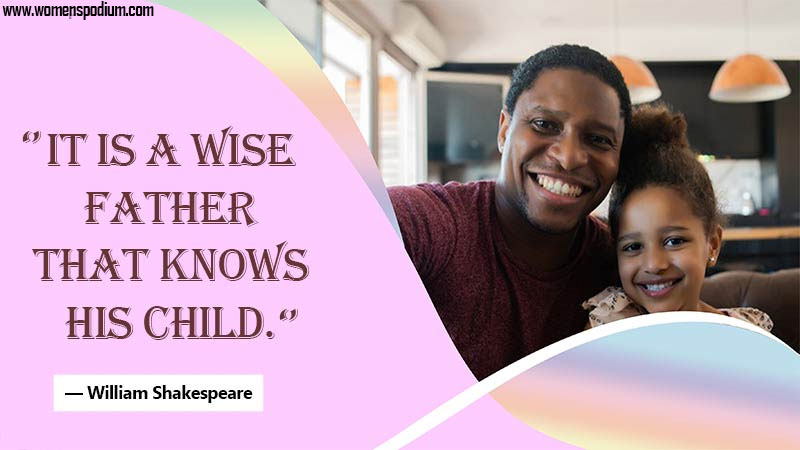 My father didn't do anything unusual. He only did what dads are supposed to do—be there.

—Max Lucado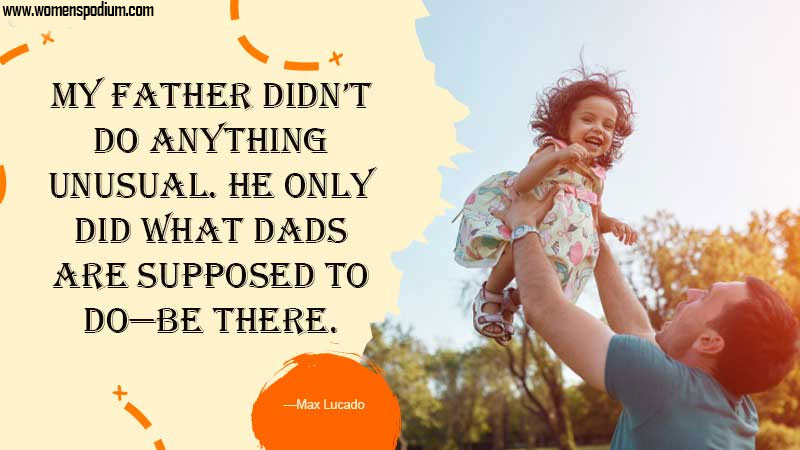 A father doesn't tell you that he loves you. He shows you.

— Dimitri the Stoneheart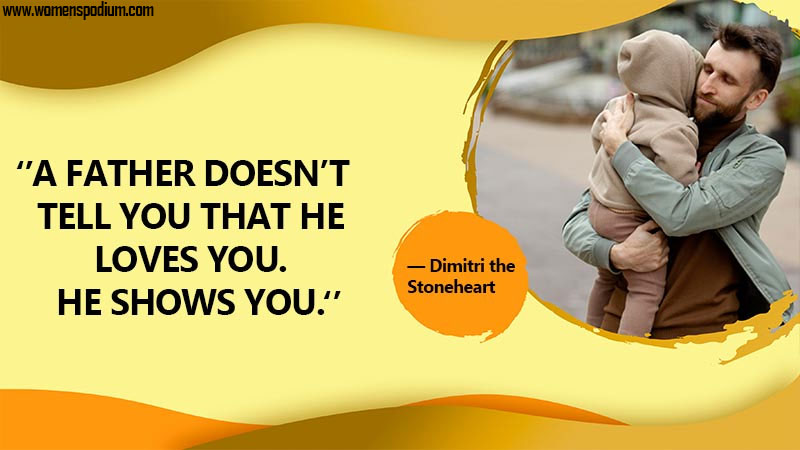 I think my mom put it best. She said, 'Little girls soften their daddy's hearts.

—Paul Walker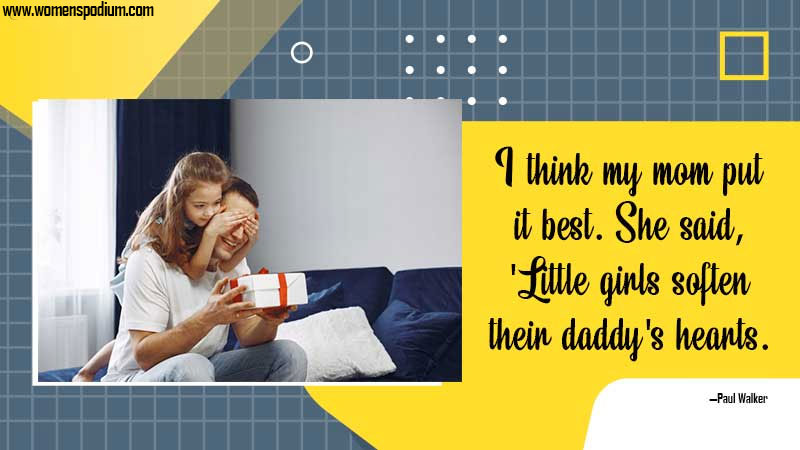 A girl's first true love is her father.

—Marisol Santiago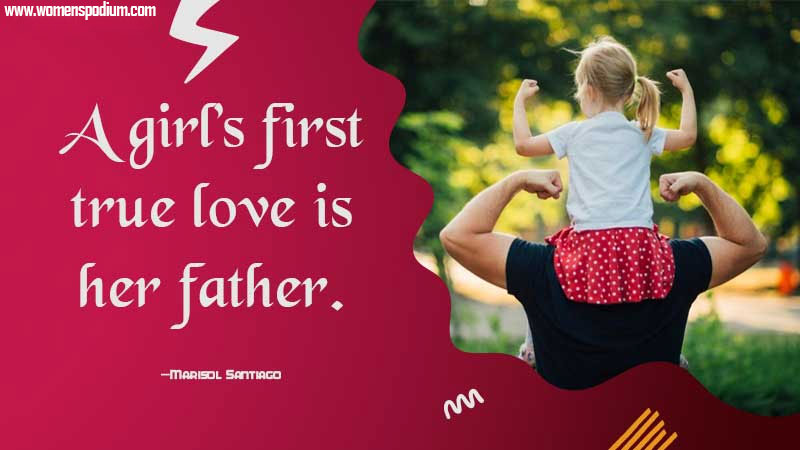 To a father growing old nothing is dearer than a daughter.

—Euripides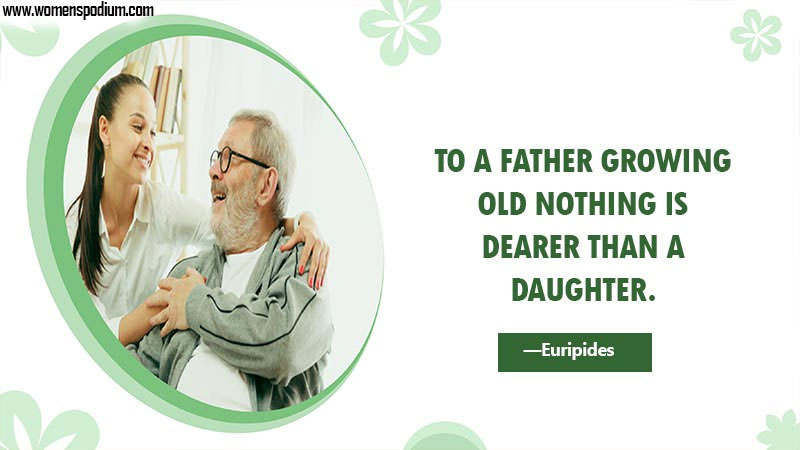 When my father didn't have my hand, he had my back.

— Linda Poindexter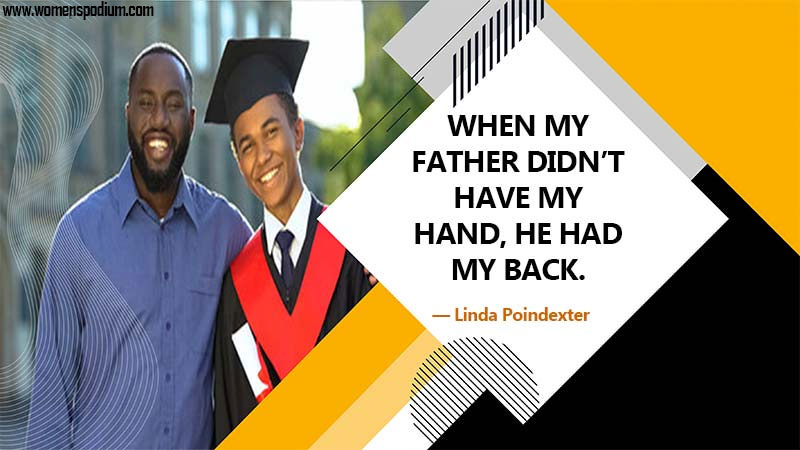 One father is more than a hundred schoolmasters.

—George Herbert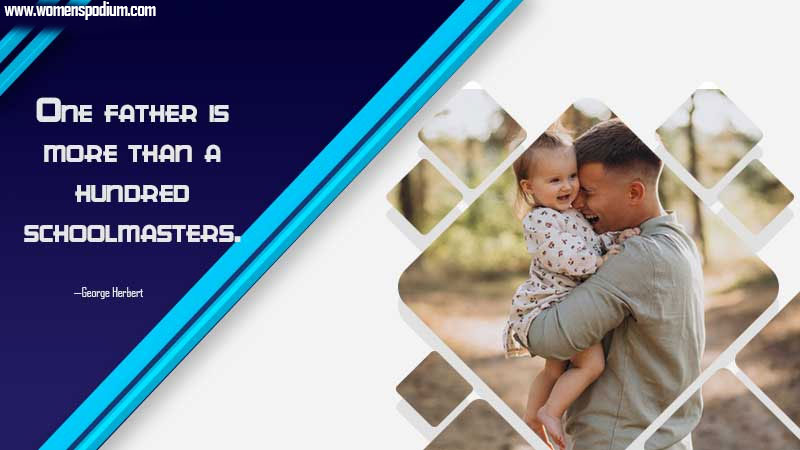 A father is someone you look up to no matter how tall you grow.

— Unknown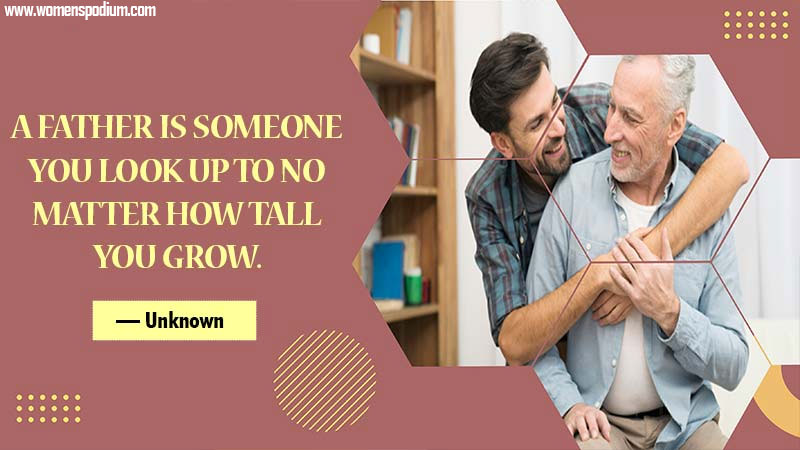 Every son quotes his father, in words and in deeds.

—Terri Guillemets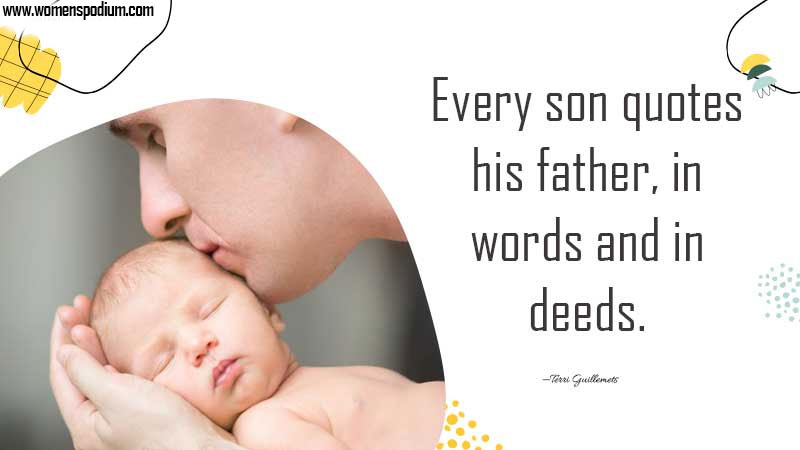 The greatest mark of a father is how he treats his children when no one is looking.

— Dan Pearce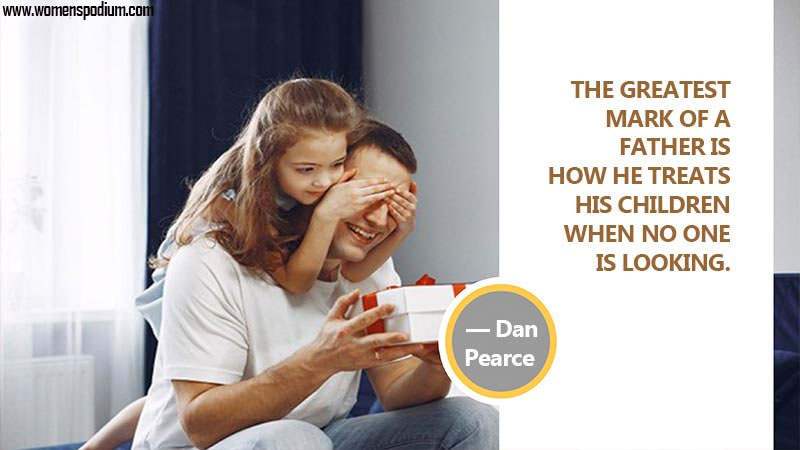 What a father says to his children is not heard by the world, but it will be heard by posterity.

—Jean Paul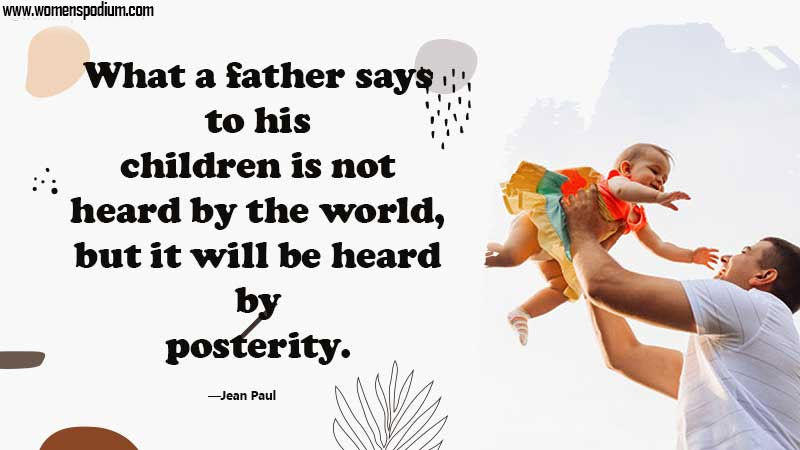 Fathers, be good to your daughters. You are the god and the weight of her world.

— John Mayer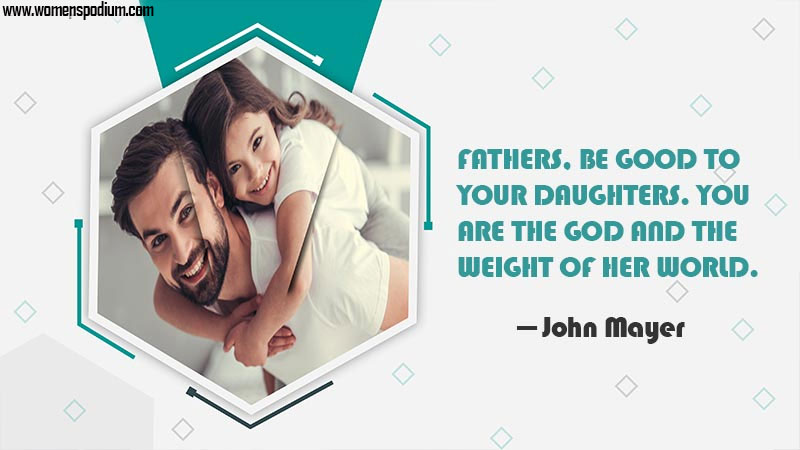 I cannot think of any need in childhood as strong as the need for a father's protection.

—Sigmund Freud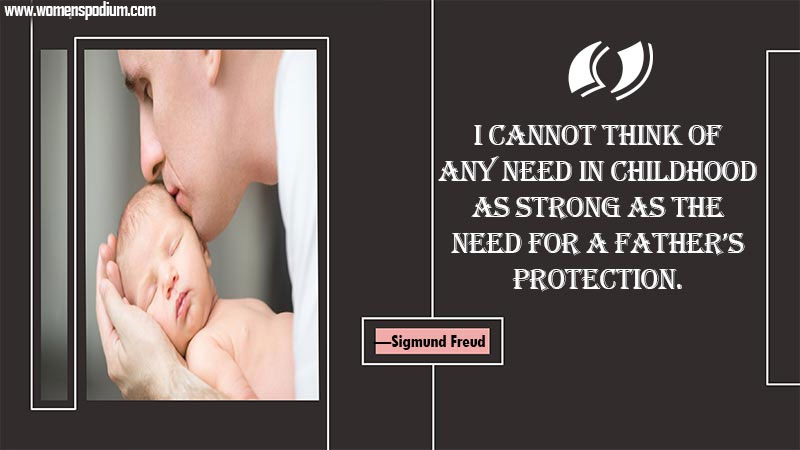 My father didn't tell me how to live. He lived, and let me watch him do it.

– Clarence Budington Kelland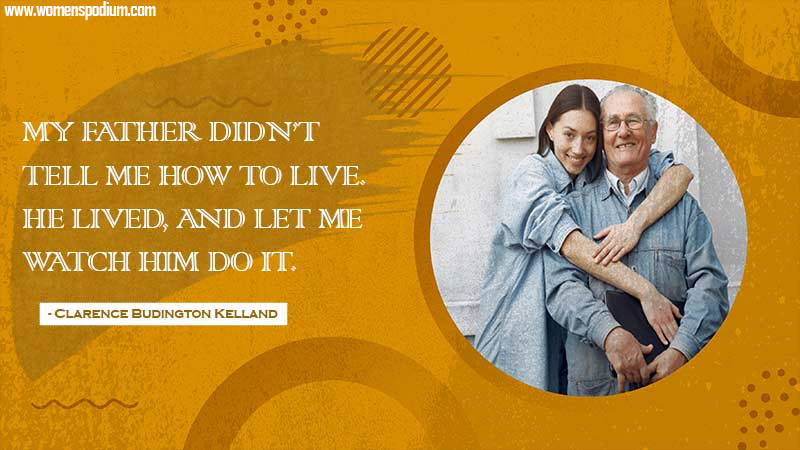 To her, the name of father was another name for love.

—Fanny Fern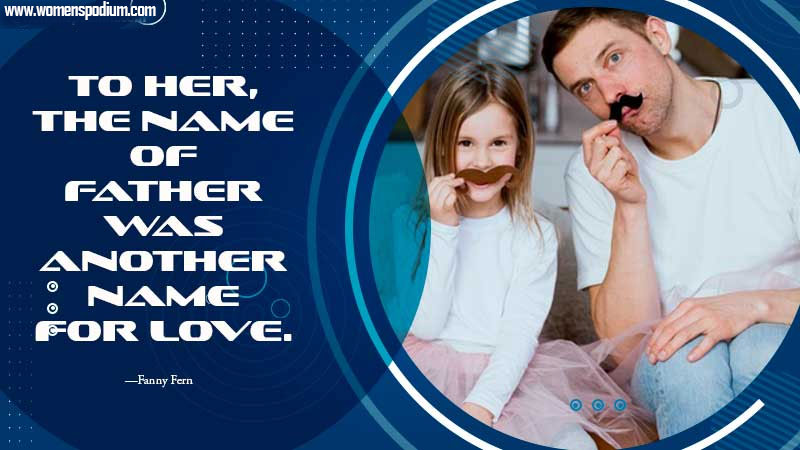 No music is so pleasant to my ears as that word―father.

—Lydia Maria Child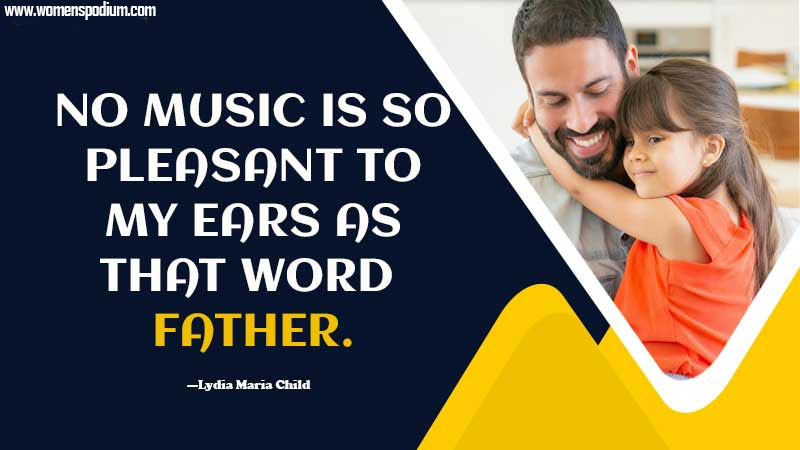 She did not stand alone, but what stood behind her, the most potent moral force in her life, was the love of her father.

—Harper Lee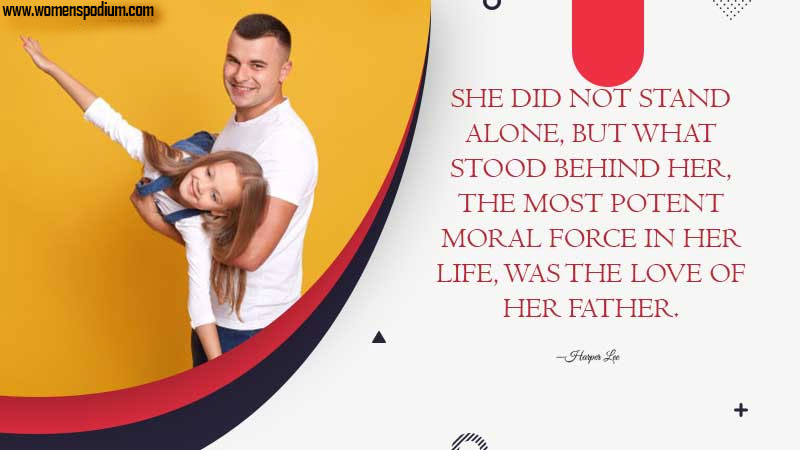 A good father is one whose only reason for putting down a laughing baby is to pick up a crying one.

—Linda Poindexter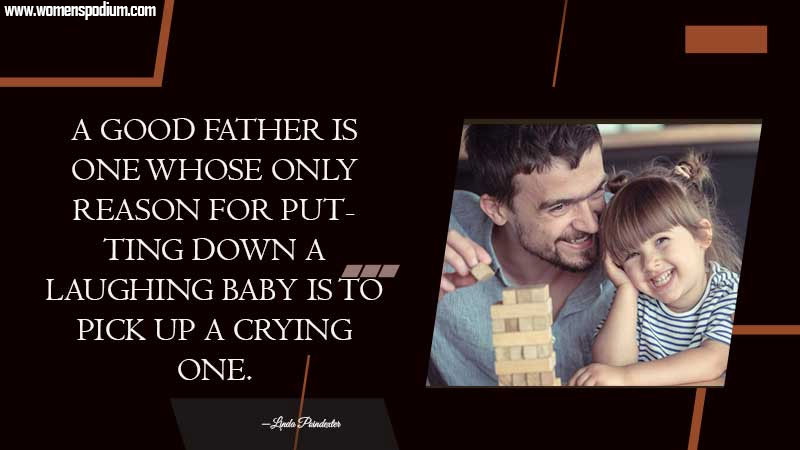 Dads are like chocolate chip cookies; they may have chips or be totally nutty, but they are sweet and make the world a better place, especially for their children.

— Hillary Lytle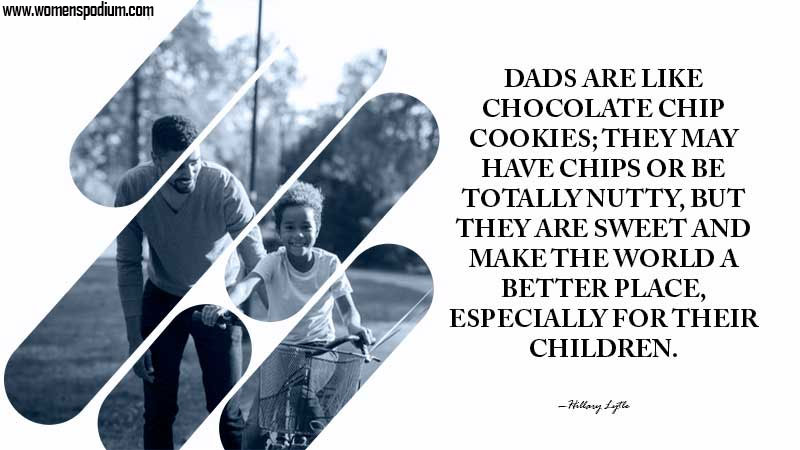 Also Read: Let's check out these awesome and fun father's day gifts ideas that are sure to plaster a gargantuan smile on their faces.