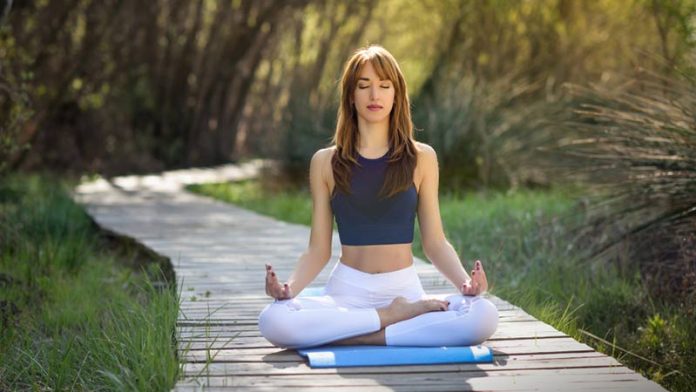 Feeling Stressed Out?? Read these 25 quotes on yoga, inculcate it in your lifestyle and start practising it! When it comes to relaxing your body and mind at the same time, yoga is the best exercise. It will enlighten your soul, body, and mind. Practising yoga on a daily basis, will not only make you healthy and fit. But it will make your mind focused as well.
History of World Yoga Day
It is world International Yoga Day today (21st June). India is the origin of this spiritual, mental and physical exercise. The idea of celebrating International Yoga Day was 1st purposed by current Indian Prime Minister, Mr Narendra Modi in the general assembly of United Nations, dated 27 September-2014. It was celebrated for the first time in the history of 21st June-2015.
Why is Yoga Important?
In this era of depression and stress, yoga is a blessing in disguise. Daily yoga routine can make you healthy, active and flexible. It helps in increasing the blood flow, teach you how to focus and concentrate. It enables you to sleep better and make you physically healthy. Having a daily Yoga Asana routine helps improve one's overall performance. No one can deny the importance of a regular yoga routine; even a single asana is good to start with.
Learnings from Yoga
Apart from relaxing your body and mind, yoga will also teach you some lessons which you can incorporate in your daily life. Including yoga in your everyday life will instil elevated positivity in you, it will help you:
To be courageous, no matter what!

How to heal your wounds and to be healthy!

To be committed and focused in every walk of life.

How to grow out of failure!

To have faith in oneself.

How to get inner peace!

To be creative and seek your destiny.

How to understand and gain knowledge!
Below are some of the best inspirational yoga quotes and sayings of the best yoga experts, compiled by Women's Podium. Read these beautiful quotes and try to incorporate them in your daily meditations and yoga practices. Happy Reading!
25 Inspirational Yoga Quotes
Yoga is a light, which once lit will never dim. The better your practice, the brighter your flame.

— B.K.S. Iyengar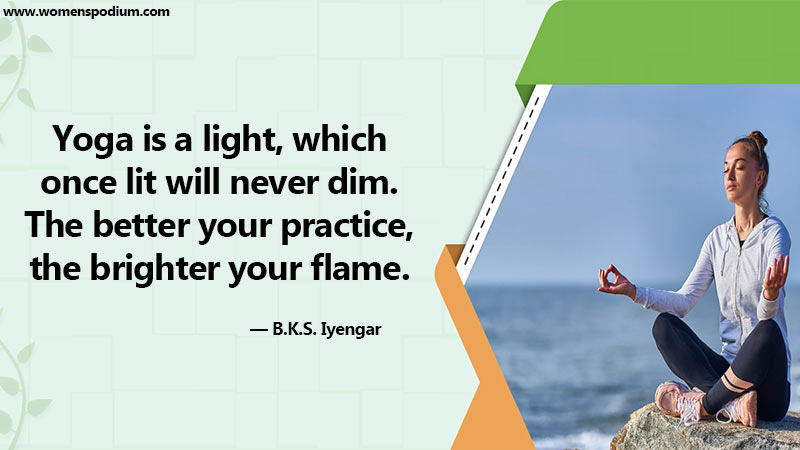 Move your joints every day. You have to find your own tricks. Bury your mind deep in your heart, and watch the body move by itself.

— Sri Dharma Mittra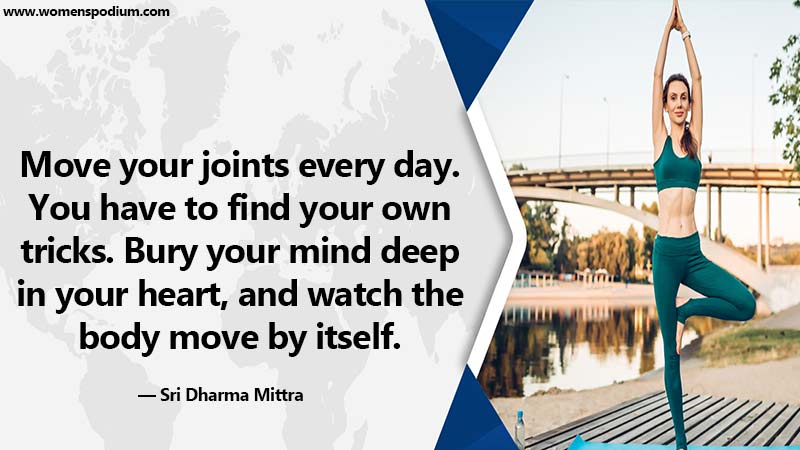 Yoga does not just change the way we see things, it transforms the person who sees.

― B.K.S Iyengar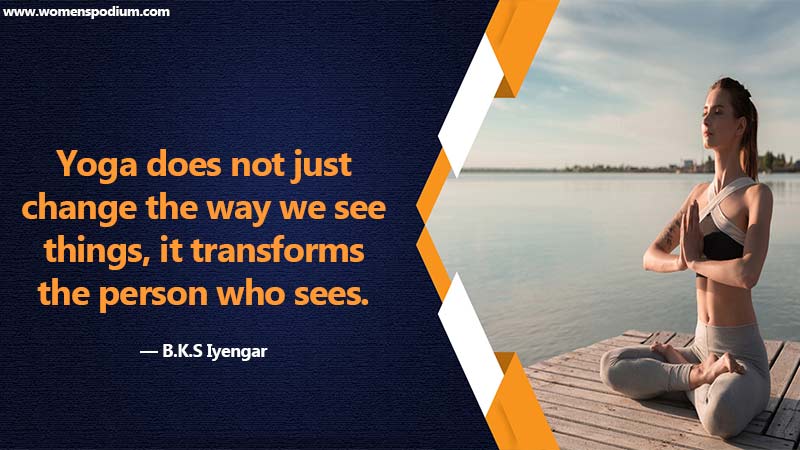 The very heart of yoga practice is 'abyhasa' — steady effort in the direction you want to go.

—Sally Kempton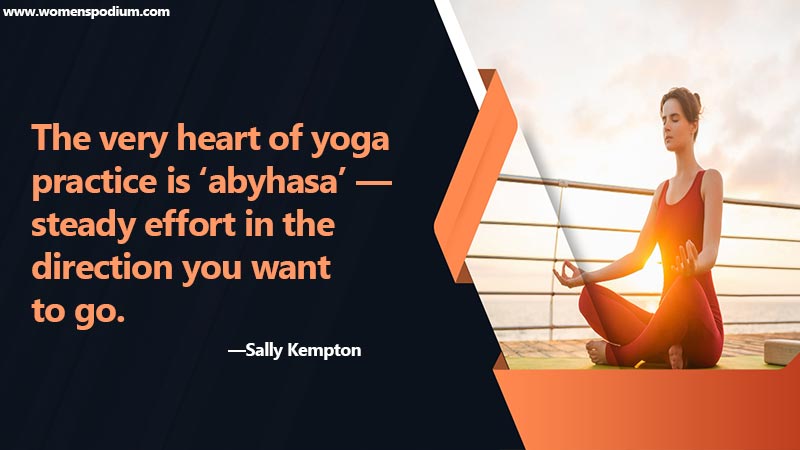 Yoga is the journey of the self, through the self, to the self.

― The Bhagavad Gita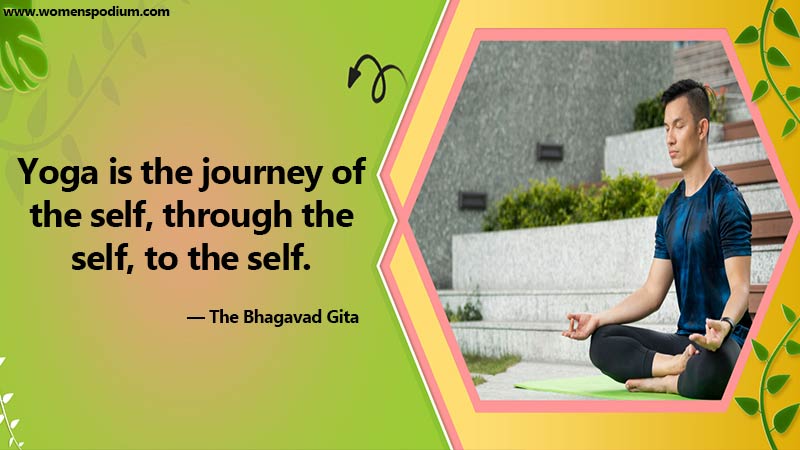 Yoga is a dance between control and surrender — between pushing and letting go — and when to push and when to let go becomes part of the creative process, part of the open-ended exploration of your being.

— Joel Kramer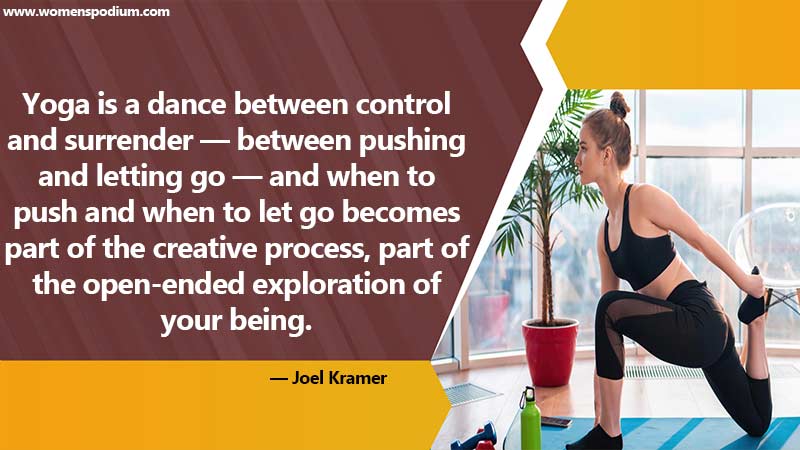 The nature of yoga is to shine the light of awareness into the darkest corners of the body.

— Jason Crandell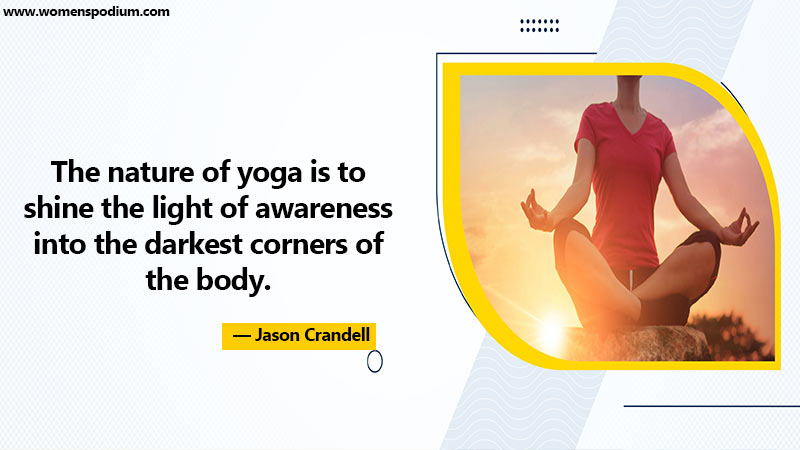 Meditation brings wisdom; lack of meditation leaves ignorance. Know well what leads you forward and what holds you back, and choose the path that leads to wisdom.

― Buddha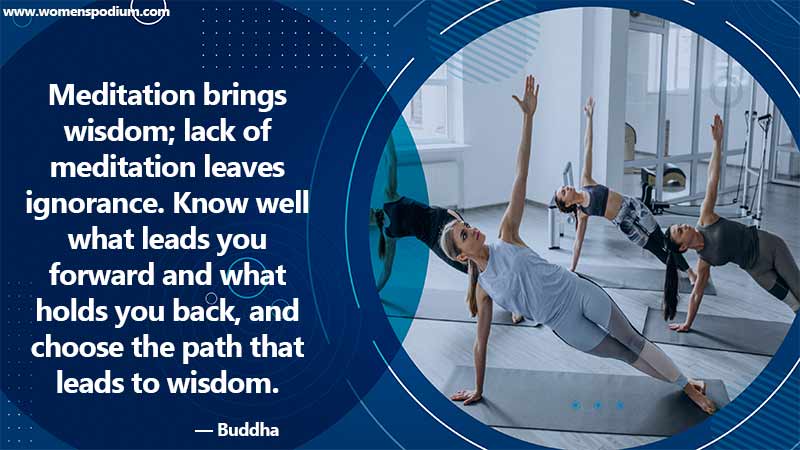 Yoga begins with listening. When we listen, we are giving space to what is.

— Richard Freeman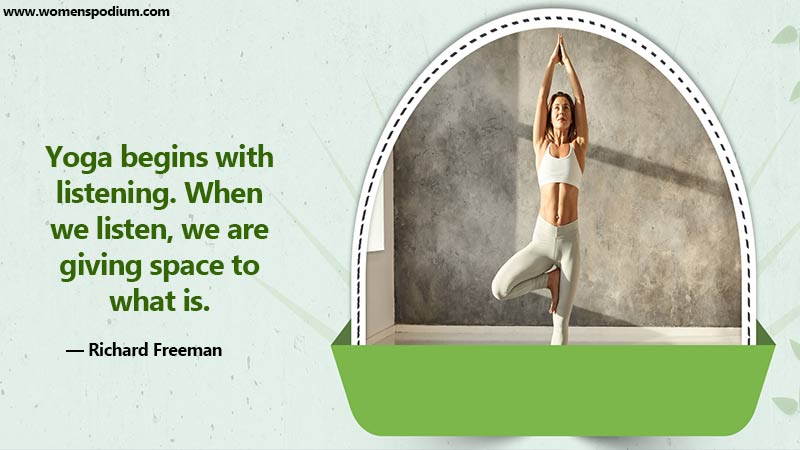 True yoga is not about the shape of your body, but the shape of your life. Yoga is not to be performed; it is to be lived. Yoga doesn't care about what you have been; it cares about the person you are becoming. Yoga is designed for a vast and profound purpose, and for it to be truly called yoga, its essence must be embodied.

— Aadil Palkhivala, Fire of Love
Yoga is the ultimate practice. It simultaneously stimulates our inner light and quiets our overactive minds. It is both energy and rest. Yin and Yang. We feel the burn and find our bliss.

—Elise Joan
When you listen to yourself, everything comes naturally. It comes from inside, like a kind of will to do something. Try to be sensitive. That is yoga.

― Petri Räisänen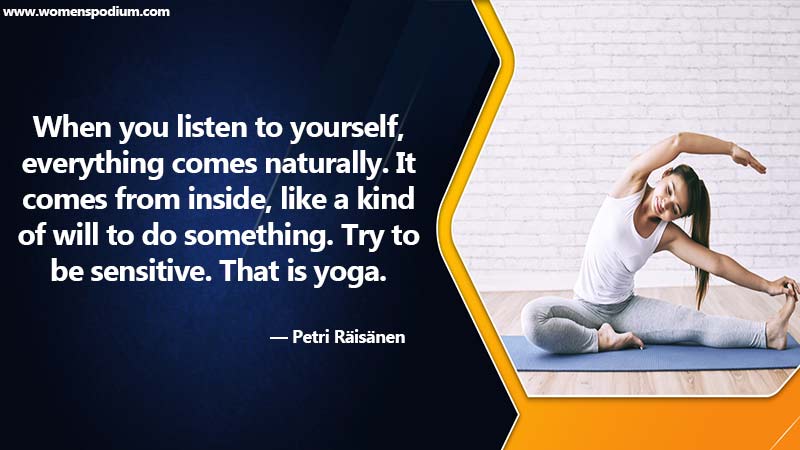 I think it's interesting that the opposite of being active in yoga is not being passive. It's being receptive.

—Cyndi Lee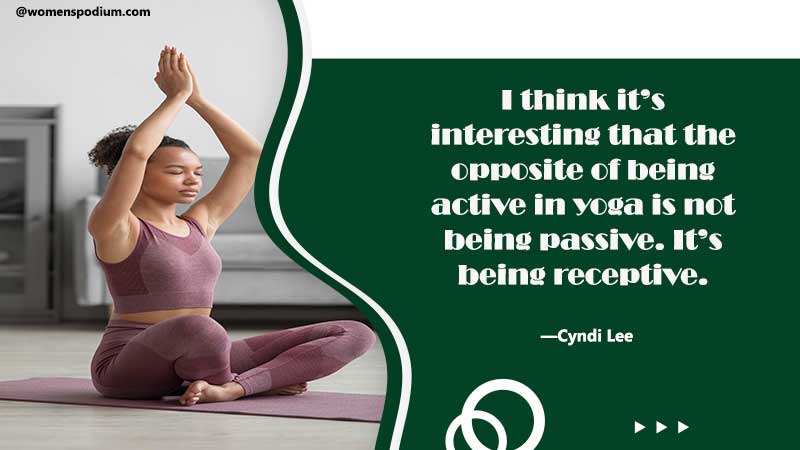 Yoga means addition. Addition of energy, strength and beauty to body, mind and soul.

― Amit Ray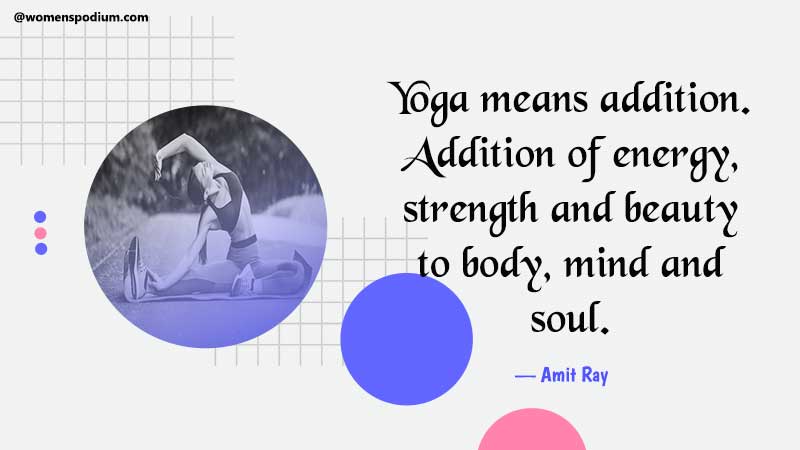 In truth yoga doesn't take time – it gives time.

― Ganga White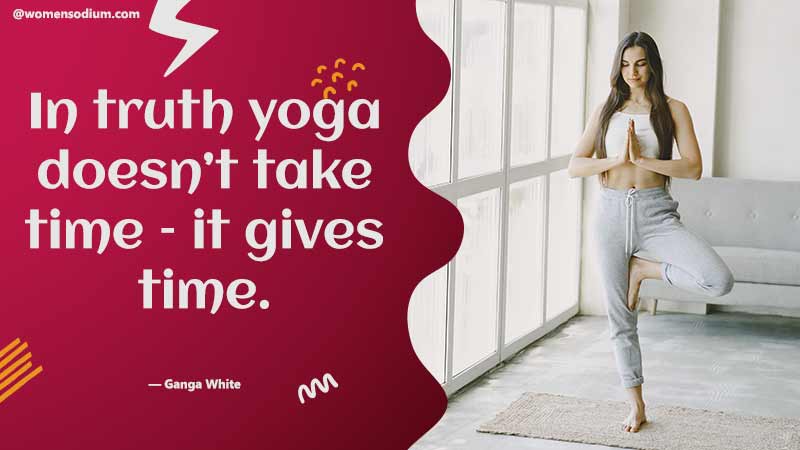 Sometimes the most important thing in a whole day is the rest we take between two deep breaths.

— Etty Hittlesum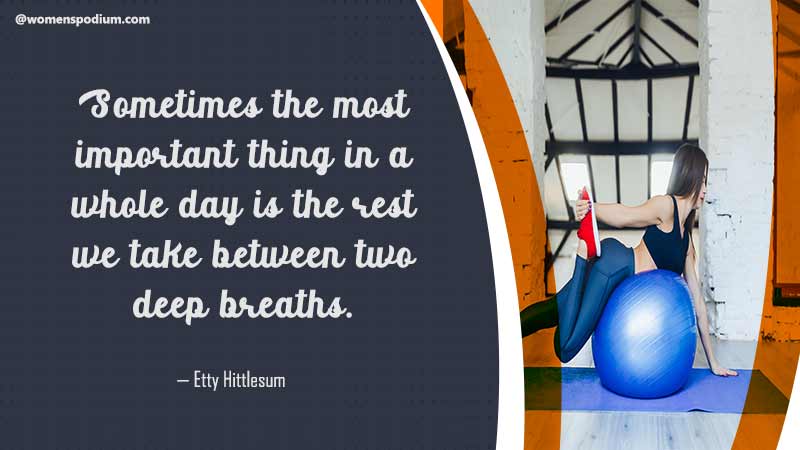 If you seek peace, be still. If you seek wisdom, be silent. If you seek love, be yourself.

— Becca Lee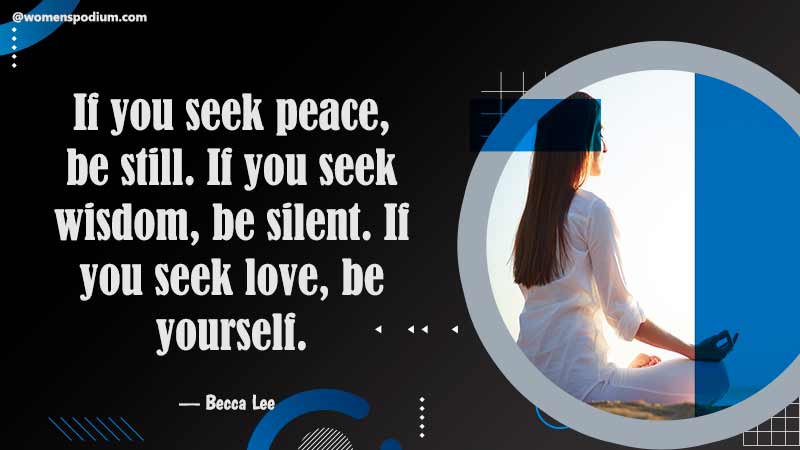 When you find peace within yourself, you become the kind of person who can live at peace with others.

— Peace Pilgrim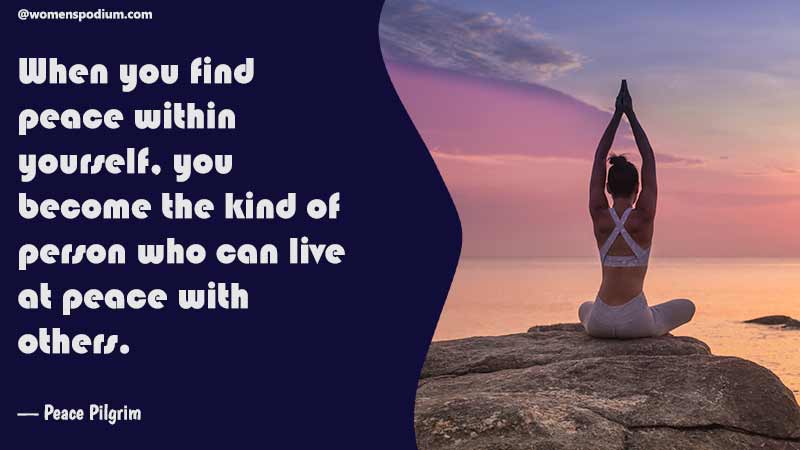 Yoga begins right where I am – not where I was yesterday or where I long to be.

— Linda Sparrowe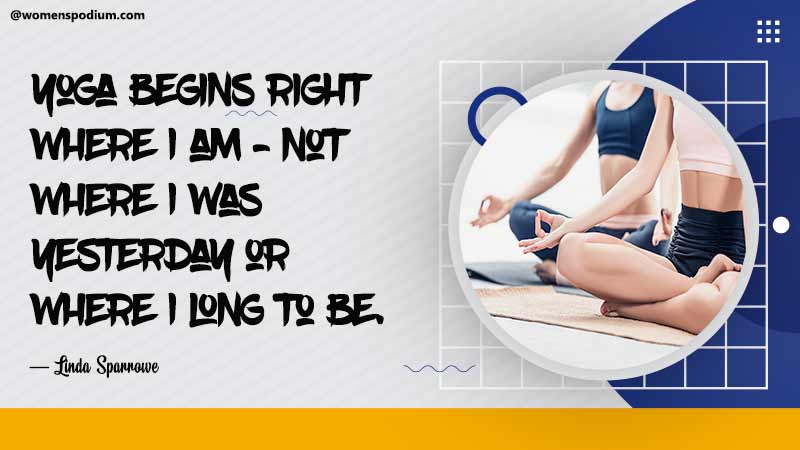 The body benefits from movement, and the mind benefits from stillness.

— Sakyong Mipham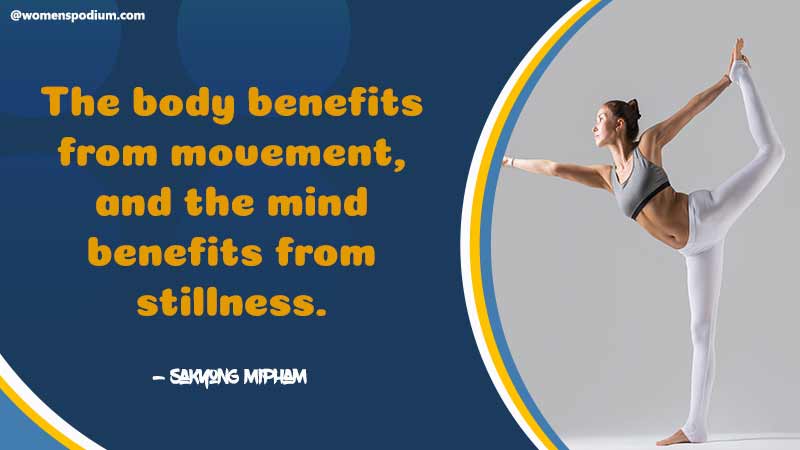 Yoga must not be practiced to control the body: it is the opposite, it must bring freedom to the body, all the freedom it needs.

— Vanda Scaravelli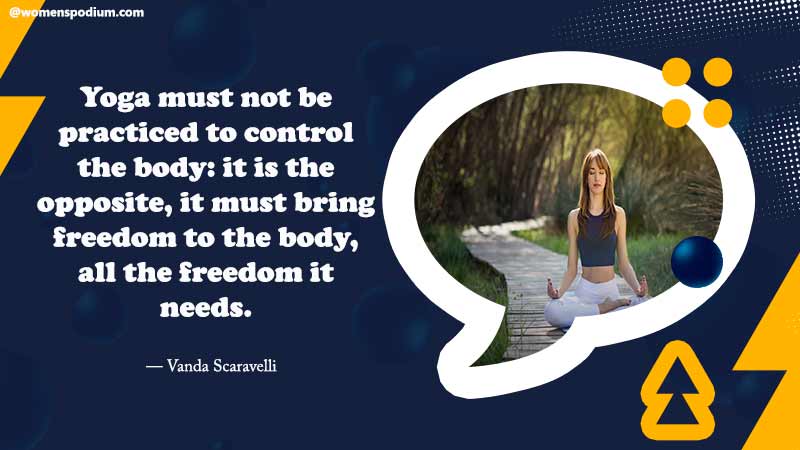 Yoga is the perfect opportunity to be curious about who you are.

— Jason Crandell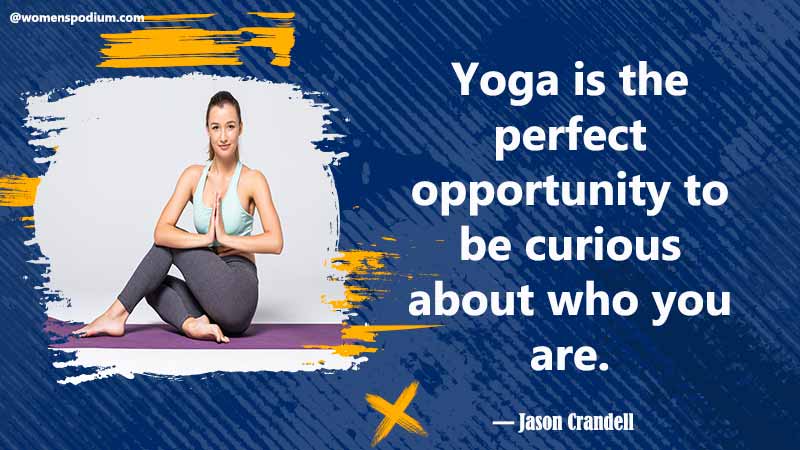 The soul is here for its own joy.

— Rumi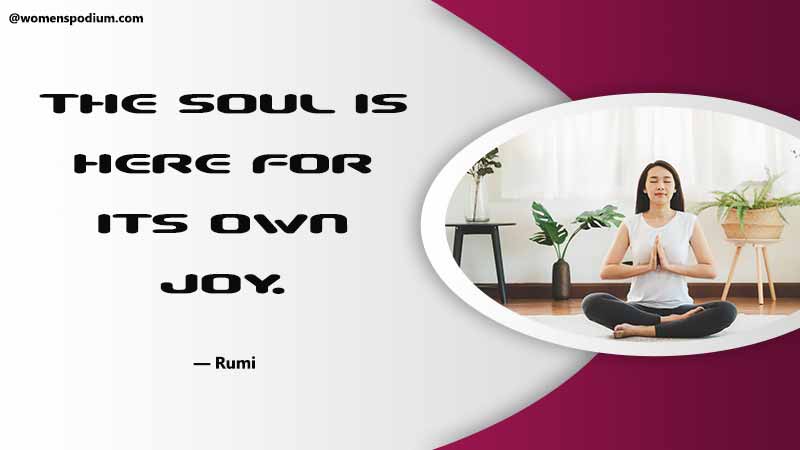 Also Read: You must read about the jump rope benefits.How much it is helpful with losing weight while maintaining sound physical health.