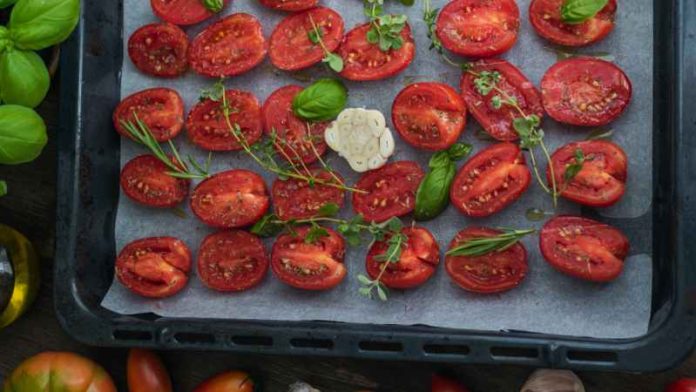 Roasted tomatoes and garlic are delicious on their own, but this dish is best served as a side dish. The sauce can be used on pizza, pasta, chicken breasts, and many other dishes. Gorgeous red tomatoes roasted with fresh garlic, olive oil, salt, and pepper are simple ingredients but epic flavour bombs. It takes only 30 minutes to prepare and only requires five ingredients. Here's a recipe for roasted tomatoes and garlic that is low in carbs and gluten-free.
Undoubtedly, tomatoes and garlic burst with intense flavour when roasted at high temperatures. This is what makes them an excellent choice for vegetarians.
Are Tomatoes And Garlic Healthy?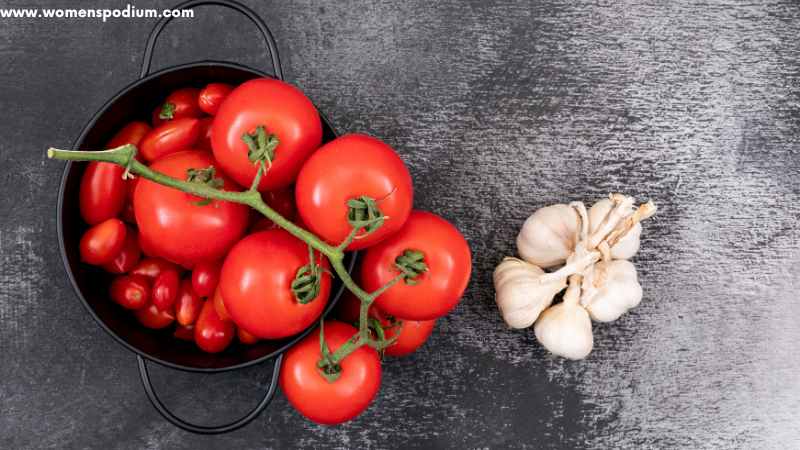 Tomatoes are a healthy fruit with numerous health benefits, such as brain protection and gut health. They help prevent type 2 diabetes and improve heart health. Moreover, it's rich in antioxidants and nutrients such as vitamin C and potassium. Garlic is also useful for fighting various diseases and as a flu remedy. In addition, it's rich in vitamins B6, C, and manganese, which boost the immune system.
Why Roast Tomatoes And Garlic?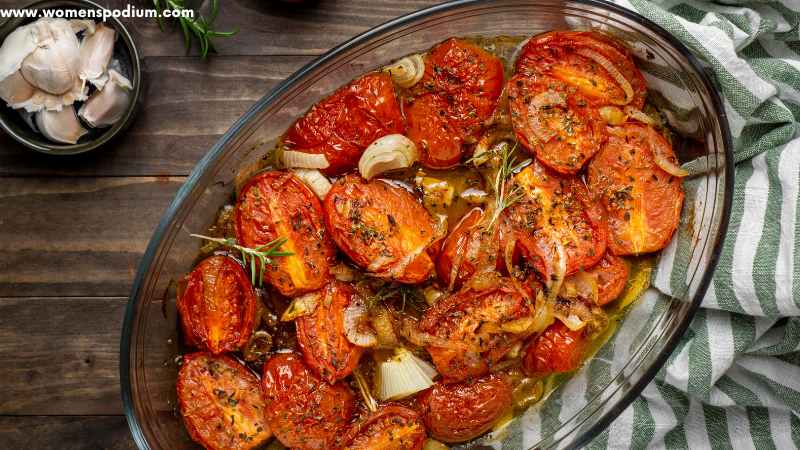 If you haven't tried roasting tomatoes, try it. Roasted tomatoes are filled with intense flavour and taste better than raw ones, especially when used in pasta and pizza sauces. According to research, roasting tomatoes does not diminish their nutritional value. On the other hand, heat enhances the nutritional value of tomatoes by increasing their lycopene content.
Although roasting garlic is a simple process, it transforms it into delicious, caramelized, mild, and soft pieces of pleasure. Using roasted garlic instead of raw garlic creates a distinct flavour. It can be used in creamy pasta, garlic toast, parmesan cheese, and many other dishes.
How To Make Roasted Tomatoes And Garlic?
This oven-roasted tomato and garlic recipe is delicious and takes little time to cook. More importantly, roasting gives tomatoes and garlic a concentrated, divine flavour and fantastic aroma. This dish can be eaten warm with feta cheese or as a complement to salad, pasta, or pizza.
Ingredients
Olive oil: 2 1/2 tbsp
Salt: 1 tsp
Freshly ground black pepper: 2 tsp
Garlic cloves 6: skinned and halves
Cherry tomatoes halved:10 oz
Thyme leaves: 2 tbsp (optional)
Instruction
Preheat the oven to 375 degrees Fahrenheit (190 degrees Celsius).
Combine tomatoes, garlic cloves, olive oil, salt, pepper, and thyme in a medium-sized bowl.
Take a baking tray and place the baking sheet on it, then spread tomatoes on the tray evenly. Spread the tomatoes in a single layer, flesh sides up.
You should bake the tomato mixture for 25–30 minutes until the tomatoes become extremely soft and the aroma fills the air.
Remove it from the oven, and if you want to serve it soon, garnish it with more fresh thyme and feta cheese.
Enjoy it warm or at room temperature.
It can also be topped with your favourite pizza pasta or chicken breasts.
Final Words
This simple roasted tomatoes and garlic recipe can be consumed separately or as a side dish. Roasting tomatoes and garlic together gives them a wonderful aroma and enhances their taste. In addition, tomatoes and garlic don't lose their nutritional value. You can freeze it and store it in the refrigerator for later use, then enjoy it as your favourite topping. This low-carb recipe is an alternative if you're trying to lose weight.
Also Read: Women's nutritional needs are quite distinct from men. A healthy eating plan for women does not follow the same pattern as that of men.