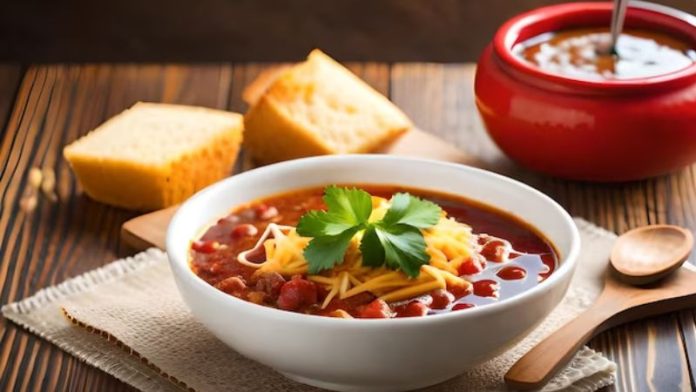 The classic combination of beans and cornbread is a healthy yet traditional meal. Cornbread and beans are delicious and easy to make. Many cuisines around the world use this classic pairing. The rich, hearty flavor of beans cooked with spices, herbs, and savory sauce provides all the nutrients. On the other hand, the whole grains in cornbread add depth and satisfaction to the meal. This balanced meal is cost-effective and fits within your budget. With this beans and cornbread recipe, you will have a mouthwatering experience that will satisfy your taste buds.
You can experiment with beans in different versions, like black beans, pinto beans, or kidney beans. Additionally, you can top it with different seasonings according to your choice. Beans and cornbread are traditional dishes in African, Native American, and Southern American cuisine.
Is Beans And Cornbread Healthy
The combination of beans and cornbread provides complete protein. It is because beans are high in lysine, an essential amino acid, while corn is high in methionine, another essential amino acid. When the two are combined, they provide all the essential amino acids the body needs. Legumes are ideal for people who don't eat animal proteins because they're an excellent source of plant proteins. Additionally, beans are also high in fiber, vitamins, and minerals. It improves blood sugar levels, improves heart health, and maintains a healthy weight.
There are different types of cornbread, each with its own ingredients and variations. Traditionally, it includes cornmeal, flour, milk, eggs, butter, and oil. Cornmeal is rich in vitamins and minerals, making it a nutritious part of any meal. Cornbread is a popular staple not only in the southern United States but worldwide. It can be served as a side dish or eaten on its own. Cornmeal and beans are healthy and satisfying meals that satisfy your nutritional needs.
Beans And Cornbread Recipe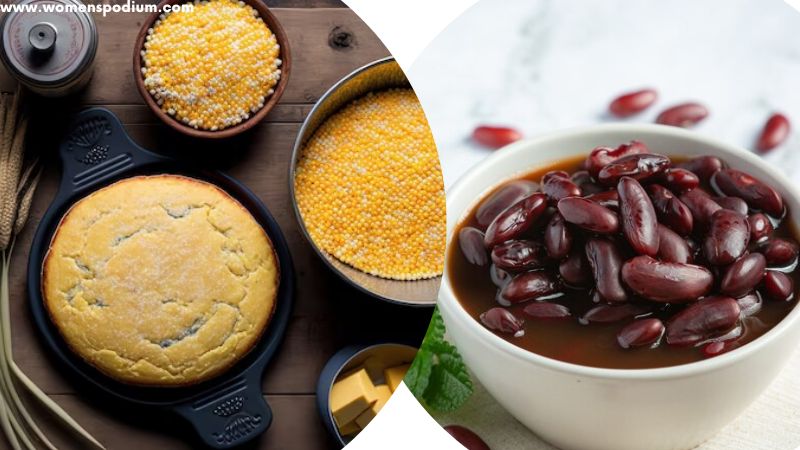 This recipe for pinto beans with homemade bread is easy to make, nutritious, and ideal for vegetarians. If you are a vegetarian, add vegetable broth instead of chicken broth. When served with freshly baked, slightly sweet, crumbly bread, these flavorful and rich beans are a mouthwatering and well-balanced meal.
Ingredients
For Pinto Beans
Dried Pinto beans- 1 cup
Water (for soaking) – 4 cups
Chicken broth or vegetable broth – 4 cups
Onions -1 small-sized chopped
Salt – 1 tsp
Black pepper – 1/4 tsp
Garlic – 2 cloves minced
Tomatoes 1 diced
Cumin 1 tsp
Red chili – 1/4 tsp
Oregano – 1/4 tsp
Cilantro chopped
Ingredients For Cornbread
Self-Rising cornmeal 1 cup
Eggs 1 medium-sized
Salt – 1 pinch
Sugar – 1/4 cup
Milk 1 cup
Unsalted Butter -1/4 cup
Directions For Pinto Beans
Clean the beans and remove debris and damaged beans. Rinse them thoroughly under water. Add water to the rinsed beans and soak them overnight or at least 8 hours.
In a large pot, add soaked beans and vegetable or chicken broth. Add diced tomatoes, onions, minced garlic, and cumin, and bring the mixture to a boil on high heat. After the water boils, turn the flame to low.
Cover the pot and let it simmer for about 1 to 1.5 hours, or until the beans are tender. Stir occasionally, and if you think the beans are getting too dry, add some water as well.
Once the beans are tender, season them with salt, pepper, oregano, and red chili, and mix well. After the pinto beans are cooked, add cilantro and serve.
Directions For Cornbread
Preheat your oven to 400°F (200°C). Grease a 9-inch square baking pan with butter or vegetable oil.
In a mixing bowl, add together the dry ingredients (cornmeal, flour, sugar, baking powder, and salt) and mix until well combined.
In a separate bowl, whisk together the milk, egg, and melted butter. Make a smooth mixture by mixing the dry ingredients with the egg and milk mixture.
Bake the cornbread in the oven for 20–25 minutes, and insert a toothpick to check the center to see if it comes out clean. Serve it with a hot bowl of beans with slices cut into squares or wedges.
Conclusion
This beans and cornbread recipe is nutritious, tasty, and cost-effective. Serving these savory beans with hot bread gives them an exceptional flavor boost. Although this is a simple recipe, you can experiment with the species of your choice. You can also add seasonings and toppings like sour cream and cheddar cheese to enhance its flavor. Try this recipe, and share your feedback.
Also Read: Adding salt to food enhances its taste and flavor. What Should You Do If You Add Too Much Salt? How do I make food less salty? These tips are surely of great help.